Many parents wonder which is the best Formula between Aptamil Vs SMA Gold since some have alleged that there is not much difference between the two. 
While we can't draw a conclusion based on hearsay, we can look for the similarities and differences between the two formulas using the available information and the feedback from parents who fed them to their babies.
Table of Contents
Aptamil Vs SMA Gold – General Overview
When choosing a baby formula for your baby, you have to be very observant of the type of ingredients used in making the formula and what major nutrients it has to offer.
Because at different stages of their growth, babies require specific nutrients in different amounts to aid their growth and development. 
Some formulas may contain a little of the nutrients your baby may need and more nutrients it may not need at the moment.
Not to imply that all the essential nutrients are unnecessary. However, the body may require some in more proportions than the others.
For instance, your baby may require more protein and fewer fats or more vitamins and less protein. 
In this case, you will have to get a formula that contains more vitamins and less protein. This way, your baby gets all the body requires at the appropriate time.
While many mums desire to breastfeed their babies as the pediatrician recommended during the first 6 months of birth, not every mum has the luxury to do so for one reason.
For some, it may be work, while for others, it may be due to health challenges. Whatever it may be, the formula is an excellent substitute for babies before they begin to eat finger foods.
Some formulas are suitable for consumption from birth to 6 months, others are less, and two are Aptamil and SMA, both great products.
If you're such a mum who has made up your mind to feed your baby formula or, due to some constraints, cannot breastfeed, you may consider the Aptamil Vs Sma Gold options as they're both suitable for birth purposes. 
A closer look at their distinct features will help you to decide which formula your baby needs.
Aptamil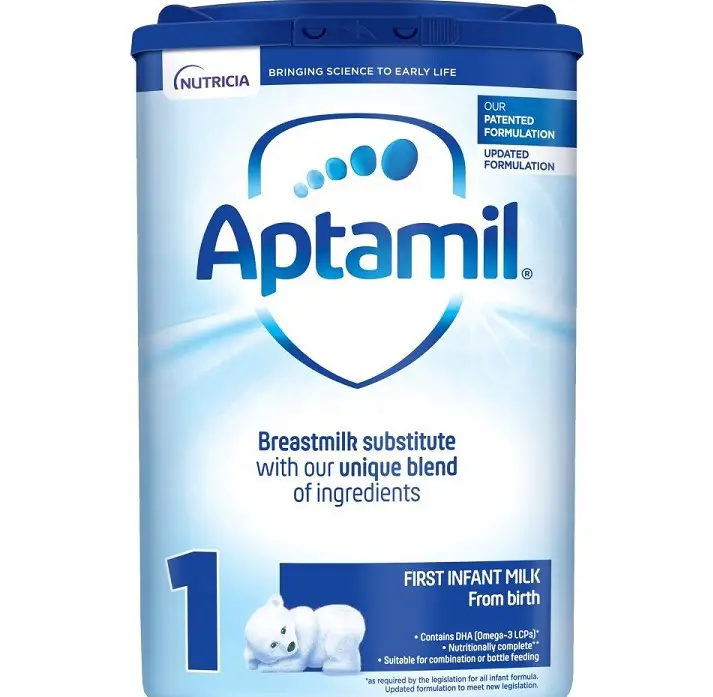 Aptamil is a non-organic baby formula designed to meet your baby's Nutritional needs at every stage, making it suitable for birth when your baby is a toddler and ready to eat other foods.
It is suitable for babies with sensitive digestive systems and allergies to milk and heavy protein. 
It contains vitamins D, C, and A, all of which support the function of the immune system, and a fair amount of DHA, which are necessary for a baby's growth. These ingredients are essential in every baby formula.
Even though it is not an organic brand, it doesn't contain artificial sweeteners or other artificial additives that make it sweet. Its unique sweetness comes from the presence of lactose.
All available Aptamil formula results from over 40 years of scientific research and experience are assembled by their team of experts to meet your baby's needs adequately.
Features
It has three major products; The standard milk range, Profutura milk range, and the specialist milk range.
It has a close taste and texture to that of natural breastmilk
It covers babies from birth to when they're toddlers
Contains prebiotics
It has a variety of products like; Aptamil First Instant Milk, Aptamil follow milk, Aptamil Growing Up Milk, and Aptamil Hungry Infant Milk.
Pros
You don't have to switch to other brands to cover a wider age range.
It is suitable for weaning because it tastes like natural breast milk.
Although it is not entirely organic, it is made with enough natural ingredients and contains prebiotics that aids the digestive health of an infant.
Cons
It is not organic
It can be comparably expensive.
.It is not suitable for vegetarians
Read: Aptamil Comfort vs Similac Total Comfort
SMA Gold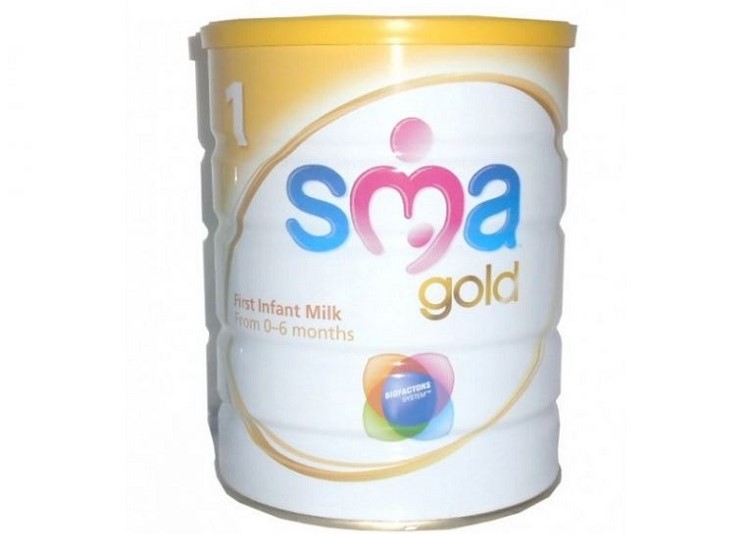 Sma Gold is suitable for preterm and underweight babies. It doesn't substitute breast milk but can be used as a complement to breast milk.
It includes particular nutrients for the dietary management of low-weight babies on the occasion of preterm or low birth weight, and babies can take it right from the hospital or on discharge.
With over 100 years of research, the brand has developed this unique product dedicated to babies with less weight than required.
Two SMA Gold products are suitable at different times; SMA Gold 1 and SMA Gold 2. The former is the most suitable for low birth weight babies. 
It offers high energy levels alongside other nutrients like minerals, vitamins, and protein and shouldn't be taken without supervision from a medical expert.
SMA Gold 2, on the other hand, is more like a catch-up formula that babies shouldn't take from birth. It is only recommended when the low birth weight formula is no longer suitable and should not be taken without medical supervision.
A third yet less talked about the type of SMA Gold is the SMA Gold Prem Breast Milk Fortifier. It is also a dietary supplement formula that is used alongside breast milk. 
It is not as popular as the other two because it is strictly for medical purposes and not taken without medical supervision.
Features
It has three different products; SMA Gold 1, Gold 2, and SMA Gold Prem, all of which are not to be taken without medical supervision.
They're all dietary supplements and are not supposed to be taken independently as formulas but alongside breast milk since they do not contain all the major nutrients in breast milk.
Improves baby weight
Pros
It is very potent
You can use it from birth
It contains iron and other essential nutrients to aid the cognitive abilities of a baby.
Cons
It is a formula that can be taken without breast milk.
You cannot use it for a long time.
.It is not easily accessible and should be taken under medical supervision
Read: Aptamil vs Enfamil – The Complete Buying Guide
Aptamil Vs SMA Gold – FAQs
What Makes Aptamil Special?
The texture, taste, and nutrients in Aptamil taste closest to breast milk. A lot of hospitals use Aptamil, which has led to mothers choosing Aptamil before other formula brands. 
Almost all Aptamil formula ranges are appropriate for babies right after birth until they turn one year old. It also seems to be better tolerated by most babies than other formula brands.
Aptamil Stage 3 baby formulas are also available for babies up to 24 months of age, which is why many parents love Aptamil.
Even though, Aptamil is not an organic formula brand. 
There is no one size fits all formula, and babies can react to different brands differently. Your neighbor's or your sibling's kid might love one brand of formula, while your child might spit it out. 
Before switching to a new formula brand, watch your baby's reaction to a formula brand to know if you can continue.
Aptamil vs SMA Gold – Which is thicker?
Some SMA formula varieties are thicker than Aptamil, which is thickened to prevent reflux. 
You can use it to prevent spit-ups after meals and alleviate the symptoms so your child feels comfortable eating. 
Some parents say their little one is full and happy for the night after eating SMA formula, while others disagree and say their little one is fussy. 
Use a different formula brand if your child is uncomfortable with the thicker formula or does not have acid reflux.
Can you switch from SMA to Aptamil?
It's Ok to switch to most Aptamil milk in one go. However, if you are moving onto (or away from) one of our special milk – such as Aptamil Anti-Reflux or Aptamil Comfort – you should speak to your healthcare provider first.
Related Posts:
Aptamil Vs SMA Gold – Final Verdict
There's no way to conclude which is the best because they're different and do not serve the same purpose.
However, in this contest, Aptamil vs SMA Gold, based on nutritional content, based on nutritional content, Aptamil is the best choice since the texture, taste, and nutrients in Aptamil are said to be the closest to breast milk.
While Aptamil is accessible to parents at all times and can be taken without medical supervision, SMA Gold requires strict monitoring because it is for medical purposes.
Also, Aptamil can be taken from birth until the baby becomes a toddler, babies can take only SMA Gold 1 from birth, and you can use SMA Gold 2 as a follow-up.
The primary purpose of SMA Gold is to improve the weight of preterm babies born with low birth weight, and once they have picked up to their normal weight level, the parent can switch to other formula types.
Do not forget to contact your pediatrician if you notice any reaction in your baby after you've tried more than two formula brands.
Conclusion
The Aptamil Vs Sma Gold is a comparison for parents searching for a suitable formula for their babies. 
As a parent or caregiver, if you ignore the type of formula you feed your baby, you may end up creating buggers issues as there are some formulas that babies react to.