Are you expecting a baby but all of a sudden, a twin came to you, or you were expecting the twin babies and now you're wondering the best twin carriers to go for.
Twin babies are twice the weight, all for one parent. It may become overbearing. It would be nice to split the carriage, one for each parent, but we know that it won't work.
One parent may be busy or what happens when you are a single parent?  In this article, we have selected a list of the best twin carriers for you. Read on!
Types of Carriers
There are five types of baby carriers and they include…
Wrap Baby Carrier: This is the oldest and simplest type of carrier. It is made by trying a piece of cloth at two ends on your body, to create a wrap for your baby. It is difficult at the beginning, especially if you are to create a wrap for twin babies. You can find wraps of different fabrics, so you choose one that is comfortable for you and your baby.
Ring Sling: This is a long piece of fabric also, with two rings at one end. Your baby's weight prevents the ring from slipping out. Yes, there are also ring slings for twin babies. Ring slips are better than wraps in the sense that fastening it is not so difficult- you just have to thread the free end through one ring and tuck it in the other one. And also, it is mostly not made of stretchy fabric.
Pouch Sling: This is not so popular. It is also a different type of ring sling. In this case, though, you can adjust the length of the pouch because of the type of rings it's made with. Also, it is in-adjustable, it has sizes for different women's body types and baby weights, unlike the adjustable ring sling. It is made in the form of a sash, very easy to use, and inexpensive. This type though doesn't allow for twin carrying.
Mei Dai Carrier: This type combines features of a wrap and buckle carrier. It is pretty adjustable.
Soft Structured Carrier (Buckle Carrier): When parents these days think of carriers, this is what honestly comes to their minds. It has padded shoulder straps and padded adjustable waistbands.
Backpack carrier: It can be carried on the back, and can be good for children who can sit unassisted. However, while this might help with proper weight distribution, it is not recommended for twins or even you as a parent or your caregiver.
How to Choose the Best Twin Carrier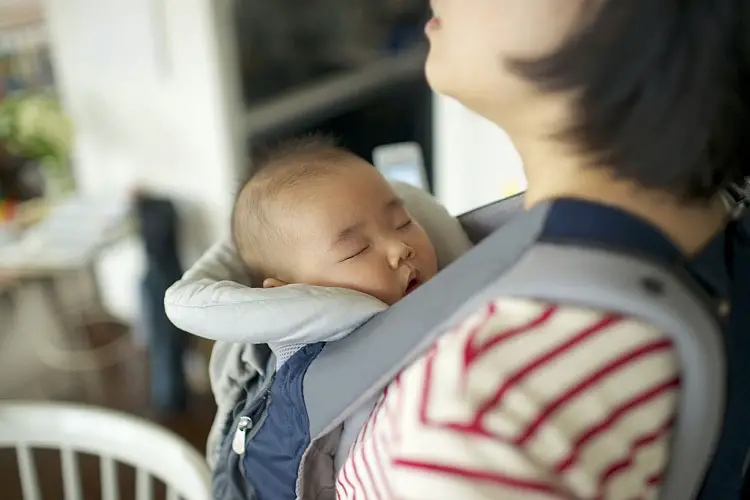 Just like going to the stores to shop for a single carrier, there are important factors you should keep in mind when choosing your twin carrier.
As we all know, baby carriers are an important baby essential every parent should have, with this item you can get to places you likely couldn't go with a twin stroller, for example trying to get through the airport in a hurry, when the queue at the elevator is as long as the runway.
Using a good quality baby carrier can be very helpful in this kind of situation and of course save you a lot of stress. So now, let's discuss some of the most important features to look out for when purchasing a baby carrier.
Ergonomic Design
The carrier should be designed ergonomically. This is very important for your comfort and the safety of your twins. A well-designed carrier will help prevent reduce the risk of back problems, shoulder pain, and neck strain – all common ailments that twin parents encounter.
A well ergonomically designed baby carrier also means that the parent will have easy access to all of the carriers' features, hence, making the process of carrying the babies much easier.
Style                              
Of course, you'd want a fashionable carrier. We've listed below some of our favorite baby carriers so be sure to have a look at them to help you shop for the best twin carrier.
Ease of Use
As a parent or caregiver taking care of twins, you'd want to go for twin carriers that are easy to use. With the rest of the other twins' essentials you need to carry, there is no reason why you should be having a hard time with your carrier simply because it has a lot of features or it's complicated to use in a pinch.
One important feature some baby carriers have is its easy-to-use lock mechanism, which helps you to secure both babies in their carrier with just one hand.
Materials
You must go for carriers that are supportive, strong, and comfortable enough for you and your babies.
Some carriers are designed with heavy-duty nylon, while others are made with a breathable mesh which is ideal because you don't want your babies to overheat.
Some carriers are best suited for summertime and some are best suited for winter. Have a look at your everyday activities and the weather condition in your area before buying one.
Price
The price range of a twin baby carrier can set anywhere from $100 for more basic designs to over $300 or more. As a parent with twins, the most important thing is that it's something that'll benefit you and your babies so you don't have to compromise on quality too much.
A lot of parents with twins don't know how much a twin carrier is used and they end up spending even more extra cash to get a new carrier that works better for their lifestyle.
Of course, we all would love to save some money but sometimes there are situations where the safety and comfort of your babies are paramount. I'm sure you don't want to compromise that.
Easy To Clean
In a newborn world, accidents are unavoidable. If you don't have any kids yet, soon you'll get used to inappropriately timed diaper blowouts or impromptu vomiting down your back! In case you experience this, even though you will — you want a carrier that is not too difficult to clean and is machine washable.
Babies Safety and Comfort
Safety should be on top of your list when choosing a baby carrier for your twin. When you're on the lookout for the best twin carriers, go for carriers with well-structured waist belts and hip support. This helps to lower the risk of your babies slipping through the carrier.
Since you'll be wearing this like a cloth while going about with your schedules, it is best advised to go for ones with padded shoulder straps and good breathable material this will make the job a lot more comfortable for you.
If your twins are just a few months, you may also want to look into infant inserts, depending on the type of carrier for additional safety and comfort.
It is also important you examine the carrier's fabric material and how much it weighs in comparison to other carriers out there since you will be carrying this for hours so you don't want something too heavy that will slow your productivity down or make your neck hurt after a short while.
Adjustability
This is another important feature to keep in mind because you need a carrier that fits both of your babies' needs. When you want to buy a baby carrier, go for ones that have adjustable seat sizes and can be adjusted to focus on each of your baby's personal needs.
Read Also: How To Sleep Train Twins
The Best Twin Carriers For You
We have put together a list of the best twin carriers for you, along with the pros and cons that go with them
1. TwinGo Air
This is the overall best carrier for your twin, and as regards this brand- TwinGo.
Key Features
This is two carriers in one, one on your chest and another on your back, connected by one waistband and two straps.
It has a maximum weight of 70 pounds in the tandem position.
It is quite easy to separate into two carriers.
The built-in straps and waistband can be reinforced and adjusted easily, this allows others to carry the babies while you get a break.
Its height bracket is from 4 feet 11 inches to 6 feet 5 inches, making it the best choice for petite and tall parents too.
The TwinGo Air grows with your twins, this is possible with the help of the strong, adjustable straps ensuring that your babies are safely secure, providing you peace of mind that you're not subjecting them to any hip or back problems.
Pros
It comes with spare straps
Thick padded shoulder straps
It is light and firm
Perfect for older babies
Available in two colors
Comes with additional large pockets for your use.
Built-in hoods to cover babies from the sun, or for shade during a snooze.
Cons
Not recommended for newborn use, unless they weigh over 7 pounds.
Infant inserts are to be bought separately from the carrier
There are no big pockets.
The carrier itself is more than four pounds in weight.
2. Boba Wrap Baby Carrier
Although it was originally made for one baby, it can also be used for twins. This carrier is the best machine washable carrier.
Key Features
It is made of a stretchy, breathable, and warm material that is quite comfortable.
It works by each of the twins sitting on either side of your chest, all snuggled together.
It comes in different kinds of color options.
It is suitable for babies between 7 and 35 pounds. When used on twins, ensure the joint weight doesn't exceed 35 pounds.
Pros
It is breathable
It can be for one or two babies.
It comes in different colors
It supports healthy hip development
Its fabric is breathable and is machine washable
Cons
It is usually hot in warmer climates
It is difficult to fit two babies in without help
3. Malishastik Twin Sling
It is the best kind of sling and also the best budget carrier for twins.
Key Features
It can be used immediately after birth.
It is very simple and functional. Babies are placed in an ergonomic position, with one leg to either side of the parent's hips, sitting comfortably on the arches of their pelvis.
The carrier is very beneficial for the babies' hip development, which is of course very paramount.
The carrier fabric is made with 50% cotton and 50% cotton which makes it soft, comfortable, and breathable.
Although it can be adjusted, the length of each line can go as high as up to 80 inches.
It can carry up to 60 pounds combined weight.
Its solid gray color can easily match any outfit and would also help cover a few dirt before washing.
Pros
It has a washable fabric
It comes with an instruction
One size fits all babies
Cons
Its structured carrying weight is lower than the hands-free one- it is less than 60lbs.
You can't separate it into two separate carriers like many other twin slings.
Lacks head support for the babies
The fabric is loose.
4. Malishastik 4 in 1 Twin baby Wearing Carrier
Key Features
It is a 4 in 1 carrier. You can use the carrier to carry one baby at a time, two, a baby in front and one at the back, and also, can be used to carry your twin on your sides.
When combined, it can carry up to 30kg (66lb).
It is also super stretchy.
Pros
You can use it in four different positions
Suitable for babies of different ages
It can be divided and used by two people
One size fits all
Cons
Some parents find it difficult to get used to.
5. TwinTrexx 2 Baby Carrier
It is a multiway carrier. This means you can use it in more than one way.
Key Features
By making use of this carrier, you have the choice to either carry your babies facing-forward, facing-inward, on your hips, tandem, or as a single carrier.
It has padded strap shoulders, this helps to minimize any pressure when carrying heavier babies.
Its straps can be easily adjusted and removed.
Both the adjustable shoulder straps and waist/chest band, are locked in securely with buckles.
It can hold a combined weight of 50 pounds.
Pros
Can be separated into one carrier per person
Can be worn in five different positions
Light-weighted
Cons
Can be complicated, finding all buckle clips when used as a double carrier
There is no padding on the waistband
6. Mini monkey Twin Carrier
Do you like the idea of baby wraps for your twin? One you don't have to tie yourself. This is one of the best wrap carriers for your twin. Once worn, you just have to think about tightening the waistband to fit your waist size.
Key Features
There are two pockets on the sides, to accommodate your children and make them feel comfortable.
The carrier is lightly weighted which makes the job a lot easier.
Pros
Super easy to wear
One size fits all
Can be used from the early days of a child
Cons
7. Weego Twin Carrier
This carrier is the best for newborns.
Key Features
It has a weight guide from 4 pounds which makes it perfect for premature babies too.
This carrier is specifically designed to make babies feel like they are still in the womb.
It is specifically designed for babies up till their combined weight is around 33 pounds.
It has a simple and cute design, with two front pouches and two fastenings for you at the back.
Interestingly, you can remove the carrier while your babies are still inside! This is awesome if you feel the need to get a break.
The sling can be removed easily with a slight utterance to your babies, and then pass on to your partner or family member who can then wear them on easily.
Pros                                                                    
Its 3 sets of detachable bibs help protect the upper section of the carrier.
It comes with a zipper, snaps, and velcro attachment which provides security.
It can be washed and tumble dried using the washing machine
You can find it either in combined polyester and cotton, or simply cotton twill.
Cons
Inward facing only.
It doesn't come with any paper instructions. You can source information online or video-only.
Not suited for babies whose combined weight is more than 33 pounds.
Related Posts:
Conclusion
When it comes to twin baby carriers, there are a lot of things you must consider. Things like the strap adjustability, the waistband; if it is padded, the length of the carrier, and the weight limit of it.
It's easy to find one for a baby, but when it comes to twins, it is a bit difficult.
We hope this article has helped you find the best twin carriers, it is time to go shopping! We hope you get the one you'd love.