Traveling with kids is different from traveling alone or with your partner, but it can be fun. 
If you're a frequent traveler and have newborn, many questions like "can 3 month old baby travel by car?" could come to mind whenever you want to make a trip call.
Your 3-month-old baby can enjoy good road trips if you plan right. Infants aren't as fragile as parents sometimes fear.
If you've never traveled a long distance with a newborn, Here are some travel tips to get you started so that your trip goes smoothly.
Table of Contents
Can 3 Month Old Baby Travel By Car? Explained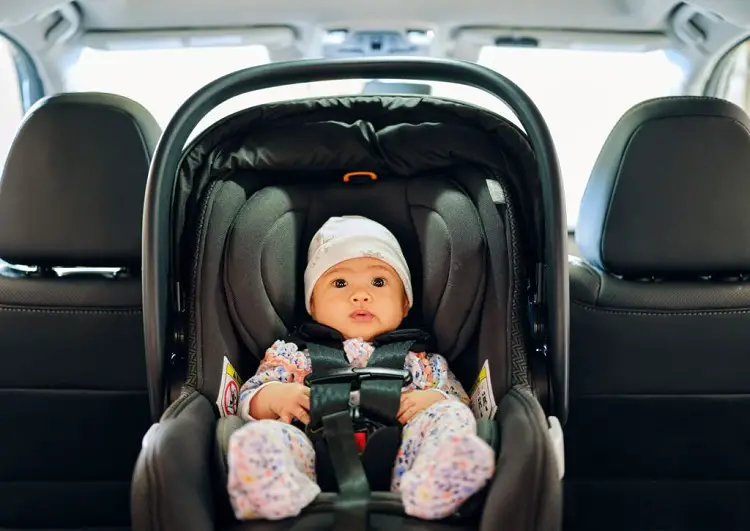 Yes, a 3-month-old can enjoy road trips if you have someone to keep an eye on them to be sure they are safe and in a comfortable position.
The AAP recommends that you stop and take the baby out of the car seat every two hours to feed and change their diaper. 
This ensures they don't suffer from positional asphyxia, slumping down, and trouble breathing often found in young babies or those born prematurely.
You should talk to your baby's doctor about the risk of positional asphyxia in your baby, who knows more about your baby's health history.
Traveling with a newborn for the first time might sound uncomfortable. However, you can enjoy a good and flexible ride if you prep yourself beforehand.
How Often Should You Stop With a 3-Month-Old When Travelling By Road?
Once your little one is healthy and comfortable in their car seat, they can ride safely in their car seat for at least 2 hours at a time. 
Plan to drive no more than eight hours daily, stopping every two hours. Pack plenty of extra clothes and diapers, and have an adult sit next to the baby to monitor their breathing.
Stop and take your baby out of the car seat if you notice that your baby is showing signs of discomfort or distress. 
As you should know, a 3-month-old baby feeds every 2-4 hours, so every stop will help make the ride fun and smooth. 
Feeding your baby while the car is moving could cause your baby to choke and stain your car seat!
If you are having trouble finding kid-friendly places to stop, Google map is your friend. Use and find exciting things close by and make a stop. 
If you are traveling with kids, you will need a lot of flexibility, so you may want to choose an infant-friendly place and hotel, so you do not have to specify everything.
Read: How To Clean Car Seat Straps Vomit
Planning a Road Trip With a 3-Month Old: Things To Bring Along
Packing can quickly get out of hand when traveling with a newborn, but overpacking is not bad. 
You should pack extra clothes for the baby, plenty of diapers, and formula. These essentials should be easy to reach in the car. 
Some babies enjoy a white noise machine, extra blankets, burp cloths, and pacifiers, and be sure to pack extra clothes for yourself. 
As milk supply stabilizes around three months, many babies experience a growth spurt around three months that can affect milk supply.
Breastfeeding mothers may benefit from packing a manual breast pump to ease pressure while driving. 
Babies often eat less when traveling, putting moms in an uncomfortable position. 
Whenever I travel, I use Haakaa manual pump. I have purchased two or more because this is the only one I find comfortable. A Haakaa can also be helpful to moms who use a pump. 
This incredible mom gear can save your dress and make your trip more fun and memorable. It is a good idea to have 2-3 extra outfits for a
3-month-old, you may not need them all, but they may come in handy. You should also have a few extra bibs. 
Read: Can You Put a Swaddled Baby in a Car Seat? Discussed
Tips To Keep in Mind When Traveling with a 3-Month-Old
By the time babies turn 3 months, they are good candidates for travel, provided you have a good plan.
Here are tips to keep in mind to ensure your road trip with your 3 months old is fun, stress low, and your car is free of stains. 
1. Start Early or Late
It would help if you planned to drive during your kids' sleep. Don't drive while your kids are drowsy, but start early for those first few hours to make the trip feel shorter. 
2. Install a Car Seat
Ensure that your baby's car seat is installed correctly on the back seat and that the seat belts are securely fastened when traveling by road.
3. Place Window Shades
You can also place a small towel or piece of cloth on your car's windows to protect your child from the sun's harsh rays. If you want, you can pack some sunscreen for your child and a hat.
4. Carry All Essentials
First Aid Kit
A basic baby's first aid kit with all the essential medicines may help manage any probable medical issues, such as colic, fever, nausea, cold and cough, or upset stomach.
Also, you should consult your child's doctor, especially if your child has motion sickness. You can even carry the prescription for these medicines if traveling by air.
Pack Drinks
Pack plenty of water and other drinks to keep everyone hydrated. Traveling a long distance often causes dehydration making you prone to illness or tiredness. 
Parenting is not easy, so don't forget to care for yourself. While packing baby items, bring snacks, drinks, and comfort items for yourself. 
White Noise
It seems like the road noise should be plenty to comfort a baby, but all babies are not the same. 
My son loves road noises and does not need white noise while on the road. However, you can put a white noise machine by the side of the car seat if your baby loves it. 
5. Plan To Sleep
Ensure you have a comfy place to sleep each night of your road trip. To avoid driving while sleep-deprived, ensure you have a safe, comfortable place to sleep, so you do not risk driving while tired. 
A hotel loyalty plan is my thing. As a result, I don't need to choose where to stay. I just drive to the closest hotel of my preferred brand. 
However, you can still have a comfortable and flexible journey without hotel reservations. 
Read: Can Baby Wear Knotted Gown in Car Seat
Driving or Flying with a Newborn, Which one is Better?
While flying with a newborn may seem easier, driving gives you more control over your surroundings. 
A road trip is a great way to travel with a baby because you have more control over what you carry and where you go. Taking your baby out of the car seat every two hours is essential, which is easier to do in the car. 
Road trips also allow you to pack more supplies and make things accessible. Driving also allows you more privacy. 
When you arrive at your destination, consider how you will travel, You can rent a car that already has a car seat or travel with one. Diaper changes, feedings, and outfit changes are not as easy in a car, but they are more private. 
If you travel by air frequently, you may be more comfortable doing so, but if you don't regularly, consider hiring a travel agent. 
In general, flying may be more comfortable for your baby if you know you'll be driving more than 20 hours and your trip is a week or less.
Conclusion
Hopefully, this article has given an in-depth discussion to answer the question, Can 3 month old baby travel by car?
You can enjoy a good road trip with your 3 month old baby if you have someone to keep an eye on him to ensure they are safe and in a comfortable position.
While planning a road trip, ensure you plan ahead and have all the essentials. Do not travel more than 8 hours a day with your newborn. 
That means it would take three days to cover that distance, so take your time, stop every two hours to feed and change, and don't go slow.