Taking herbal tea is an effective way of detoxing. It helps to clean the system and also to burn down the fat.
But as a Breastfeeding mother, you have to be conscious of what you ingest into your system because some of the things you take directly affect your breast milk and your baby. 
If you're used to taking herbal tea, you may probably be asking yourself can I drink Herbalife tea while Breastfeeding.
This article provides answers to questions relating to taking Herbalife tea while Breastfeeding.
What is Herbalife?
Herbalife is a plant-based nutrition company that offers a variety of products that aid weight loss. These products include;
Herbalife protein shakes

Energy products

Aloe-based products and

Herbalife tea.
Many people who are interested in staying healthy and fit usually have an experience with taking herbal tea because it is believed that some green tea is healthy and good for detoxing the system. In contrast, others help to burn belly fat.
Herbalife is a herbal tea that has become popular among other companies. It is widely recognized and very effective for the purpose it has been made. 
It offers a variety of benefits ranging from cleansing the system to an energy boost. The brand has been around for a while and is consumed globally by millions of men and women.
Many women take it to do so for the sole purpose of weight loss, but apart from that, Herbalife tea offers other benefits, which include the ones listed below and a few others;
It is a source of energy boost

Enhances the production of antioxidants in the body

It aids metabolic activities in the body

It contains a reasonable amount of caffeine which sustains your energy throughout the day.
Can I Drink Herbalife Tea While Breastfeeding?
As effective as Herbalife is, it also has its downside, which, when you consider it, may not be safe for a breastfeeding mother to consume.
There are a few side effects of consuming Herbalife tea everyone who wishes to take it should consider; these sides effects cover both mild and extreme symptoms, which include;
Jaundice

Liver injury

Fatigue

Abdominal pain

Nausea

Pale stool

Tiredness
As a Breastfeeding mother, when you consider adding anything like Herbalife tea to your regular diet, it is good to seek counsel from your doctor. 
This includes even if you were formally taking it before pregnancy and then breastfeeding.
Consuming certain foods when breastfeeding may affect the composition of breast milk and directly affect your baby.
Therefore, the best person to answer the question of whether I can drink Herbalife tea while breastfeeding is someone who knows the effects of herbs on breastmilk and its dangers on the mother or baby.
Also, it is good to know that Herbalife tea has not been tested and certified to be fit for consumption while Breastfeeding.
So if you're wondering if I can take Herbalife tea while breastfeeding, bear in mind that the brand does not guarantee safety for you and your baby.
Read Also: Can I Drink Flat Tummy Tea While Breastfeeding? Explained
Is It Safe To Drink Herbalife Tea While Breastfeeding?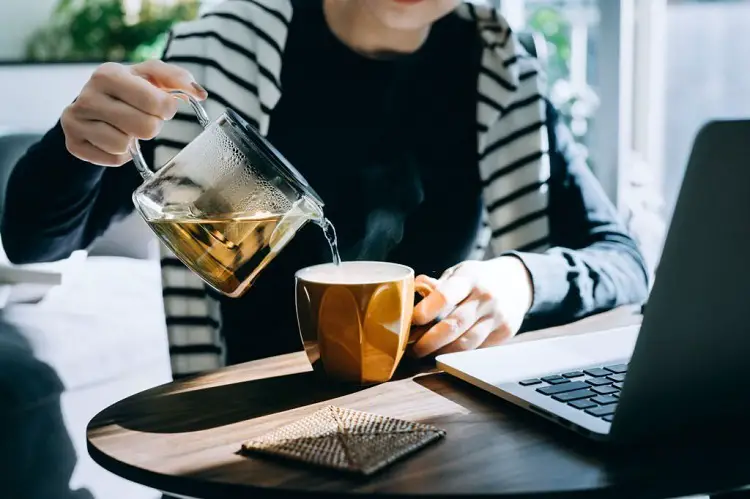 Besides the fact that Herbalife products haven't undergone any laboratory tests to be certified safe for breastfeeding, breastfeeding mothers shouldn't consume any products for weight loss, be it herbs or other products.
This is because some of the ingredients in these products are strong enough to contaminate the breast milk and can be passed to your baby.
Caffeine is one of the biggest concerns about tea. About 1% of the caffeine consumed by nursing mothers passes through their breast milk. 
That may seem like a small amount, but infants can't process caffeine quickly as we do. Caffeine can stay in an infant's body for up to 130 hours because their kidneys and liver are still immature.
So as a breastfeeding mom, if you're consuming small amounts of caffeine can build up in your baby's system over time.
According to the CDC, consuming up to 300mg of caffeine daily while breastfeeding is safe.
Taking more than one serving of Herbalife tea daily over several days may negatively impact your baby since the tea products are low in caffeine. Consult your doctor before consuming any tea products. 
Is It Safe To Drink Herbalife Protein Shake While Breastfeeding
The composition of Herbalife products is such a way that it contains significant nutrients and minerals that the body needs, and this alone makes it safe for human consumption.
But this does not include breastfeeding mothers because ideally, the recommended CDC per day for a Breastfeeding mother is 450-500 calories. And Herbalife products are made to burn fat which, in this case, is not needed for a Breastfeeding mother.
Although the brand has a specialized product for breastfeeding mothers called Herbalife New Mom for Wellness Nutrition it isn't particularly a weight loss product.
But it still hasn't been certified safe for consumption by breastfeeding mothers and therefore can not be trusted to be safe or not for you or your baby.
Apart from this period and during pregnancy, the products are promising for someone who may be looking for healthy slimming products.
Is It Safe To Take Herbalife Liftoff During Pregnancy and Breastfeeding?
Herbalife's Liftoff is an energy supplement containing caffeine, which helps you feel more alert. Pregnancy can knock the wind out of your sails as you approach labor.
Are you wondering whether it's safe to take a product like Liftoff just to get enough energy to get through the day?
The best answer is to consult your doctor if you want to consume this product during pregnancy and while breastfeeding.
During pregnancy and breastfeeding, you should limit your caffeine intake, and this product also contains herbs that may not be safe for pregnant women.
In the early stages of pregnancy, you should consume ginseng with caution.
Read Also: Can I Drink Thai Iced Tea during Pregnancy? Explained
Pros and Cons of Drinking Herbalife Tea While Breastfeeding
While the products aren't considered safe or unsafe for breastfeeding mothers, if you're used to drinking Herbalife tea even before pregnancy and have decided to continue breastfeeding, here are a few pros and cons of taking it as a breastfeeding mother.
Pros
They're plant-based, which means they're healthy for human consumption.

Their New Mom Wellness Nutrition offers a generous amount of protein and other Nutrition and calories that a nursing mother needs.

They have scientific baking to prove that they're healthy for human consumption.
Cons
Since it is a brand for slimming products, most of its products contain very low calories, which is ideal for an average person looking to lose weight. But for a Breastfeeding mother, weight loss is not advisable, making the products unnecessary.

Their products contain soy protein which is not tagged as a non-GMO

Their products are not suitable for breastfed babies.
Their products, however effective, aren't said to be safe or not safe to be taken by breastfeeding mothers and therefore shouldn't be bought and consumed off the shelf. 
To get the best advice, we recommend you ask your doctor who has your health records.
Related Posts:
Conclusion
Can I drink Herbalife tea while breastfeeding? Is it a question only a health professional should answer because they're in the best position to tell if the products suit your body?
You may have a friend who might have taken it while Breastfeeding and got the desired results, but keep in mind that the body system differs from one woman to another; therefore, what may work for her may not necessarily work for you.