As a mom, we all know the incredible hunger that comes with feeding a baby. Grazing on wholesome snacks like popcorn throughout the day can be a great way to satisfy your appetite.
You can also stay healthy and energized when you consume healthy whole foods while breastfeeding your baby.
As a nursing mom, you might be wondering can I eat popcorn while breastfeeding? Well, read on to find out everything you need to know about snacking while breastfeeding.
Snacking While Breastfeeding
Snacking is helpful for on-the-go moms who have little or no time to sit at the table and enjoy a full meal. At times it might feel like you spend more of your time in your nursing chair than anywhere else! Keeping a basket of nutritious snacks beside your glider or recliner helps you fuel up as needed.
We all know breastfeeding a baby can be a daunting task, especially for first-time moms but it's also a great way to bond with your little bundle of joy.
Since newborns are dependent on what we feed them for their optimal growth and development, having a bunch of healthy snacks like popcorns standby can help make your nursing or pumping journey just a bit easier.
Can I Eat Popcorn While Breastfeeding?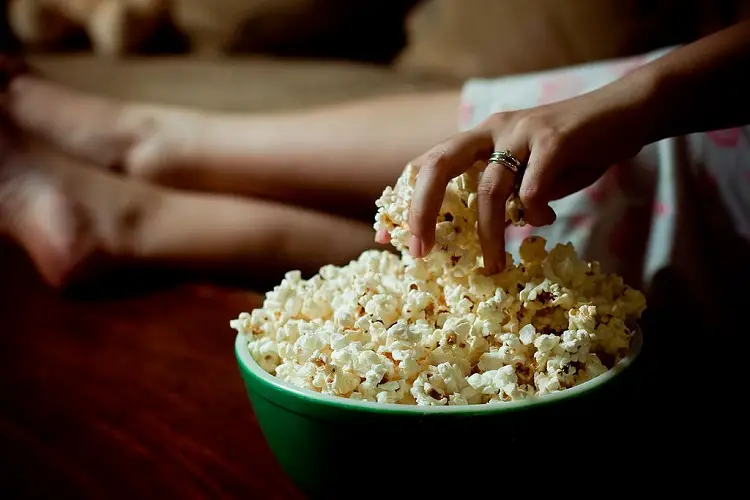 Yes, you can eat popcorn while breastfeeding. Air-popped popcorn is rich in fiber thus helping you stay healthy and energized.
Have these in your diet as it is safe to consume maize for a breastfeeding mother so If you feel your milk supply needs a boost, consider sprinkling the popcorn with brewer's yeast!
As recommended maintaining a healthy diet during breastfeeding is very important. Have an ample amount of dairy products especially milk.
Read Also: How To Get Rid Of Burnt Popcorn Smell in your House
What Makes A Good Breastfeeding Snack?
All snacks are not the same. Snacks meant for breastfeeding moms should be nutritious. This includes whole grains, fresh fruits, organic vegetables, lean proteins, and healthy fats. Consuming these foods will boost your energy more and help take care of your baby.
Be easy to prepare. As a nursing or pumping mom, you already have a lot of things to deal with, so you need snacks that require zero or minimal preparation before they can be consumed.
Help boost lactation. Some foods, like oatmeal, are believed to play a huge role in increasing milk supply. So if you're struggling with a low breast milk supply, you should include one of these foods on your shopping list.
Pro Tip: Consume every two to four hours to boost energy and avoid getting too hungry.
Breastfeeding Snacks: 20 Quick and Healthy Snacks For You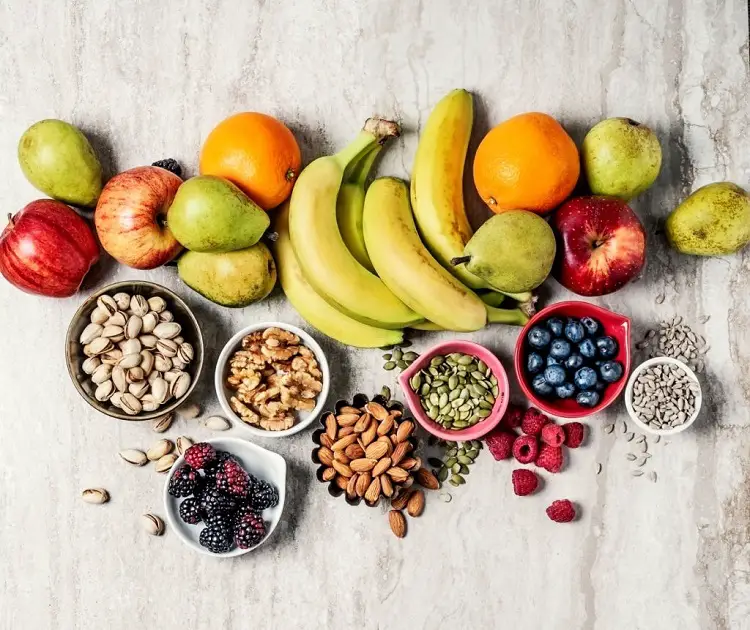 Here we've compiled a list of nutritious recipes and snacks that you can whip up in two minutes. Interestingly, most of these snacks need no refrigeration. All you need to do is toss them in your diaper bag so you're never caught without something nutritious to keep your mouth busy with!
1. Banana & Rice Cake
Bananas are nutritious portable snacks rich in vitamins and minerals like potassium, fiber, and vitamin B6. Consuming this kind of snack help keep you energized while on the go. At home, you can try slicing one or two bananas on top of a rice cake.
2. Apple Slices & Peanut Butter
First, wash and then cut your apple, then top each slice with a pat of peanut butter. Since most peanut butters are made of added sugar and hydrogenated oils, try purchasing an all-natural peanut butter that contains peanuts and salt. Alternatively, try almond, sunflower, and cashew butter for variety.
3. Trail Mix with Nuts and Dried Fruit
You can buy this snack in the bag or make your own. Mix equal parts nuts and dried fruit. According to Food Network, it is recommended you add extra crunch with mini pretzels or air-popped popcorn while adding one flavor-packed bonus ingredient – like toasted coconut, sunflower seeds, or a sprinkle of chili powder.
4. Hard Boiled Eggs & Whole Grain Crackers
One effective way to peel eggs easily is dropping the uncooked eggs into boiling water, after some minutes turn off the heat, and cooling them after ten minutes.
This recipe can make 5-6 servings. You should consume the eggs with some whole-grain crackers for a yummy, satiating treat.
Ingredients:
Steps:
Get a saucepan and fill it up with 6 cups of water and cover with a lid.
Heat till the water reaches boiling point.
As the water reaches boiling point, drop in the eggs and cover with a lid.
Turn off heat.
Allow the eggs to sit in water for 5-10 minutes.
Pour out hot water from the pan and replace it with cool water.
Repeat the process until the water in the pan is cold.
Peel eggs.
5. Greek Yogurt & Granola
Greek yogurt is rich in protein and low in calories, they contain natural probiotics that help digestion.
Add a good amount of granola (about one-quarter cup) for an extra crunch. You can find them in all kinds of flavors like yummy vanilla almond, as well as gluten-free and vegan. You can even sprinkle with fresh berries if you like.
6. String Cheese & Carrots
String cheese is delicious – and it's easy right out of the package. Organic baby carrots are usually prewashed for easy, instant snacking. If you want to save some little cash, try buying a big bag of large carrots – but you must be ready to wash and peel them before consuming them.
7. Cherry Tomato & Mozzarella Basil Bites
Each ounce of mozzarella cheese boosts about 80 calories, making this a nutrient-rich and low-calorie choice. This recipe makes only one serving.
Ingredients:
5 cherry tomatoes
2 one-ounce fresh mozzarella cheese balls
1 tablespoon extra virgin olive oil
Fresh basil leaves, shredded
Steps:                                 
Wash tomatoes.
Then get a small and place the tomatoes and cheese.
Sprinkle EVOO (extra virgin olive oil) on the mixture.
Add shredded basil leaves to bring out the flavor.
 8. Milk & Protein Bars
An 8-ounce glass of cow's milk or unsweetened almond milk is the perfect combination needed for an all-natural protein bar. Their variety of brands like Luna are specifically made especially for women. Others – like KIND – have simple, less processed ingredients.
9. Dark Chocolate & Raspberries
Moms should indulge in their chocolate cravings from time to time. Rather than consuming milk chocolate, you can try dark chocolate, which contains antioxidants that tackle the damaging effect of free radicals that exist naturally in our bodies.
Dark chocolate combines well with most fruits, but raspberries are the perfect mix. It may interest you to know that red raspberries are well known for their anti-inflammatory properties.
10. Oat & Nut Waffles
For a delicious oat and nut waffle mix, just toss premade, organic oat and nut waffles into the toaster, then top with fruit or yogurt for additional nutrition and flavor. This recipe can make up to 10 servings.
Ingredients:
1-1/2 cups whole wheat flour
2 teaspoons baking powder
1/2 teaspoon salt
2 large eggs, lightly beaten
1/4 cup butter, melted
2 tablespoons honey
1 cup quick-cooking oats
1 cup chopped nuts
Sliced peaches, optional
Steps:
Using a large bowl, mix flour, baking powder, and salt.
While in your other small bowl, mix eggs, milk, butter, and honey.
Then stir wet ingredients into the dry ingredients and make sure they mix properly.
Fold in oats and nuts.
Then use a preheated waffle iron to bake until it turns golden brown.
Top with fresh fruit if you like.
11. Lactation Cookies
If you can't find these in your nearby stores, you can also order them online. Generally, lactation cookies include brewer's yeast, wheat germ, whole grain oats, and flaxseed, they're also believed to help boost breast milk.
Interestingly, some of them are made with delicious dark chocolate chips to help quench your cravings. Yummy! If you have spare time, you can even make one yourself.
Read Also: When To Start Drinking Mother's Milk Tea To Boost Milk Supply
12. Cottage Cheese & Pineapple
Some parents shy away from cottage cheese due to its unique texture. However, its ingredients play a huge role in supporting body immunity and bone health.
If you're uncomfortable with the lumpy texture, you can go for whipped cottage cheese – it contains all the health benefits with a smooth texture that tastes closer to a mousse. Compliment with fresh pineapple chunks to add more flavor, sweetness, and fiber.
13. Hummus & Celery
Just wash and chop celery, then dip the stalks into a container of hummus. If you're a mom who is always on the go, this snack is one to carry along since it is easy to snack on, good for the heart, rich in nutrients, and is quite delicious too.
14. Granola Bars
Most seasoned moms hardly leave their homes without a few granola bars at hand. These snacks can help satisfy your hunger easily while on the go, nursing, or pumping.
If you've decided on adding this snack to your shopping list, look for ones that contain whole oats, they're believed to be good for the heart and breast milk production.
You should avoid ones that are packed with artificial sweeteners or sugar. Go for all-natural ingredients.
15. Popcorn
As we mentioned earlier, air-popped popcorn is rich in fiber which helps keep the body fill fuller longer and low in calories. If you're a nursing mom,m going through a low milk supply, you should try sprinkling the popcorn with brewer's yeast it helps!
16. Pitted Dates Stuffed with Peanut Butter & Walnuts
This snack is quite easy to prepare, they're nutritious and is also high in calories. It makes one serving.
Ingredients:
2 Medjool dates
4 walnut halves
1 tablespoon all-natural peanut butter
Steps:
Halve dates lengthwise
Take out pits and discard
Layout a small dollop of peanut butter on each date.
Top each with 1 walnut half.
17. Pretzels & Cheddar Cheese
This is one of my favorites, pretzels are low-calorie treats that help provide the body with a satisfying crunch.
They're a perfect choice if you're craving a salty snack! Try combining with small chunks of cheddar cheese or dipping them into melted cheddar. As you may know, cheese is high in fat and is protein-rich so you should be careful how you eat it.
18. Whole Wheat Bagel with Hummus
Large bagels can weigh as high as 350 calories or more, so it's recommended to try to consume a small bagel or just half of a regular one.
Avoid bagels that are made of refined white flour rather go for ones with whole wheat or sprouted grain and combine with hummus. You can also sprinkle with chickpeas for additional protein if you like.
19. Edamame
Edamame is delicate, green soybeans that are rich in protein, fiber, and vitamin K. You can either buy them cooked, shelled, prepared – or you can find them still in the pod.
Simply toss them in a cooking pot of boiling water for some minutes and sprinkle them with a dash of pink Himalayan salt.
20. Tuna & Apples
Adding canned light tuna packed in water is a good mix for bread or crackers. But have tried combining it with a chopped Fuji or Gala apple? Hmm, you should give it a try it's delicious!
Read Also: Can I Drink Fat Tummy Tea While Breastfeeding? What Experts Say
How Many Calories Does A Breastfeeding Mom Need?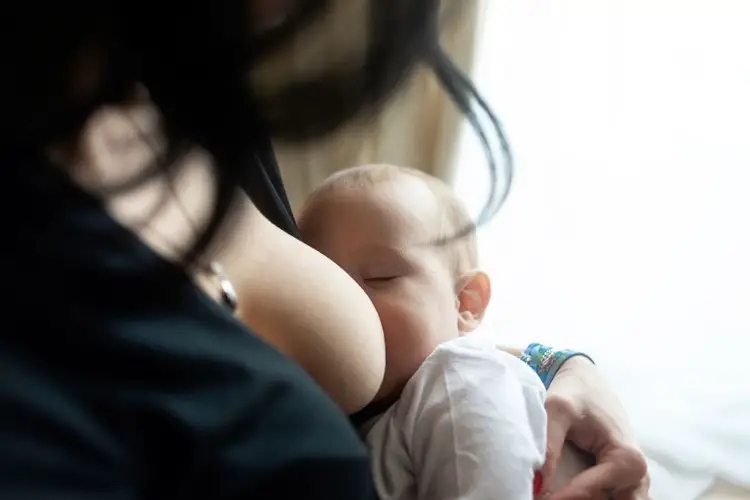 As a nursing mom, your body works extra hard to produce breast milk for your baby. And this requires a lot of calories which is why health experts often advise nursing and pumping moms to eat more than they did during pre-pregnancy.
While we don't like to channel our energy on calorie counting, if you're exclusively breastfeeding, it is best advised you eat an extra 300-500 calories each day. For any personalized eating plan, you should speak with a certified dietician.
While many health experts recommend focusing less on calorie counts and more on eating a real meal that's wholesome and healthy. Try to embrace your new body (which is doing an amazing job!) and take good of it right through good nutrition!
Always do not forget to drink enough water. As a nursing mom, you need at least four extra glasses of water a day to keep up with your milk supply.
Always keep a reusable water bottle around you, and aim to drink a full bottle when you're nursing or pumping. To spice things up a bit, you can include berries, cucumber, or lemon in your water.
Foods to Avoid While Breastfeeding
Some of the foods you avoid while breastfeeding your baby include
Coffee and Tea
Alcohol
Chocolate
Parsley, Peppermint, and Sage
Garlic
Medications
They are rich in protein and omega-3 fatty acids and are recommended to eat in moderation while breastfeeding.
Read Also: What Happens If A Baby Drinks Breast Milk With Alcohol
Other Breastfeeding FAQs
Should I Eat At Night While Breastfeeding?
Nighttime feedings are beneficial for your body in producing more prolactin (that is the hormone that promotes milk production) when breastfeeding your baby at night, so eating or snacking at night feedings can help boost your milk production.
Can I Eat Ice Cream While Breastfeeding?
Ice creams are not the kind of healthy calories that you need while breastfeeding your baby. However, you can always enjoy chips, cookies, and ice cream but try and keep it in moderation. Too many fast foods and sugar can affect your overall health and could result in weight gain.
Take-Home
We hope this article has given in-depth discussion to answer the question of can I eat popcorn while breastfeeding and also other healthy snack recipes to try out.
Always remember, while choosing healthy snacks and drinks to snack on, nursing moms are also advised to eat a variety of foods.
By healthy we don't mean it has to be boring. Try experimenting with different flavors and find one that suits you more.