Making up your mind about which formula to choose between Enfamil Vs Kendamil can be tricky if you're a first-time parent or have no prior knowledge of what to expect from most of these brands. 
If you're not careful, you will end up with an unsuitable formula for your baby, wasting both time and money and risking your baby's health. 
The key difference between Enfamil vs Kendamil is that Enfamil contains MFGM (Milk Fat Globule Membrane). This ingredient perfectly mimics the taste of breast milk and supports a baby's development.
This article comprehensively summarizes what to expect from using any of the brands, their key features, pros and cons, and their similarities.
Table of Contents
Baby Formula: Overview
Choosing food for the house is difficult for an adult, let alone for an infant who cannot communicate.
You begin to guess their preferences, allergic triggers, and several other factors that will affect their feeding. This is the challenge most parents have when choosing formula for their babies, especially newborns. 
The case may differ for parents with toddlers who can communicate better. However, choosing a suitable formula for your baby is not a walk in the park.
Fortunately, much research has been done to make it easier for many parents to choose the formula to feed their babies. 
That is why common comparisons like the Enfamil Vs Kendamil are made to throw more light on what each brand represents and what they offer. 
However, before choosing a formula for your baby, you have to put a few factors into consideration:
Why Feed Formula?
Your reason for using formulas can guide you on the best formula to choose. 
There are formulas suitable for birth and can be used to replace breast milk, while others are only supplementary and should be taken alongside breast milk. One cannot be used in place of the other because each has a different nutritional value.
Age of Your Baby
Parents are advised to breastfeed their babies first before introducing them to formula. However, not every parent can do so due to some reasons. 
For parents who can't breastfeed from birth, the formula is available with the required nutrients in breast milk. The formulas contain the required nutrients a baby needs for every age bracket.
Paediatrician's Recommendation
Sometimes parents like to follow the mainstream. If their friends are feeding their children formula, they'd also like to give their babies formula without considering the health implications. 
Always remember to consult a pediatrician for any major decisions concerning your baby. The formula you feed your baby directly affects his health; it can either aid his growth or impair it. 
The best place to get a suitable recommendation is from a trusted pediatrician. Considering these factors will narrow your options to the best formulas that can best satisfy your baby's needs.
Enfamil Vs Kendamil: Features, Pros & Cons
Enfamil Baby Formula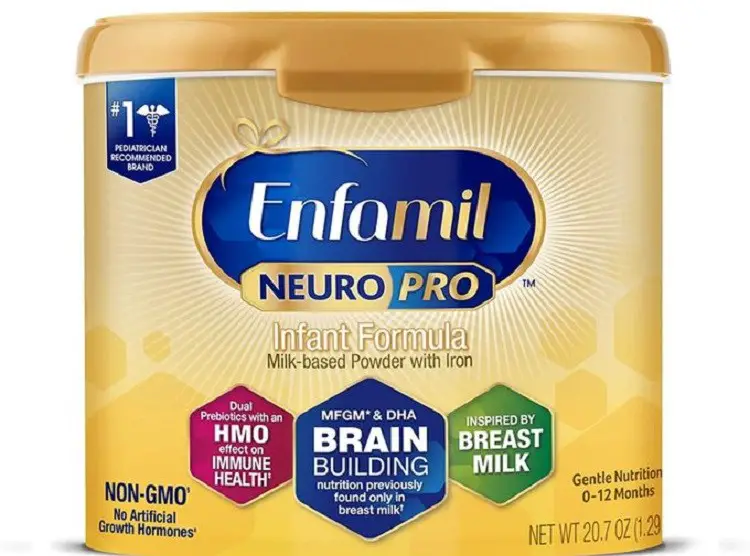 Enfamil is a milk-based formula suitable for babies with sensitive stomachs. It contains iron, DHA, and other major nutrients that can take your baby through the first 12 months of his life.
It is also known to contain MFGM (Milk Fat Globule Membrane), an ingredient in breast milk that aids in developing brain structure and function.
It is backed up by over 100 years of research and experience to support infant development and a healthy immune system.
List of Enfamil Baby Formula in the Market
Enfamil baby formula is a favorite among many parents and is even recommended by doctors.
Besides providing healthy baby food to sustain your baby's growth and development, it also offers a variety of products that you can choose from depending on the stage of your baby's development.
List of some the products from the brand;
Enfamil NeuroPro infant: Among all Enfamil infant products, Enfamil NeuroPro infant contains Omega 3 DHA in the required amounts.
Enfamil NeuroPro Gentlease: With Omega 3 DHA, Enfamil NeuroPro Gentlease reduces gassing and fussiness.
Enfamil Enspire: This infant formula tastes closest to natural breast milk.
Nutramigen LGG infant formula: It works quickly to manage colic caused by cow's milk allergy.
Puramino Hypoallergenic baby formula: It contains fortified iron and amino acids for infants and toddlers suffering from severe cow's milk protein allergies. You can buy all these baby products on Amazon.
Features
It contains DHA and Choline
It doesn't have any artificial sweeteners, flavors, or colors
It is a blend of dual prebiotics
It is a good source of iron
It contains vitamins D, C, and E 
It features various products ranging from prenatal to infant and toddler.
Nutritional Value
| | |
| --- | --- |
| Per Serving | 1 fl oz |
| Calories | 21 |
| Fat |  1.1g |
| Protein |  0.4g |
| Vitamin C | 2.5mg |
| Carbohydrates |  2.33g |
| Calcium | 16mg |
|  Iron | 0.37mg |
|  Potassium | 22mg |
| Vitamin A | 18mcg |
| Sodium | 6g |
Pros
It contains an adequate amount of DHA, ARA, and Choline, all present in breast milk and is required for brain development.
It contains prebiotic fibers, which help to improve digestive health and boost the immune system.
It is gentle and child friendly.
It contains no artificial sweeteners, flavors, and colors.
It is gluten-free and easy to digest
Cons
Clumps easily
It is quite expensive
It causes gas
It doesn't smell good
Read Also: Enfamil NeuroPro infant Vs Gentlease
Kendamil Baby Formula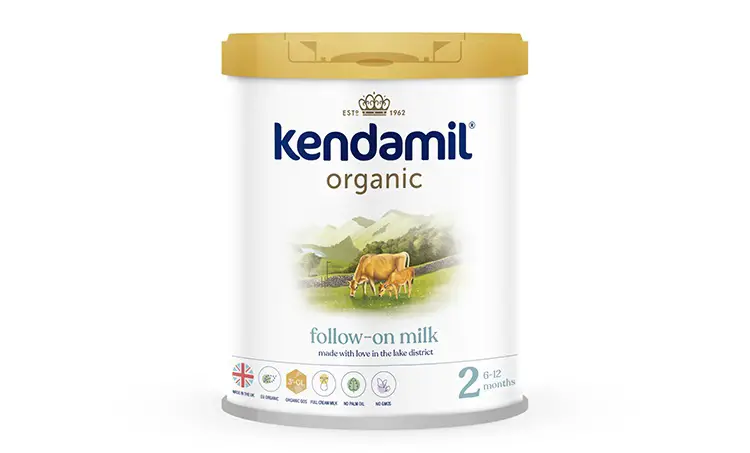 Kendamil is an organic UK brand made for babies between the ages of 0-12 months. 
It is made with demineralized whey powder, vegetable oils, and whole milk. They are very particular about not using palm oil in their products for their customers and the environment. 
With over 57 years of consistent research and improvement, Kendamil remains an all-time favorite Organic formula for many in Britain.
Nutritional Value
| | |
| --- | --- |
| Per 100ml |   |
| Vitamin A | 59mcg |
| Vitamin D | 1.4mcg |
| Vitamin K | 4.3mcg |
| Vitamin E | 2.2mcg |
| Vitamin C |  12mg |
| Vitamin B6 |  0.05mg |
| Calcium | 44mg |
| Iodine | 13mcg |
| Copper | 0.053mcg |
| Sodium | 21mg |
| Iron | 0.7mg |
Features
It contains whole milk
LCP oils
Demineralized Whey protein powder
Vegetable oils
Kendamil first infant formula (0-6months)
Kendamil cereal (4+months and above)  
Pros
It is made from natural farm produce
It is vegetarian friendly
It has no palm oil in it
It contains DHA from Omega 3 and ARA from Omega 6, which are vital for brain growth.
It contains prebiotics for the digestive system.
It is creamy and tasty.
It is soy and gluten-free.
Cons
It doesn't contain probiotics
It is expensive
Read Also: Enfamil Vs Aptamil
Enfamil Vs Kendamil: Similarities and Differences
Similarities
DHA and ARAs are present in both formulas
They're both easy to digest and suitable for sensitive stomachs
They include enough vitamins
Both contain prebiotics
They're both iron-fortified 
Differences
Kendamil is an Organic product, while Enfamil is not
Enfamil may contain some palm oil
Enfamil has a broader range than Kendamil
Only Kendamil is suitable for Vegetarians
Related Posts:
Verdict
Enfamil Vs Kendamil is an interesting comparison that highlights the strengths of both brands while throwing more light on their weaknesses. 
Each brand has strong backing from several years of research and is dedicated to making the most suitable formula possible for children of all ages. 
However, in this contest, Enfamil vs Kendamil, based on nutritional content, Enfamil is the best choice since it is known to contain MFGM. This ingredient perfectly mimics the taste of breast milk and supports a baby's development.
The formula also contains all the essential nutrients to support a growing baby and help them develop into healthy, happy toddlers.
Keep in mind each brand has unique features that serve different purposes for different babies. 
Your decision on which brand to choose is a personal decision that should be aimed at satisfying your baby's needs.