If you want to know which baby formula between Enfamil Vs Lactogen is best for your baby, check out the differences and similarities between both formulas and in what capacity they can each serve your baby.
Both products are great and highly sought after, but you cannot conclude that any of them will be suitable for your baby just because they are safe for your friend's baby.
This article comprehensively summarizes both formulas, their features, pros and cons, and their similarities.
Table of Contents
Enfamil Vs Lactogen
One significant phase of your life as a parent is watching your baby transition from stages, from sitting to crawling, walking, and then running.
This transition doesn't only occur in their balance but also because the food they consume changes; he goes from breast milk to formula and other finger foods.
This transition phase can be tricky for a first-time parent with limited knowledge about the different types of baby formulas on the market and which is best for their babies.
Also, while breastfeeding seems like the next thing after pregnancy, not all women can afford to breastfeed their infants due to health-related issues, work, or other unforeseen circumstances.
In such situations, the formula is what these women rely on to nourish their babies, and since not all formulas are made with the same composition, you cannot just pick any baby formula off the counter and feed your baby.
First, compare the closely related formulas, which in this case is Enfamil vs Lactogen. This will help you decide which of the two is suitable for your baby at the given age.
Enfamil Baby Formula
Enfamil baby formula is an all-age inclusive formula with various products suitable for babies from birth.
It is one of the formulas recognized by pediatricians to be safe and healthy for babies and has been around for over 100 years. It is constantly worked on to ensure that it remains safe and healthy for your baby's well-being.
It contains DHA in natural breastmilk and is essential to brain development. It is safe for babies with sensitive tummies with other vital nutrients like vitamins, prebiotics, and Arachidonic acids.
Enfamil baby formula is probably one of the formulas close to natural breast milk, making it easy for babies to enjoy.
Key Features
Pediatricians highly recommend this formula to their patients.
All formulas contain DHA, an Omega 3 fat that helps with brain and eye development.
It is the first brand to launch a baby formula containing MFGM, a unique ingredient in breast milk.
Clinically proven ingredients are used in the formula.
It has no artificial flavors, sweeteners, or colors.
Pros of Enfamil Baby Formula
The pros of any formula give you a reason to decide for or against the formula. When you weigh the pros and cons of any product, check if the pros outnumber the cons or vice versa. 
If the pros are more, you know it'll benefit your baby. Otherwise, you should consider the next available product.
Here are the benefits of Enfamil baby formula;
It contains a high amount of DHA. Docosahexaenoic acid (DHA) is an Omega 3 fatty acid essential for brain cell growth. It is also good for the heart. You can find it in cold water fishes like salmon and seaweed.
 It doesn't have any foul smell.
It is an imitation of natural breastmilk.
It contains vitamins D, C, B, A, and E, all necessary to support the baby's growth in his first year.
It contains prebiotics that promotes digestive health.
It is suitable for babies who have sensitive tummies and throw up easily.
Cons of Enfamil Baby Formula
In the same way, some parents have become regular customers of Enfamil; some parents had experiences with Enfamil and never turned back.
In their experiences, they noticed certain things about the product that makes it unsuitable for their babies, and these things form part of the cons of Enfamil baby formula.
It has been alleged that babies fed Enfamil formula develop life-threatening symptoms that seem to result from the formula.
It may take time to mix properly.
Some parents noticed that the formula caused constipation, while others complained about yellowish vomiting.
In terms of cost, it is costlier than lactogen.
Read: Enfamil vs SMA Gold vs Similac Gold
Lactogen Baby Formula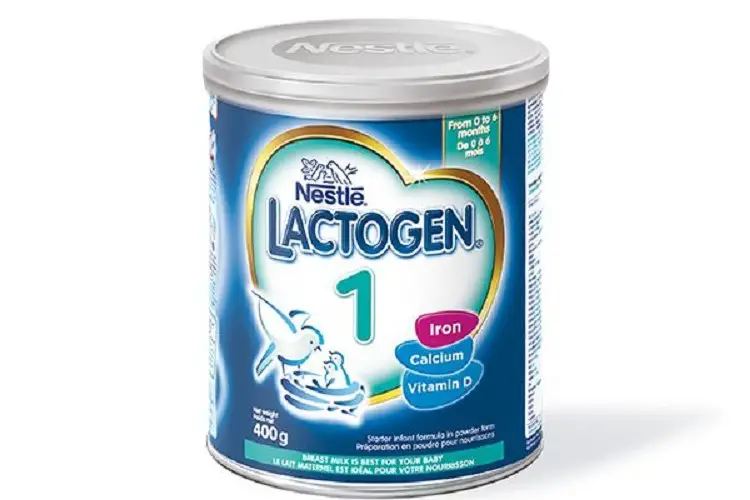 Lactogen is spray-dried baby milk made with whey protein which is easier for their delicate digestive system to digest. It is not organic, but it contains probiotics L. reuteri and other nutritional benefits that support a baby's growth.
Key Features
It is suitable for infants up to 6 months. 
It contains vitamins
It contains Taurine and L-Carnitine
It contains soybean and corn oil.
It contains Milk solids.
It contains demineralized whey and Maltodextrins.
It contains choline and alanine, which serve as building blocks for brain development.
It contains Iodine, which prevents thyroid inflammation and boosts healthy blood formation.
Nutritional Value
A few of the many nutrients Lactogen offers have been listed below alongside their quantity in the formula composition. A more comprehensive list of the nutrients is usually listed on the pack's body with the available quantity.
| | |
| --- | --- |
| Nutrients | Value |
| Carbohydrates | 59.3g |
| Protein | 14.2g |
| Total Vitamins (C and E) | 50.0 mg |
| Energy | 469 kcal |
| Cholesterol | 8mg |
| Chloride | 250mg |
| Phosphorus | 280mg |
| Iron | 6.20mg |
| Potassium | 400mg |
| Magnesium | 30mg |
| Calcium | 420mg |
| Fat | 19.5g |
Pros of Lactogen Baby Formula
It supports the digestive system.
It contains many minerals and vitamins that support a baby's well-being.
It is easy for digestion and can be fed to babies from birth.
It has a sealable bag to help protect the formula from insects and bacteria.
Cons of Lactogen
Lactogen may be safe for babies, but it is not natural breast milk and doesn't digest as easily as breast milk.
It takes time to prepare
Our Verdict
Overall, both brands have a lot to offer compared to their cons. Both formulas have gained considerable popularity with moms and dads worldwide due to their tested and trusted qualities.
Mothers who decide to bottle feed should be confident in their decision, even though breastfeeding is the best option. 
However, in this contest, Enfamil vs Lactogen, based on nutritional content, Enfamil is the best choice since it has close semblance with breast milk and contains all the essential nutrients to support a growing baby and help them develop into healthy, happy toddlers.
In the end, after looking at both formulas and you're still finding it difficult to choose between them, your pediatrician should be your next option since he may understand what nutrients your baby needs most and which formula can offer them.
Related Posts
Conclusion
Looking at the pros and cons of both Enfamil Vs Lactogen formulas, you'll have a clearer picture of how similar or different they are and how they can each serve you differently.
Both formulas have been tried by many parents who confirm their effectiveness, but when it comes to your baby, you can't make a hasty conclusion based on others' words.
Therefore, determine your baby's needs and which formula can satisfy such needs.