Making any tasty and creamy chocolate drink depends on the recipe taken to prepare it.
Like in hot chocolate bombs, it could be how delicately you mold the chocolate bombs or the type of cocoa powder and milk used.
To get the taste you crave out of your hot chocolate, you may wonder how long to microwave milk for hot chocolate bombs to be sure you are doing it the right way.
What Are Hot Chocolate Bombs?
Hot chocolate bombs are molded chocolate balls made with melted chocolate bars.
They're made in the form of a chocolate ball containing Cocoa powder and mini marshmallows and then sprinkled with hot milk.
The melted chocolate is molded using a silicone mold by pouring some melted chocolate on both sides of the mold, then placed in the fridge for cooling.
Hot chocolate molds are great and can be enjoyed at any time of the day, especially in the morning when it is still a little cold. The warm milk makes up for the cold weather.
How Long To Microwave Milk For Hot Chocolate Bombs
The correct response to how long to microwave milk for hot chocolate bomb is dependent on your method of preparation and how long you prefer to microwave the milk you're using.
But for specifics, anything between 60 to 120 seconds is recommended. Some leave their milk in the microwave for 75 seconds, as some researchers have it.
But milk microwaved for 60 seconds is good enough to give a taste to your hot chocolate.
How To Heat Milk For Hot Chocolate Bombs
When it comes to getting the right taste out of foods, it is one thing to know what to do; it is a different thing to know how to do it.
Knowing how long to microwave milk for hot chocolate bombs is just a piece of the puzzle for getting a creamy hot chocolate bomb, but how to heat the milk to get that taste is the other piece of the puzzle.
Below are the steps involved in heating milk for hot chocolate bombs.
There's no special milk required for hot chocolate, so go with the milk that best suits your taste buds; dilute it if it is in powdered form. Pour the quantity of milk into a microwavable mug. Or just turn it into a mug if it is liquid.
Place the mug of milk in the microwave and let it heat up for a minimum of 60 seconds and a maximum of 120 seconds.
Once your milk has heated enough, take it out of the microwave and add it to your chocolate bombs.
Read Also: 16 Best Cocoa Powder for Hot Chocolate
Recipe For Preparing Hot Chocolate Bombs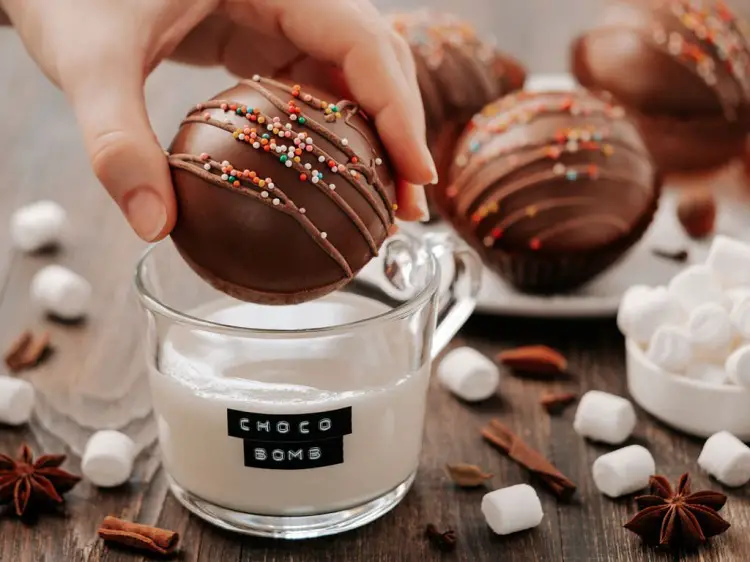 Making hot chocolate bombs is as easy as it sounds all you require are;
A silicone mold
A bowl to melt the chocolate bars in case you're using chocolate bars
A spoon or kitchen brush
A mug
Milk
With the requirements ready, here are easy ways to utilize them to make tasty and creamy hot chocolate bombs.
Step 1
Melt your chocolate bars in a ceramic, glass, or metal bowl on low heat using the double boiling method.
The double boiling method involves heating water in a pot and place the bowl containing mashed chocolate bars in the water.
Stir until the chocolate is well melted, then turn off the heat.
Step 2
Pour ½ a tablespoon of the melted chocolate into both sides of the silicone mold, and using the spoon or brush, spread out the chocolate around the silicone mold.
Step 3
Place the mold containing the chocolate in the fridge and allow it to cool. By the time it is done cooling down, it will assume the round shape of the silicone mold.
Step 4
Gently push out the two semi-circle chocolate chips on a tray and put the mini marshmallows and cocoa powder into one of the semi-circle chocolate chips.
Step 5
Heat a microwave-safe plate for 30 seconds and when it is done, place the other part of the chocolate chip on the plate facing down to melt the rim.
Step 6
Cover both chocolate molds to form a round chocolate ball.
Step 7
Heat your desired milk and pour it directly on the chocolate bombs while you enjoy it; leaving it for too long will make it cold.
How To Preserve Hot Chocolate Bombs
Hot chocolate bombs are easy to preserve. Once you're done molding the bombs, instead of pouring warm milk on them.
Take out the quantity of the bombs you'd like to store and put them in an airtight container or Ziploc and refrigerate.
This can last for days and weeks as they stay refrigerated and can be enjoyed anytime with warm milk.
Nutritional Value Of Hot Chocolate Bombs
Chocolate is a high-calorie food, with carbohydrates being the primary nutrient present in one hot chocolate bomb.
A breakdown of the nutritional value of the hot chocolate bomb will make you understand why it is not just tasty but beneficial.
In every hot chocolate bomb, there is about 273kcal.
Carbohydrates; 38g
Protein; 1g
Fat; 12g
Sodium; 110mg
Saturated fat; 12g
Trans fat;1g
Calcium; 11mg
Sugar; 36g
Vitamin A; 1 IU
Iron; 1mg
Fiber; 1g
Potassium; 1mg
Read Also: How Long To Microwave Milk For Hot Chocolate
Tips for Making The Best Hot Cocoa Bombs
While these hot cocoa bombs are a delight to make, they can be pretty demanding! Here are a few tips to help ensure your hot cocoa bombs turn out great.
1. Use Good Quality Chocolate
Make sure you use good-quality chocolate like semi-sweet milk or dark chocolate.
It doesn't matter what type of chocolate you use. Just make sure it is either couverture chocolate or bar chocolate. 
If you can't order some good-quality couverture chocolate online, no problem. Most grocery stores sell good-quality chocolate bars that you can use to make hot chocolate bombs. 
Just double-check the product package to make sure it has cocoa butter.
As an alternative, chocolate candy melts can also be used, but they don't taste half as good.
I firmly recommend not using chocolate chips because they contain stabilizers that make them more difficult to melt down and temper.
2. Use Whatever Silicone Mold You Have
You can use a larger or different shaped silicone mold to make your hot chocolate bombs! I used a 1.5-inch diameter semi-sphere silicone mold.
All the steps are the same; you might need to add more hot chocolate mix or meltdown more chocolate.
3. Melt Your Chocolate Slowly to Temper It
Tempering chocolate might sound like a daunting task, but it is not! Tempering chocolate means carefully heating and melting it to become strong and shiny.
It will make it easy to pop your hot chocolate bombshells out of the mold, giving them a beautiful finish. 
4. Dip Your Sealed Hot Chocolate Bombs into a Pretty Sprinkle Blend
You can prevent a messy seam by dipping your hot chocolate bombs into a bowl of pretty sprinkles.
It will appear as if you added an extra flair, and no one will even recall there was a seam. To finish them off, you can also drizzle melted chocolate over them.
Can I Make Hot Chocolate Bombs Without a Mold?
Yes, but this will depend on what look you're going for. You'll need two half-sphere silicone mold trays with six cavities each for the perfectly round hot chocolate bombs that float, sink, and then explode.
It's best to make your spheres 2 inches in diameter; smaller spheres won't hold enough hot cocoa mix, and bigger spheres won't fit in a standard mug.
It's easy to find these molds online or at art and crafts stores for a relatively modest price – often less than $20 for a pair.
Conclusion
How long to microwave milk for hot chocolate bombs may seem irrelevant, but when preparing yummy hot chocolate bombs, no one question is unnecessary.
Although making hot chocolate bombs isn't a technical process, you want to have it right.
The outlined steps can serve as a guide to a first-timer interested in trying out hot chocolate bombs and for those who are already in the know but would like to get a better understanding.