Are you concerned that your baby's NUK pacifier is a germ trap? Do you feel like allowing your baby to self-soothe by sucking will result in some hard-to-treat disease? Don't worry you're not alone.
As much as I loved my daughter's NUK pacifier, I also feared it. We both had a complicated relationship. I never felt that her NUK pacifier was clean enough and this made me uncomfortable each time I see her putting it in her mouth.
In this article, we will be discussing 5 easy steps on how to clean a NUK pacifier to help you keep it clean so you'll feel confident when you decide to hand it over.
How To Clean A NUK Pacifier
It is normal for a NUK pacifier to get dirty. You may even observe that your baby's pacifier gets dirty when she needs it most. It never fails but when you need a break to accomplish a task, the pacifier will hit the floor.
NUK pacifiers are strong and can withstand frequent washing and infrequent sterilization. If you are washing a NUK pacifier many times a day, the company makes accessories designed to keep your baby's pacifier clean and give you rest of mind.
What You'll Need
Here are a few items you might want to consider having on hand before you begin cleaning.
1/2 Cup Vinegar
Clean Dish Rag Or Fresh Sponge
Pan
Electric Sterilizer
Microwave Sterilizer
Plastic Baggies
5 Easy Steps On How To Clean A NUK Pacifier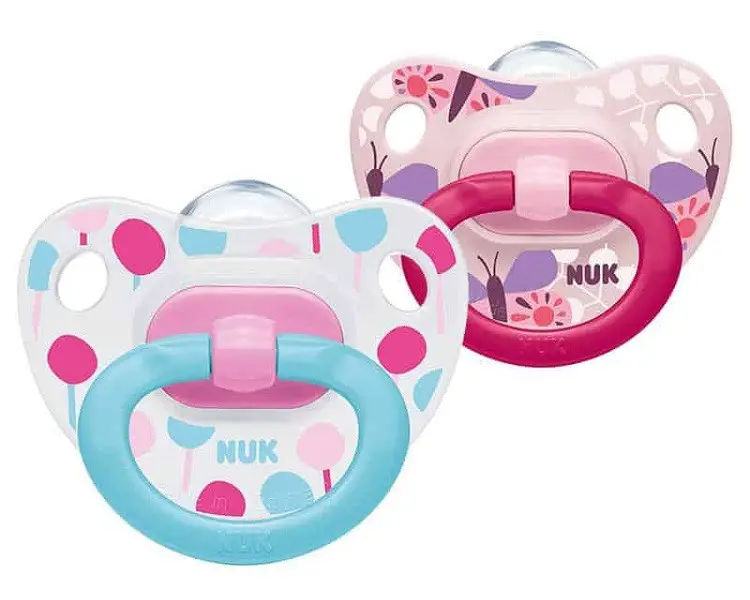 1. Wash Them First
Before you put your NUK pacifier in a sterilizer, you first need to make sure that they've been washed well. Add 1/2 cup vinegar to a sink of hot and soapy water. Then rinse the NUK and all accessories in a solution containing vinegar.
If your kitchen sink hasn't been cleaned for a long time, get out a clean bowl and fill that with clean soapy water and clean it. You don't want to risk bringing in more germs than you're getting rid of.
Make sure you're using a clean dish rag while doing this. If you make use of a sponge while washing dishes, make sure the sponge is clean because kitchen sponges are bacteria traps.
2. Inspect Them
When you're washing the NUK pacifier, check them over to make sure they're still in good shape. Pay close attention to cracks and crevices where dirt and bacteria can hide. Also, examine the nipple for wear and tear.
If you notice any cracks, tears, or compromised parts, you need to toss them out right away to prevent a choking hazard.
If the nipple of the pacifier is sticky after you have already washed it, it's time to pitch it as well. This implies that the material is no longer efficient and you don't want your baby sucking on it.
3. Sterilize
Place a stockpot on the stove and fill it with water. Place the NUK accessories inside and allow the water to boil. It's best advised to have several NUK accessories sterilized and ready for your baby. Let the water boil for five minutes.
If you decide to use an electric sterilizer, read the instructions carefully first before use. When using a microwave sterilizer, it's also important to follow the instructions so you don't keep the NUK pacifier in the microwave for a long period.
If you're using the dishwasher as a sterilizing alternative, make sure you only put the pacifier on the top rack of the dishwasher. It's not made to go on the bottom rack because the heat can be too much for the NUK accessories.
4. Let It Dry
Remove the NUK accessories and place them on a clean dish towel to air dry before putting them away. Squeeze the nipples to remove condensation, if it's present.
To speed the process up, take it by the handle and shake any excess water off or out of it. Some sterilizers are built to have a drying feature that takes care of this step for you, but it does take additional time.
5. Put It Away
Allow the NUK accessories to cool and store them until your baby needs them. A good place to store it is in a plastic Ziplock bag. The NUK pacifier fits easily into purses or diaper bags and will keep all the junk in your purse or your bag off the pacifier.
You don't want after doing all this work to have them get dirty or sticky again before your child has had a chance to use it.
Read Also: How To Keep Pacifier In Newborn Mouth
How To Clean A NUK Pacifier: Tips And Warnings
Tips
Buy a pacifier carrying case to hold pacifiers when you go outside.
Wash your NUK accessories in the dishwasher on the top rack.
Buy a pacifier cap to prevent the NUK from getting stains especially when your baby drops it on the floor.
Clean a NUK with water and mild antibacterial soap that is safe for the baby if you're in a hurry.
Warnings
Do not stick your baby's NUK in your mouth to clean it.
Test before each use by pulling the nipple in all directions checking for cuts or tears to prevent your baby from choking.
Do not use it if the nipple is damaged.
Never leave the baby unattended while using a pacifier.
Related Posts:
Conclusion
I hope this article has given an in-depth discussion to answer the question, How to clean a NUK pacifier?
However, knowing the right information on how to clean a NUK pacifier will help keep you're pacifier clean, prolong its life span, and most importantly protect your baby from any possible illness. Still, need to know more? Learn How To Get Baby To Sleep Without pacifier.