Having a wedding and being pregnant can be stressful and an exciting experience in everyone's lives. For many reasons, many women do not want to show off their baby bump, no matter how far along they are.
Are you thinking of how to hide baby bump in wedding dress? The best way to hide a baby bump on your wedding day easily is by wearing a loose wedding dress; this takes the focus off your belly. However, this will depend on the body type and how far along you are.
Therefore, in this article, we will be sharing some tips with you on how to hide baby bump in wedding dress and how to find the right dress. Read On…
Why People Hide Their Baby Bump?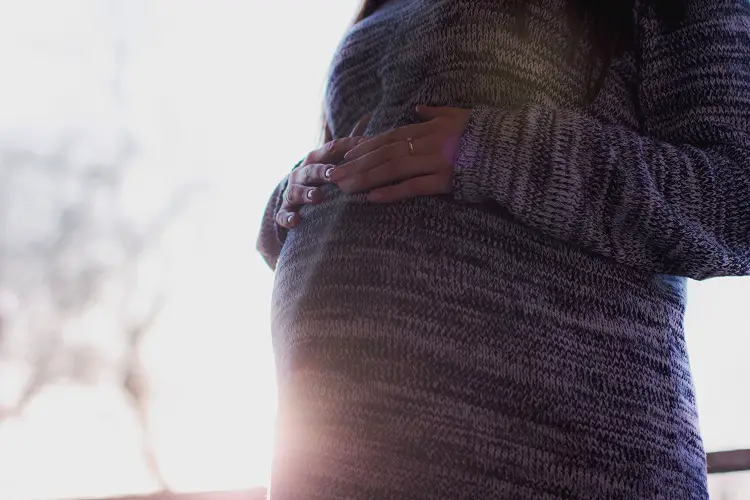 Every mom's pregnancy journey is different, who to show and who not to show is your right. Most women are often advised to tell about their pregnancy to only close family in the first trimester. There are many reasons why most women hide their baby bump.
Mom Just Doesn't Want People To Know: Sometimes it can be inconvenient to let people know that you are pregnant. This can be due to an unusual situation, relationships, or workplace discrimination. Take your time and let everyone know when the time is right.
Her Boss/Colleagues Don't Know Yet: It can be inconvenient to let your boss or co-workers know you're pregnant. There is always this fear that you might be seen as incapable to maintain your position in the company while pregnant or even encouraged to resign. This can be tough to take and is illegal.  This also comes into consideration when looking for jobs while pregnant. You don't want to be denied employment because of your pregnancy.
Being Pregnant Makes Her Uncomfortable: Almost every woman struggles with body image issues. An expecting mother can be struggling with this because of her baby bump. Even though maternity clothes and dresses are more fashionable than ever, they still have a feeling that they look frumpy and unattractive. If you or you know anyone feels this way, take her to places or people you know that can help in a positive and supportive way.
She Doesn't Want People Touching Her: Some friends or family members can be very touchy and do not have personal boundaries. Therefore, for their health and the health of the baby, expecting moms are encouraged to give themselves some space between these kinds of people.
Colleagues/Family Members Are Rude: Some family members or colleagues can be too inconsiderate. Colleagues or co-workers can gawk, claim that they are not pregnant, that they are just fat, or even have a thyroid issue. This is not what you want to hear on your big day.
She Is A Surrogate: Surrogacy has enabled a lot of couples to successfully build their own family. This opportunity can be an amazing opportunity for everyone involved. Though some people are not open to the idea of being a surrogate mother or getting a child from another.  This can put you in an uncomfortable situation and it just may be easier to hide the bump completely than have to explain to those that are not as open to the idea of surrogacy.
She Is Not Expecting: Sometimes it can be inconvenient to let people know that you are pregnant if pregnancy is unexpected for reasons such as; health struggles, the couple is no longer in the same relationship, mental, financial, or emotional struggle.
Read Also: When To Take Maternity Photos
How To Hide Baby Bump In Wedding Dress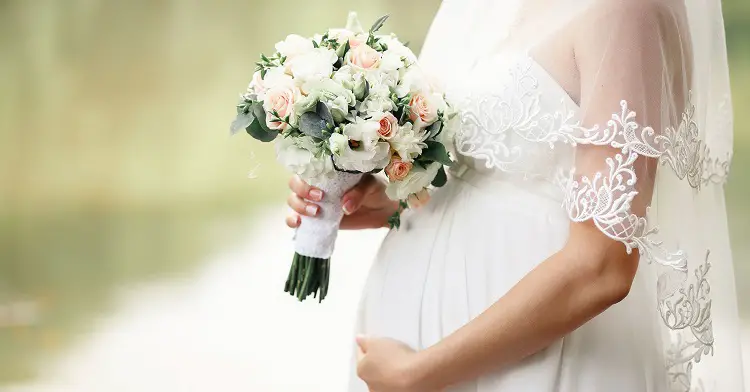 Colors and Prints: When shopping for a dress, go for one with a floral print or a busy pattern. This can confuse the eye, and make it difficult for people to tell the shape of the body underneath. Dark colors also have a slimming effect. Stay away from bright colors because they attack the eye and tend to show lines.
Underwear/ Spanx: Comfort always starts with the undergarments. These also could be able to hide your baby bump. Spanx or a good pair of leggings can make your tummy look slimmer while putting it on and this can hide a lot. Unfortunately, it might be a bit uncomfortable for some, but they should not be too tight or suffocating.
Accentuate Other Body Parts: Choose cuts that are designed strategically to draw attention away from your tummy to your other features. For example, an empire waist dress, can accentuate your silhouette and show off your shoulders. V-neck formal dresses can stretch your neckline and balance your figure.
Choose Gown That Is Made Up Of Breathable Fabric: Ensure you choose a wedding gown that is made of breathable fabrics. This helps keep you comfortable and cool. Do not buy stiff non-stretch materials. If you are buying online, be sure to purchase your dress from a specialty online retailer of maternity clothing in your area.
Accessorize: Putting on my pieces of jewelry was one my favorite way to hide the baby bump, as keeps you simple and does not draw attention. More so, with a strategically placed bouquet or handbag, this trick can assist in hiding any evidence of your bump.
Shoes: This is another tricky one. However, since you will be on your feet all day, and your feet will already be swelling from the pregnancy. Sitting down often to rest your feet, could make people wonder. So, you must go for a comfortable pair of shoes, that aren't flat or have a very low heel. It could be a long day and in the end, your partner is still the best accessory to hide your bump.
Alternatively, here is a video showing you how to hide baby bump in wedding dress
5 Things To Keep In Mind When Choosing A Wedding Dress
Have A Plan: It's your right to make your wedding fun and enjoyable. Worrying about your baby bump is not. So, have a plan and a back up one to be ready for your big day.
Shape: Understanding your body is a good way to ensure that you can get the right wedding dress that flatters your figure. For example, if you have an hourglass shape, go for a dress with a cinched waistline and wide shoulders to make your growing midsection look smaller. An apple-shaped woman should go for waist detailing, while a pear-shaped should go for a long empire dress.
Get A Support Team: Wedding is not easy, especially if you're the bride, so it is a good idea to get a team around you to help. Your partner, bridesmaids, and close friends could be a valuable asset.
Comfort: Comfort is important when it comes to choosing a maternity wedding dress.  That confidence you have from feeling and looking lovely means everyone's eye is on you and not your baby bump. Remember, you always look your best when you truly feel your best.
Go Bigger: Sometimes wedding dress can take 4-6 months to get finished and since you'll probably do the fitting months in advance. It is best advised you go bigger to make sure you fit in well on your big day and the good news is, you can always alter it if need be.
Read Also: How To Hide Pregnancy in Scrubs
How To Hide Baby Bump In Wedding Dress: What To Wear?
The options are now plenty, but there are a few tried and true dresses/styles that you can consider.  Though it may take a little more research and search the right dress is out there for everyone. However, try mixing and matching these suggestions to get the optimum dress for your wedding day.
Flowing Dress: Consider going for a dress that is slightly flowing and not a super full dress, but more empire rather than Basque waisted. You do not want a mermaid form-fitted dress. Remember; always consider that your chest will grow as well, so when ordering a dress don't take that area in too much.
A-Line Dress: This is another wonderful choice, one that may have an empire bodice. An A-line dress is a dress that is gathered under the breast area and flows then to the floor. Its dress is gathered and can hide the stomach area perfectly. It also helps to create a silhouette that can hide your baby bump.
Empire Waist: This is a common type of wedding dress style. This is often used in dresses that are also not made for maternity, so it wouldn't be odd.
A Slip: This dress is not the bed dress you are probably thinking of, though it is inspired by it. This dress is becoming very fashionable. They have a lot of room and are very comfortable to put on. On a good note, this dress can easily be tailored to your needs and altered in a small amount of time.
Blazer And Pants: This dress can be very flattering and one can look amazing on it. Though it is not the most conventional. The pants have an elastic waistline which provides you comfort and flexibility, while the blazer is a great material to hide the baby bump while still being chic.
Read Also: How To Hide A Pregnancy For 9 Months
How To Find The Right Wedding Dress?
Go to a professional. Bridal consultants at any major bridal store can help find dresses that will help you hide your baby bump.
Ask Around/Look Online. You can find articles online on the pros and cons of online wedding dress shopping helpful.
If you have the fund available, get custom-fitted.
Wind Up
We believe this article has given an in-depth discussion to answer the question, how to hide baby bump in wedding dress. Being pregnant and getting married can be an exciting and yet stressful journey.
However, having the right information will help you hide it well from co-workers or your family friends until when you feel the time is right to make the big announcement.
Still, need to know more? Learn How To Discreetly Buy A Pregnancy Test?