Wondering how to make your child's room look exquisite even without the presence of a closet, then this article is for you.
A lot of parents just like you are faced with a lack of closet space in the nursery. Newborn arrival comes with a lot of clothes, blankets, and little keepsakes over time.
This is why as a concerned parent you should come up with a clever nursery organization solution, especially when you don't have a closet in the baby's nursery.
In this article, we bring a clever hack and approved tips on how to organize baby clothes without a closet. These tips are economical and less stressful.
How To Organize Baby Clothes Without Closet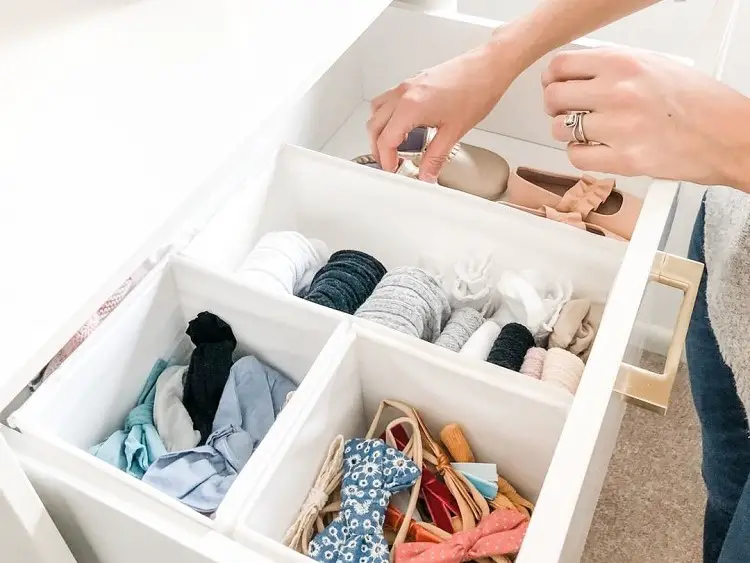 1. Make Use of the Nursery Dresser Efficiently
In the absence of a closet, you can utilize your nursery dresser and when doing this, you have got to maximize the space in each drawer as much as possible and these can be achieved by doing three things
Have A Set Place for Every Type Of Item  
There has to be a place in each drawer that would house a particular set of your baby's clothing.
When you have decided on this, stick to it, don't get confused or go back on the decision because if you relent, the whole arrangement would be messed up and your drawer will begin to look shabby.
Of course, I know don't want your baby's drawer to be shabby, because nothing gives joy as seeing your baby's drawer in a comely shape and arrangement.
We are committed to serving you better hence we give you a practical illustration of what your drawer should be like in terms of the arrangement.
Let's assume that you want the middle drawer to house the onesies, socks, and burp cloths, all you have to do is to create three distinct spaces for each of them in the middle drawer.
And also when you decide to put them back after washing, keep them in the space you've marked out specifically for each one, do not confuse the positions, and ensure each one is kept in their specified position.
Read Also: How To Whiten Baby Clothes Without Bleach
File Folding or Rolling Clothes
If you want to utilize the dresser drawer efficiently, then you should ensure that your baby's clothing is folded properly, so that at a glance the sight will be ravishing and attractive.
Remember the way you arrange your home tells a lot about you. When folding your baby's clothes you should consider using the file folding method or the rolling clothes method, either of them would give you beautiful results.
The beauty of folding your baby's clothes is that it allows everything to fit in and the drawer can accommodate more items and when you want to make use of the drawer, you sure can see everything contained therein at a bird's eye view.
Use Drawer Dividers
The use of drawer dividers is the last and most important step in this process because they add beauty to what you have already put in place in your drawer.
They also help you maintain boundaries so that each material stays in the approved position. Another beauty that can be harnessed from the use of drawer dividers is that it allows you to group like items together in each drawer.
Read Also: How To Fold To Baby Clothes Using The KonMari Method
2. Use a Wardrobe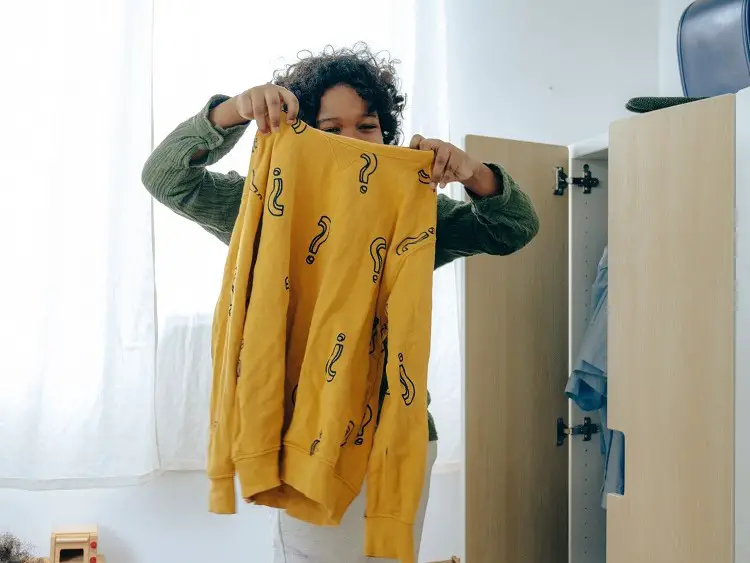 Do you know that you can use a wardrobe as a dresser instead of a closet? Surprised? The top part of a wardrobe typically has storage space where you can hang clothes and other essentials while the bottom portion holds drawers.
3. Find Unused Space in the Nursery
Sometimes the use of drawers might not be sufficient for you and then you are faced with the problem of finding more storage space; don't panic because you can find tons of unused space in any nursery!
4.  Use Hang Shelves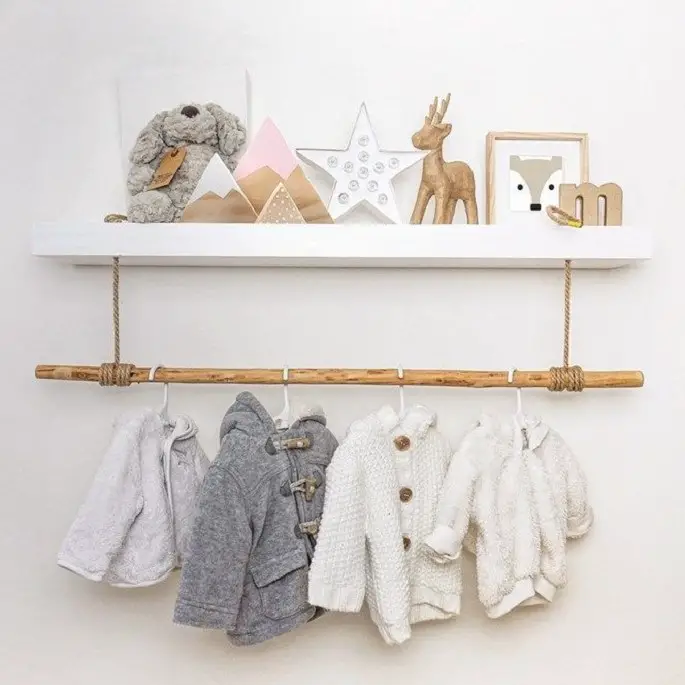 If you lack a built-in closet in your baby's nursery, you can use shelves to store your baby's clothes and other essentials. This method is very effective and less expensive.
5. Use the Back Of Nursery Door
Still, thinking of how to organize baby clothes without a closet? Well, using vertical space to store items makes a lot of sense and I can assure you that you won't regret trying it.
I like making using over-the-door racks or plastic shoe organizers because this is usually a large unused space and lots of stuff can be stored on them too.
6. Use a Cloth Rack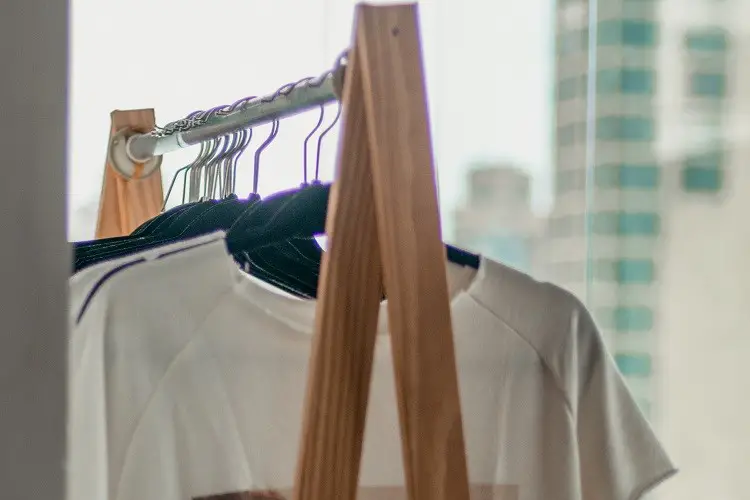 Baby clothes racks are another easy and cute way to organize baby clothes. Of course, you'll like to show off all those beautiful baby outfits you've bought!
Using a cloth rack helps you maximize storage space with help of baskets underneath it to store your baby's clothes, shoes, accessories, and other stuff.
7. Under The Crib
If you are looking for where to find storage space then you should consider using under the crib, using bins or baskets to sort like items together.
The clothing can be hidden from view when you push each bin far enough or when you use a crib skirt to cover the entire space.
8. Create Extra Space in a Different Closet
Depending on the number of clothes you want to hang, you can also create extra room in a closet in a different room for baby items. Extra spaces can be created in the master bedroom closet, a sibling's closet, even a linen closet.
9.  Invest in a Bookcase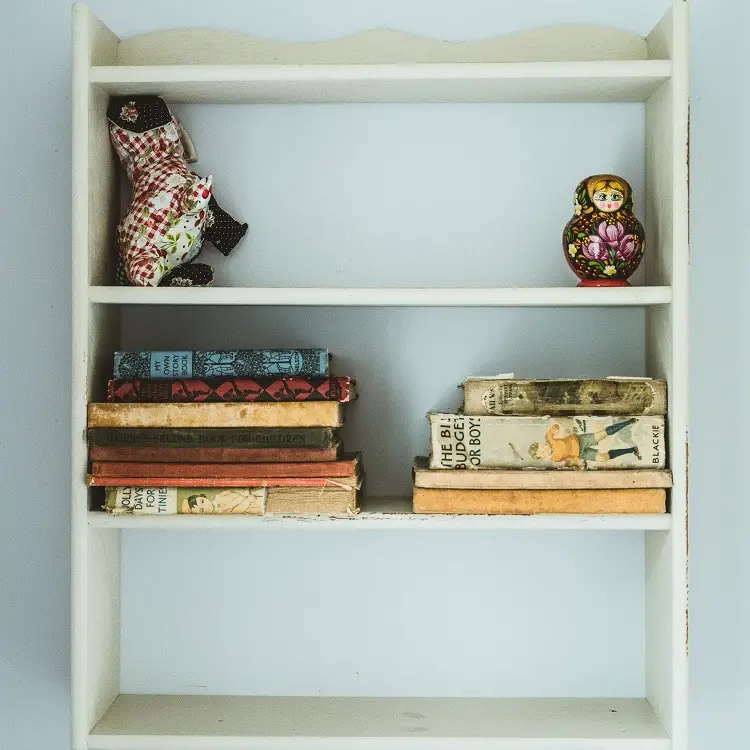 In the absence of a closet, you can use bookcases to store baby clothes as well. This nursery design uses both bookcases and baskets, a lot of parents that have used this, usually call it a nursery storage heaven.
Not only will you benefit from its large storage space, but it is also a stylish nursery storage option to choose from when thinking about how to organize baby clothes without a closet.
10. Create Your Closet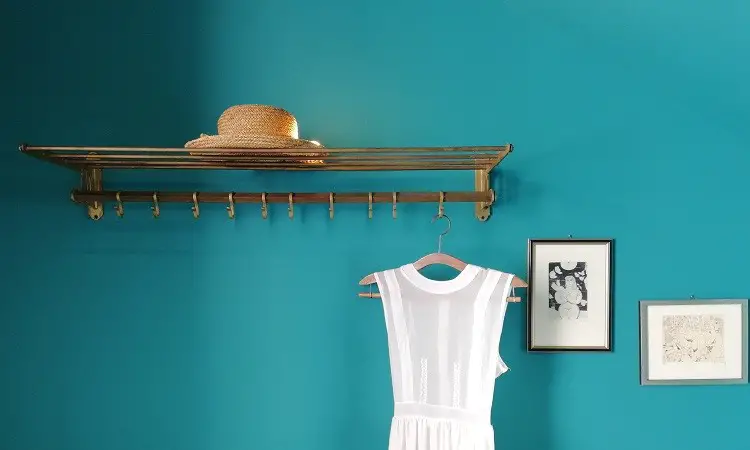 Remember that we said you have got to think outside the box and that simply means that you have got to be creative. You can do this by applying any of these 2 methods to store baby clothes.
Mount A Clothes Rod
Clothes rods are another great way to organize your baby clothes when you don't have a closet. To do this properly, simply install one or more on an open wall and pair it with wall shelves for additional storage.
Use Baskets
These are also a great way to store your baby's burp cloths and blankets. Just keep a few baskets by your nursery chair, this method helps you reach your baby clothes easily and also adds texture and pattern to the nursery design.
11. Over The Door Hanging Shoe Organizer
This is another brilliant way to store your small baby stuff such as bibs, socks, blankets, bodysuits, or any other baby item handy.
If you want to go for this, it's best advised to go for transparent ones because it will make it easier for you to find what you need. You can get this item in your nearby store or on Amazon.
12. Think outside the Box with Items You Do Want To Hang
When you have exhausted your storage space, and you still have clothes that you haven't organized, then the time to think outside the box is staring at your face to face and you have no choice but to do it.
There are a few ways to think outside of the box and create hanging space in the nursery for such as hanging baby clothes from the wall, using a wooden tree branch, and also hanging baby clothes around the nursery.
Related Posts:
Take-Home
We hope this article has an indebt discussion to answer the question of how to organize baby clothes without a closet.
If you lack a closet in your nursery don't worry, these 12 brilliant baby storage ideas we've mentioned prove that your worries are misguided.
Confidently, you can use any of these tips and stylish storage ideas to organize your baby's clothes even without a closet.