Are you wondering how to put on a girdle properly? It is ok if you do not know how to fit in and how to use it. They are usual worries, so do not give up and start using your girdle.
In this article, we will be discussing everything you need to know about girdle, how it works, and some step-by-step guide on how to put on a girdle. Read On
What Is A Girdle?
The term "girdle" means "cord or belt" worn around the waist. There are several styles of shaping garments that can fall under that category.
Some girdles have a built-in pantry design, making them ideal all-in-one shaping garments. They utilize firm and steady compression throughout the bodice to offer slimming around the midsection.
Since they have a panty bottom, they are specifically helpful at minimizing the lower abdomen.
How Does It Work?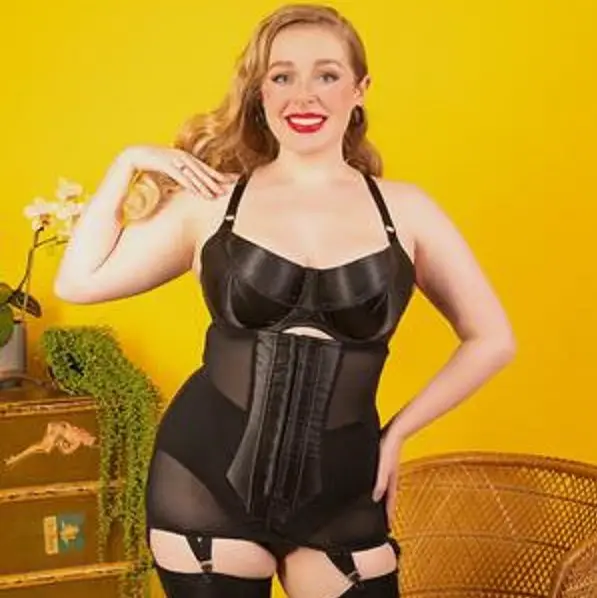 Most girdles are built with materials that provide firm compression around the core. Latex is commonly used, particularly in waist cinchers, although latex-free blends are also available.
When you put on a girdle, it is expected that you'll shed 1-3 inches from your waistline, and you may also drop a size or two.
The result depends on the style of garment you are wearing and the compression level. Typically, waist cinchers will provide more dramatic slimming at the natural waist.
If your concern is how to control your lower abdomen, then a high compression girdle with a built-in panty will do the job more correctly than one designed with just a waistband.
Ensure you read the specifications on your girdle manual to know its compression level.
Girdles with high compression provide a slimmer result, while those with moderate or light reduction will give a more flexible result.
We advise you have several that you can rotate through your wardrobe for various occasions.
Step By Step Guide On How To Put On A Girdle
When buying a compression girdle, it is normal to be worried about how to put it on properly. To put on a girdle properly, follow these steps.
Firstly, ensure dry skin to prevent the garment from sinking to your skin while you put it on. You can put them on in two ways, either by standing or sitting; the one that makes you more comfortable is the right way. If you decide to stand: Put the girdle upside down and put one leg and then the other. While you are sitting, you should take one portion of the belt and draw it up, as you do with pantyhose, then put your leg in a corresponding hole with delicacy. Do the same thing for the other portion.
Hold your belt from the top of your legs and pull it up until your thighs are comfortable. There are different lengths in the compression straps, but the procedure is the same.
Now take your Colombian belt and pull it up until it reaches your waist.
Then for the strips of the post-surgery girdle, take it and finish it on your shoulders until you feel good in it. Supposing your compression garment has no straps, pull it up until it fits your torso perfectly. Ensure there are no wrinkles in the girdle when you put it on.
To tighten your sash, pull the sides towards your navel as much as you can so that it is much easier to close it.
Here is a video showing you how to wear a girdle
Health Benefits Of Wearing A Girdle
Aside from the positive changes in the appearance of your shape, there are other benefits of regularly wearing a girdle to look forward to:
Breast Support: You must be very familiar with back pains and other uncomfortable sensations if you have a large bust. A girdle offers support to your bust, relieving the stress on your back.
Better Posture: Most people these days are guilty of bad posture. Putting on a girdle is an easy way to correct it. A girdle will help you keep your back straight without restraining it too much, so you'll enjoy both a better posture and more room for movement.
Weight Loss: Although a girdle does not directly influence your body weight. However, it makes you look smaller on your weight loss journey; this can serve as a significant boost to continue. Constant going out in a girdle helps you keep your abdominal muscles tight.
Stress: Putting on a girdle helps not only physical health but mental health. Being in a girdle all day long is a certain type of pressure that is very therapeutic and can as well feel like a hug; this gives you the energy to combat stress and anxiety.
Headaches: Bad standing position and unnecessary strain on the back and shoulders can lead to frequent headaches. Putting on a girdle offers your back and shoulders extra support, relieving your headaches and preventing migraines.
Read Also: How Long To Use Abdominal Binder After C-Section
Side Effects Of Wearing A Girdle
Wearing a girdle has a lot of health benefits which is good for your emotional well-being, but if you wear your girdle 365 days a year, certain side effects can also happen:
Heart problems: Due to being somewhat restricting, a girdle can lead to issues with blood circulation in your body; this can cause your heart to work harder with negative consequences.
Digestive problems: Not all, but most girdles feel tight on your abdomen and often compress your stomach, intestines, and colon. This can cause you to experience heartburn and other problems with your digestion.
Bladder pressure: When you put on a girdle for an extended time, you know that going to the bathroom in a girdle can be rather uncomfortable. As a result of this, women keep from relieving their bladder on time, and over time, it can lead to incontinence and leakage.
Breathing problems: As you know, breathing deep is an essential requirement for the regular operation of every system in our bodies. Putting on a tight girdle constrains your diaphragm; this makes your stomach flare up when you are breathing, which results in shallow breaths.
Varicose veins: Are you genetically predisposed to the varicose vein problem? Do you have multiple women in your family suffering from this disease? Truthfully, the chances are that wearing a girdle every day will make the blood circulation in your legs worse and lead to the formation of varicose veins.
Related Posts:
Final Thought
Remember, more damage is done by the strain and struggle of getting into a girdle than by weeks of wear. However, following the step-by-step carefully or improvising with the information you have will make sure you wear your girdle correctly.
Have you used a girdle before? Do you have any other suggestions on how to put on a girdle better? Share with us in the comments below!