Are you thinking of how to satisfy your husband after giving birth? You're probably wondering what to do to reignite your sexual life to make it fun and exciting after delivery.
As you may know, sex after pregnancy may not be as exciting as it used to be before pregnancy, and this may be due to certain changes associated with pregnancy and the after-effects it has on the woman's body and emotions.
It is not recommended for women who have just delivered newly to have sex immediately until four to six weeks after giving birth. This is simply because your body is still healing and it will need those times to get back in shape to avoid complications.
Read on as we answer your question of how to satisfy my husband after giving birth along with other pregnancy sex-related questions.
Sex after Baby: Everything You Need To Know
Sex after baby can be quite challenging for new parents – busy schedules, tiredness, fluctuation of the body hormones, and concerns about contraception can make it tricky.
If you and your partner have tuned down a bit on sex, then it's fine. But if both of you have different levels of sexual needs, then it can add some pressure to your relationship.
Some women after giving birth may feel the need not to have sex again. This should not bother you, the human body naturally is bound to heal and your sexual desire will return.
This usually happens within 1-3 months after delivery, but it's normal if yours is taking longer. In most relationships, things always get back to normal, but you must stay patient in this situation.
Some mothers say that they feel sexually turned on when breastfeeding their babies. This is as a result of the hormone oxytocin, also known as the love hormone which is involved in milk let-down and also sexual mood. This is completely normal. If you're worried that your sex life is off track, talk with your doctor.
Read Also: 11 Reasons Why You Should Make Love Everyday
How To Satisfy My Husband After Giving Birth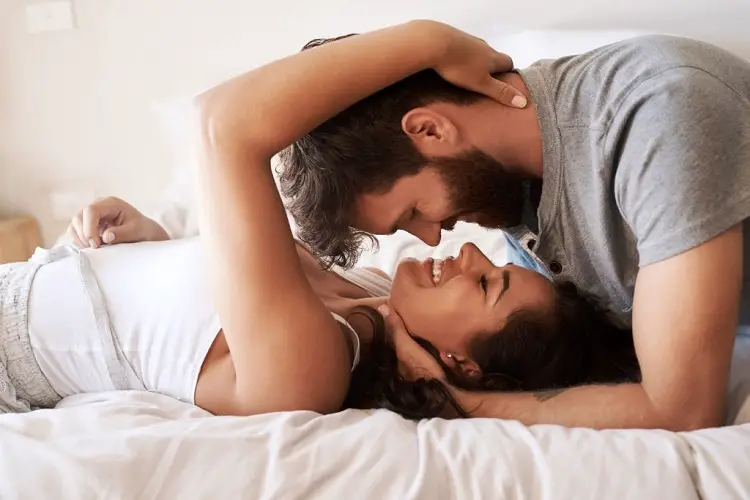 Sexual intimacy is and should be an integral part of every couple's life, and should not be relegated to the background even after childbirth.
Penetrative sex is a NO after childbirth till the fourth to sixth week after delivery but non-penetrative intimacy can be used to keep your sexual life spicy as a couple.
There are lots of things you can do to satisfy your husband after childbirth apart from penetrative sex though nothing can equal the excitement and sensation gotten from penetrative sex but remember that half a loaf of bread is better than none.
Here are a few things you can do to keep your husband satisfied after giving birth.
1. Dress Sexy
As a new mom, do not forget to remind yourself that you are first a woman before you became a mother. Having through all the hormonal changes, it is ok that you begin to feel unattractive.
However, you should know that beauty is mental, and most sexual activities are activated through our minds especially from what we see. Keep in mind that the fact that your body has gone through all those experiences before and after your delivery shouldn't make you feel any less of a beautiful woman.
You don't have to dress like an old lady or hide your beautiful curves just because you delivered. A lot of men can get turned on just by watching you breastfeed, staring at those beautiful curves, or even your nipple.
You don't have to hide yourself because you have delivered one baby. Your husband will realize that and may feel less interested. Rather, you should dress to feel sexy, inviting and don't forget to show off those beautiful curves. This little can reignite sexual desire in your man which means your sex life has a future.
2. Give Him a Sensual Massage
A massage after a stressful day can be therapeutic, nerve-calming, and soothing. It helps you reconnect with your spouse or partner.
You can spice up the massaging session by making it romantic and sexually charged. You can try using massage oil with exquisite fragrance, light some candles, and slip into your sexy and stunning nightwear, then get your man to lie naked or half-naked then you begin the magic.
While on the adventure, pay attention to the sensitive regions of the masculine body and watch him moan as you make him ecstatic.
3. Put Your Hands Down His Pants
You can also satisfy your man sexually by putting your hand into his pants at intervals without his notice and then try touching the most sensitive part of his reproductive organ while watching his face light up with smiles
It can serve as foreplay and if he is comfortable with it then go ahead and give him a hand job. Be careful while doing this, he could experience pains as a result of friction, so try and make use of any lubricating fluid to reduce friction to the barest minimum.
4. Bath Together
Bathing together as a couple is ravishing and can reignite your sexuality and then serve as fuel for explosive love-making when you are ready for it.
The sight of your partner without clothes can send rushes of an impulse to your brain and can cause a release of love hormones that can help in relaxing you.
If you wondering how to satisfy your husband after giving birth, try bathing each other to make it spicy and by the time you both are done, you would be fulfilled.                                                             
5. Give Him Head
Hitting climax in men is usually ecstatic and any activity that can make a man hit its climax is usually appreciated by men.
Since your body isn't yet ready for penetrative sex, you can still pleasure him by giving him head and that can help to relieve sexual tension.
The ecstatic moaning of your partner during climax can give you a sense of fulfillment.
6. Kiss Him Passionately
Kissing can also serve as a source of sexual satisfaction especially when served with utmost care and attention.
Make him forget about how stressful the day went while kissing him and take it gradually so that the kisses can be savored. If your man isn't satisfied with the kisses, then you can proceed to give him a hand job.
7. Read or Watch Adult Movies
Reading an adult novel or watching adult movies together helps couples to bond together intimately because it raises the sexual tension in the atmosphere by making you both turned on.
And sometimes the books or films give you both a lot of crazy positions to try out once your body is ready for penetrative sex.
8. Talk Dirty About Future Plans
Talking dirty about plans with your partner can help get him prepared for a whole lot of new adventures when he gets home.
His mind is saturated with mind-blowing fantasies and his body longs for reunion with yours and can't wait to have you in his bosom again.
Related Posts:
Other FAQs
How Can I Attract My Man After Having A Baby?
Pregnancy isn't a child's play neither is a child's birth easy. The whole process is draining and sapping but any man who understands will still find you attractive.
Try not to worry too much, just keep your bedroom life spicy as usual and follow the recipe dished out above. Do not let child care wear you out, take care of yourself, and don't forget to look good.
What Can I Do Sexually After Having A Baby?
It is recommended that you try anything apart from penetrative sex after childbirth so that your body can heal completely to avoid having complications in the long run.
So anything that you can do sexually to satisfy yourself is allowed after childbirth except penetrative sex.
Can You Hit Climax After Giving Birth?
Sure you can but it may not be as easy as before, so all you have to do is to readjust to the changes in your body until it normalizes. Hitting climax immediately after childbirth may not be easy but with time your body's sexual behavior will go back to normal.
Do Couples Fight More After A Baby?
Our answer is NO. Wondering why? Well, the reason is not farfetched, pregnancy and childbirth create a deeper bond between couples.
The sight of the fragile newborn that depends on the parents for everything makes both parents put all their hands on deck and ensure that the baby is well catered for.
How Do I Impress My Husband In Bed At Night?
Whether when you're not pregnant, post-pregnancy, or during pregnancy, there are so many things you can do to impress your man in bed at night.
You can try role play, jump into the shower with him, play with his nipple, live out sexual fantasies, use sex toys, or even just try new positions. One thing most couples usually forget about all the time is moving slowly in the bedroom.
Make sure to explore every sexual experience with your partner, even if you have to rush and try to have sex after the baby is taking a nap.
Conclusion
Being a new parent is a whole different phase of life. This is one thing no one is exactly prepared for, even after you've equipped yourself with all the parenting books out there.
When reality comes, you are bound to be affected emotionally, psychologically, and physically, no matter how much you have prepared for this amazing parenting journey.
During this time of delivery, you may begin to overthink things after the baby is born. You likely wonder whether you will be a good mom, whether your body will produce enough milk for your baby, whether you can handle the responsibility that comes with taking care of a baby and your husband.
The period after birth is a time for healing, do not be pressured into penetrative sex, and do not allow your partner to starve sexually, try and find a way to balance the two.
Remember you just created life into the world, so your husband will understand if you need a break to get jiggy with him post-pregnancy.
We hope this article has provided all the answers to your question on how to satisfy my husband after giving birth, and by following these helpful tips we've listed above, we believe your sexual life will be revived.