Baby formulas may be made of the same primary nutrients required for a baby's growth, but as similar as they may appear, they vary.
Different products come with variations to suit the requirements for a baby's growth at every stage, and it is in these variations that the difference between these products can be seen.
Among the common baby formulas available, Nan Vs Lactogen Vs Similac, you can only know the most suitable formula for your baby when you understand how similar and unique each formula is.
Table of Contents
Nan Vs Lactogen Vs Similac
A quick check on the unique compositions between the three widely known formulas, Nan Vs Lactogen Vs Similac, will give you an insight into how each formula can serve your baby and which is the most suitable for your baby's particular age.
Baby foods are well monitored and carefully formulated to help in a baby's growth from the infant stage until he becomes a toddler and starts to feed on other solid foods.
This careful composition is done because of how delicate a baby's digestive system is and how it will react to any food that is inappropriate for the baby.
This is why different formulas are made suitable for different ages, and depending on their similarities, you can switch to a different formula based on your baby's needs.
Nan Vs Lactogen Vs Similac – Features, Pros & Cons
Nan Baby Formula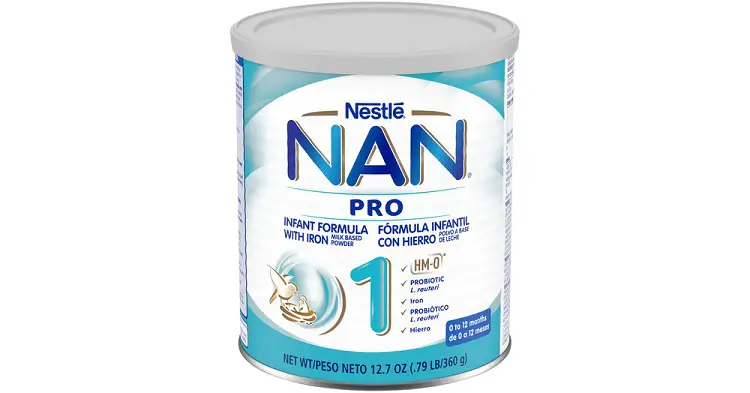 Nan Baby Formula is a starter formula formulated to provide the Nutritional requirements for a baby from birth. It has three types: the Nan Comfort, Nan Optipro 1, and the Nan Supreme pro 1, each with different protein levels. Protein exists in two various forms; whey protein and casein protein.
Whey protein is the type that, even after consumption, remains in a liquid state and is easy to digest. While Casein protein clots in the stomach after some time, it does not easily digest.
All the Nan products are suitable for babies but not at every stage. Since babies are born with a delicate digestive system that only takes time to adjust to certain foods, they cannot consume all the available Nan products at all times.
This is because some products have a higher percentage of casein protein, which is difficult for the baby to digest, while others contain a lesser amount of casein protein. This is why you see age requirements on all available products.
Here is the protein ratio between whey protein and casein protein in the different Nan products on the market;
| | |
| --- | --- |
| Nan Comfort | Whey: Casein ( 60:40) |
| Nan Optipro 1 | Whey: Casein (70:30) |
| Nan Supreme Pro 1 | 100% whey |
All the three Nan products come in three different stages, of which stage one is suitable for babies from age 0. And considering the whey ratio in each product, they do not harm the baby's digestive system and will give room for growth as other products are available to suit your baby as it grows.
Amongst other benefits Nan offers, another notable feature why many parents recommend Nan to anyone searching is that.
It contains L.reuteri
Contains prebiotics
Contains probiotics
Great source of iron
Contains DHA & ARA
Contains whey protein
Pros
Parents who have become regular buyers of Nan products have noticed specific pros about the products, which is why they consider it their baby's brand baby formula.
The high level of whey in all the Nan products makes it less harmful and easy to digest, which is what baby formulas should be like for all babies.
According to some parents, the preparation method is straightforward.
It is very smooth
There's no need to panic because of reflux because the formula does not clot.
Nan contains DHA, which is present in the natural breast milk and aid in supporting the baby's normal brain development.
Cons
Nan products are pretty expensive. 
It has a short shelf life.
Some babies with delicate systems become constipated.
Read: Enfamil Vs Similac Vs Nan Pro – Which is the Best?
Lactogen Baby Formula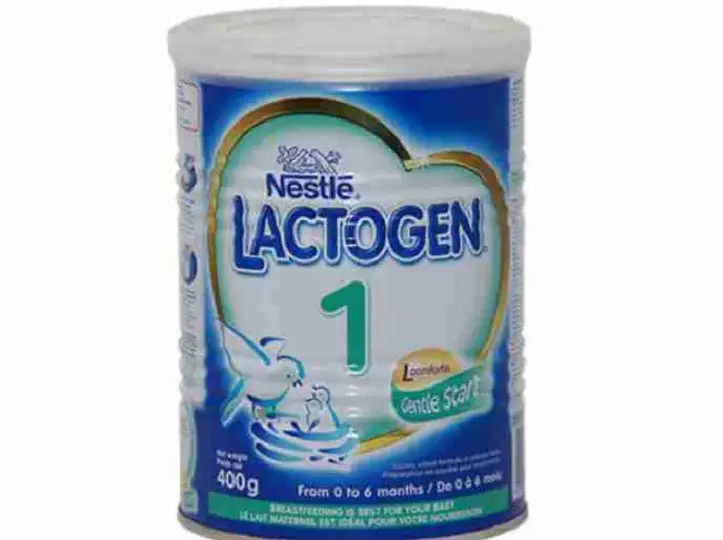 Just like the Nan baby formula, Lactogen is also made suitable for a baby's delicate system and fragile body.
To provide the required nutrients as well as enhance a baby's growth. It is often used as a follow-up formula for babies of up to 6 months and above, but it also makes provision for infants from birth.
Lactogen Baby Formula is a spray-dried formula suitable for babies from birth and up to 6 months. It also contains a generous amount of whey protein with probiotics. This means you can use it for babies who are exclusive breastfeeding or who are not breastfed.
The percentage ratio of whey to casein in Lactogen Baby Formula is 60:40, above average and safe for your baby, and a close semblance to natural breast milk.
Amongst other benefits, it offers other notable features why many parents recommend Lactogen to anyone searching is that;
It contains vitamins
It contains Taurine
It contains L-Carnitine
It contains soybean oil
It contains Corn oil
It contains Milk solids
It contains demineralized whey and Maltodextrins
It contains choline and alanine, which serve as building blocks for brain development.
It contains Iodine, which prevents thyroid inflammation and boosts healthy blood formation.
Pros
It is more affordable in comparison to Nan products
Its high level of whey protein makes it suitable for babies of all ages.
It is easy to prepare
Cons
Some parents noticed that their babies had constipation after taking the formula.
It affects the baby's weight. Many parents noticed a significant weight loss in their babies while feeding them formula.
Parents have complained about the awful smell it gives when mixing it.
Due to the smell, many babies do not continue with it for long.
Read: Enfamil Vs Lactogen – Which One is the Best?
Similac Baby Formula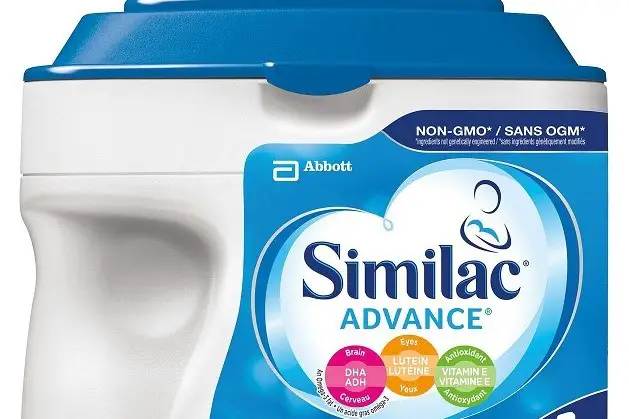 Similac is one of the first natural formulas with many nutrients to support a baby's growth. It is suitable throughout a baby's first year after birth and promotes brain development and eyesight.
Its natural growth hormones make it stand out amongst other baby formulas and also make it highly recommended by experts.
Producers of the Similac Baby Formula are strict on their no-palm olein oil blend, which makes it easier for the baby's bones to absorb calcium and other nutrients.
Amongst other benefits, it offers the three notable features why many parents recommend Similac to anyone searching is that;
It contains DHA, lutein, and vitamin A, all in the natural breast milk, and enhances brain and eye development.
It promotes the growth of the baby's bones. This is possible because the no-palm olein oil makes it easier for the bones to absorb calcium and become stronger.
It has no artificial growth hormones. Many parents are excited about using Similac Baby Formula because they're sure their baby's growth is natural and not engaged by artificial growth hormones in other brands.
Pros
It is a good source of copper, which is also an essential nutrient contained in breast milk.
Due to its predigested nature, it is very suitable for babies with sensitive stomachs. 
It is hypoallergenic, which takes care of any discomfort your baby may have after taking it.
Cons
It has high chances of bacterial contamination, which many parents have warned against.
Children who Consume Similac have had issues of vomiting, diarrhea, drowsiness, and other signs of food poisoning.
Related Posts:
Takeaway
Parents do not take chances when it comes to the well-being of their infants because babies are delicate beings who cannot take care of themselves and require an adult's attention.
This attention is given to their physical health and consumption because their system is just getting used to the new environment.
This is why before settling for any baby formula between Nan Vs Lactogen Vs Similac, you must first understand your baby's condition and needs, then choose according to such requirements.
However, whichever you choose, ensure that it contains the nutrients required to support your baby's growth.