Does your baby want to sit at the table with you during dinner at a restaurant? Having your little one sit next to you in a high chair at the table will make your life less unsettled and allow you to enjoy your hot meal.
But when can baby use restaurant high chair? There is no set age limit to do this; it's usually dependent on the type of high chair you have, how you use it, and how prepared your baby is to sit in it.
In this article, we discuss when can baby use restaurant high chair, signs your baby is ready to sit upright, safety tips for transitioning to a high chair, and other alternatives to a restaurant high chair.
When Can Baby Use Restaurant High Chair?
Your baby can sit in a restaurant's High Chair when sitting upright without support for at least 30 minutes; then, they're ready to sit in a high chair.
Your baby should show genuine stability and control when seated, with only a slight bobbing about. The ability to hold their head up is additionally an unquestionable requirement.
Usually, every high chair manufacturer has an age limit for each chair. Most manufacturers advise waiting until your baby clocks six months old before using a high chair.
This is a good point to start with because you want to make sure your little one is ready. And also, since every baby develops at a different rate, you don't want to rush it.
So, always make sure that the High Chair meets all the safety standards given by the JPMA. Achieving this milestone will benefit both you and your baby.
Having your baby in a high chair, you can get free time with your hands during mealtimes, prepare and eat your food or help other kids.
Most importantly, your baby can learn how to socialize and be involved with other family interactions around the table.
Read Also: How To Stop Baby Rocking In High Chair
Features To Consider When Choosing a High Chair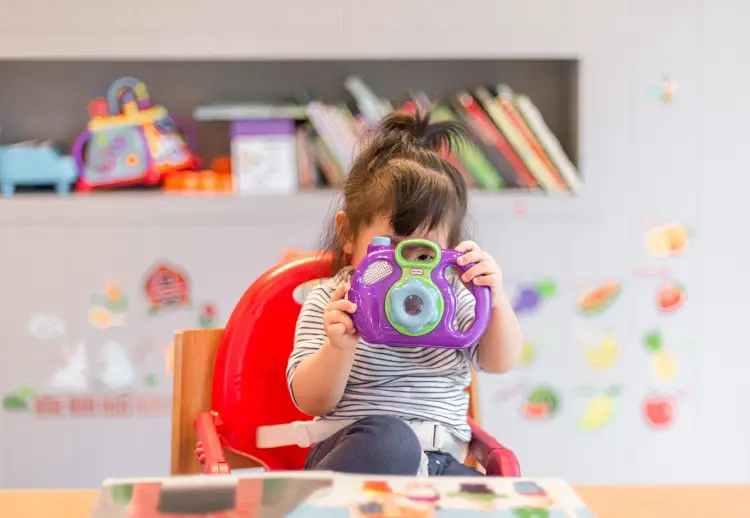 When choosing a high chair, ensure you check out all options. Keeping these following features can help you make the right choice for your lifestyle, space, and personal preference when shopping for a high chair.
Durability: When shopping for a high chair, ensure you go for ones that can last for at least two years, so make sure that you choose the built brand. A high chair should also be strong enough that it won't tip over easily.
Easy Cleaning: Of course, the last thing you want is a high chair that you must completely disassemble to clean. When shopping for high chairs, look for ones with removable, washable covers and few nooks or areas where crumbs and liquids can get trapped.
Safety features: Ensure the high chair has a well-secured safety strap that will help prevent the baby from SID injury while sitting. In the reclining position, a five-point safety harness is an unquestionable requirement for young babies; it's important to make sure that the high chair you choose to buy has these safety features. Also, examine to ensure that the chair does not have easily accessible areas where small fingers may get caught or pinched.
Wheels: High chairs with wheels are beneficial, especially if one parent or caregiver is home alone and needs to multitask while the baby eats. Make sure you test run the locking mechanism on the wheels and know how to do it on the go.
Versatility: Ensure the high chair is built-in with features like a removable tray and seat height adjustments. These features can grow with your child more easily, so you should keep them in mind.
Size: If you have a small space in the room, you should consider shopping for a high chair that clips onto the table or one that can be folded and stored when not in use. If you need to travel with your baby's high chair to other places like on vacation or a grandma's home, consider looking for travel high chairs like Phil & Teds Lobster Highchair that are easily transported.
After buying, ensure you keep a record of the make and model number of the high chair. It is essential to register it with the company. It's just a simple procedure to follow if there is a manufacturer's recall for safety or any other important reason.
Read: Best High Chair For Small Spaces
Baby High Chair Safety
Ensure that the High Chair has a wide footprint and a strong stance on the floor. If it feels unstable, you shouldn't go for it because the chances of tipping over are too high.
Ensure the legs lock securely into place. For wooden High Chairs, make sure that there are no cracks in the legs or the joint areas.
Ensure there's a 3-point or a 5-point harness with a locking mechanism. Always confirm if all the straps are securely intact and can be safely tightened to secure the baby.
Ensure you go for a High Chair manufactured after 2018; this is necessary because they have a fixed crotch post that protects your baby from slipping out through the bottom.
When using the wooden High Chairs, you should check for splinters. Confirm if there are no brims or sharp edges that your baby can come in contact with. A speedy delicate mild swipe with your hand will give you all the information you need.
Please make sure the tray is fixed to the High Chair so that only you can open or remove it.
If everything mentioned above seems OK, it's time to place your baby in the High Chair. Also, once you are seated, ensure that your baby cannot push itself off the table edge.
Do not forget to keep the high chair close to you to monitor what your baby is doing. Also, ensure that his high chair is not close to the table or countertops.
Do not leave your baby all alone in a high chair.
As important as it is to make the baby feel comfortable in the high chair, it's also important that whoever will be supervising the baby during mealtimes should know how to fold, where the lock system is built, how to secure the straps, and wash them correctly, and how to remove the tray.
Read Also: Safety Tips Every Child Should Know
Getting Baby Started in a High Chair
A great way for introducing solid food to your baby is to get your baby familiar with being seated in the high chair in the weeks before you start feeding them. Allow your baby to take the chair out for a "test drive" and let them become comfortable in their new little throne.
Offering your baby plate, cup, and spoon to play with, you'll have one less challenge to overcome when it comes time to introduce solid foods.
While all babies are different, some babies are ready to start transitioning to solid foods between 4 and 6 months. Some key indicators that your baby is ready to transition to solid foods should align with when your baby is ready to sit in a high chair, including the ability to sit up on his own with solid head and neck control.
For some babies, having the opportunity to interact socially during meals is vital to allowing everyone to eat in relative peace. Ensure that the high chair is well set so that baby can see you and feel part of the party, but not within reach of things on the table or countertops that are hot or sharp.
Note:
If your baby cannot sit upright, they are also not ready to start transitioning to solids.
The airway won't be completely open if the head and shoulders fall to the side because the neck is not erect. The baby will experience difficulty using the muscles needed to move food around in the mouth and facilitate swallowing.
Read Also: 6 creative ideas to repurpose old high chairs
Are Restaurant High Chairs Comfortable?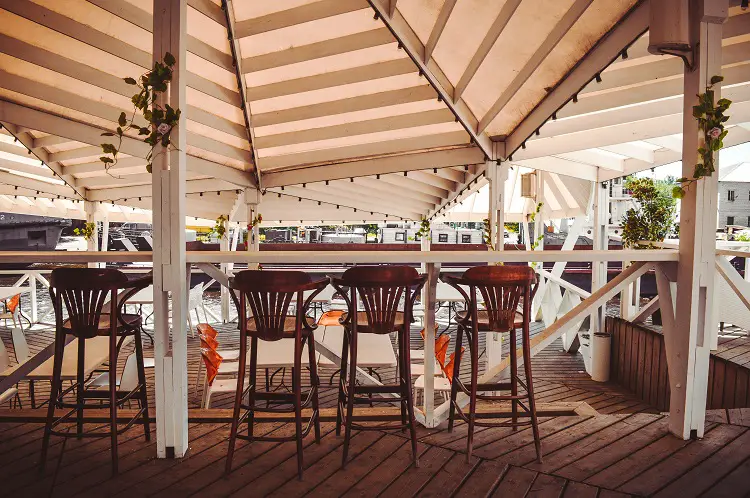 This is an important factor that will influence the chances of having a peaceful meal with your family.
Many restaurant owners invest in High Chairs that are affordable, easy to clean, and very straightforward.
This is because machine-washable padding requires extra work after each meal, there is usually no padding, and your baby has to sit on hard plastic or wooden surface.
Fortunately, it is effortless for you to boost the comfort levels of your baby by simply introducing either a security blanket or some small pillows.
Some parents and caregivers usually bring along the High Chair cover they use at home. This helps the baby feel at home in a High Chair that isn't theirs.
Read Also: How To Potty Train A 1-Year-Old Baby
Are Restaurant High Chairs Usually Clean?
When you go to a restaurant, one of the primary things that come to mind is the cleanliness of the seating for your baby. Of course, we all know that the last thing you want is to expose your baby to unnecessary germs and bacteria accumulated after each meal.
However, the cleanliness of the high chair will depend on the type of restaurant you go to. Usually, every restaurant owner ensures that their high chair is wiped down clean right after use. This is where those hard, non-padded surfaces tend to be useful.
If you're not convinced about the restaurant you are going to, you can always check if the High Chair is clean and dirt-free.
If the high chair isn't, you can ask the staff to wipe it down one more time, or you can bring your baby wipes and give it a treat.
Finally, having everything too sterile isn't acceptable either. A bit of dirt and microbes will probably strengthen your child's immune system, which is beneficial in the long run.
Is It a Must For a Restaurant To Have A High Chair?
Although restaurants need to have many High Chairs on the ground, it is not a must for restaurant owners to offer this.
If you're planning to try out a new restaurant, it is best to give them a call and check if they have High Chairs. And luckily, if they happen to have one, have them reserve one for you. Not having a High Chair available can ruin a nice dinner with your family.
Alternatives To Restaurant High Chairs
If your favorite restaurant doesn't have a High Chair, don't worry, there are other alternatives you can bring yourself. They are quite cheap and can also use them on other trips like visits to family or friends.
1. Foldable High Chairs
If you love going out for food every once in a while, you can buy a foldable High Chair that you can permanently leave in the trunk of your car or use while at home.
By doing this, you're sure that your little one will love the High Chair, and it's secure and clean enough according to your requirements.
The only con to this high chair is that a foldable High Chair is quite bulky to carry into a restaurant, especially if you have other children to cater for.
2. Hook-on High Chairs
If you're a parent that likes something more compact and light, then the Hook-on High Chair is for you. These High Chairs can be folded flat and come with a cute carrying bag. When using this item, you'll hardly notice that you are taking an additional piece of equipment out for lunch.
Hence, Hook-on High Chairs are not suitable for just any table. This is a bit of a danger factor when you're trying out a new environment, as you're unsure if the Hook-on High Chair will be compatible with the restaurant table.
3. Booster Seats
Booster Seats are another good alternative for family meals outside the house. This helps you increase the height of the existing restaurant furniture with a small and lightweight seat that has all the necessary safety features that your baby needs to incorporate.
As you know, hanging out with a new family member for dinner requires you to consider many aspects that you didn't need to do before. Still, with proper planning and the right baby gear, those moments of quality time with your loved ones are definitely within arm's length!
Read Also: When Can Baby Start Using a Walker? Safety Tips
When Can Baby Use Restaurant High Chair – Take Home
We hope this article has given an indebt discussion to answer the question of when can baby use restaurant high chair. As you should know, once your baby is ready to sit in a high chair, it makes mealtimes easy for parents and caregivers.
You may even be opportune to finish your lunch for a change. Just be sure that you and your baby are ready for this big step.
If you enjoyed this article and find it helpful, kindly share it with other parents who face the same questions. Thanks!