It is one thing to get your baby a car seat to ensure your baby's safety while you drive; it is a different ball game to know how to install it.
When installing a baby trend car seat, you're trying to be extra careful with handling things to prevent damaging or scratching your car and ensure it is secure enough for your baby.
In this article, we'll explain straightforward ways on how to install baby trend car seat.
How To Install Baby Trend Car Seat
When installing a baby car seat, you're not just trying to protect the seat from getting damaged or avoiding any scratches on your car; you're also ensuring that the seat is secure enough to have your baby ride in it.
In very few steps outlined in this article to demonstrate how to install baby trend car seats, you'd be ensuring your baby's safety and avoiding causing damages to both your car and your baby's car seat.
Step 1
Ensure to place the car seat the correct way in your car
Step 2
Ensure the car seat is well installed and secure for your baby by fastening all the straps to their appropriate points.
Step 3
Some vehicles come with lower anchors installed in their seats which you can use during rear-facing installation of up to 35 pounds and 32 inches tall (or until the baby outgrows the recommended height/weight).
If your vehicle doesn't have such anchors, use tethers during forward-facing installation.
Step 4
Ensure that there's not much distance between the parts of your tethers.
In most cars, the top tether anchors are behind the rear window under either the passenger or driver's window, depending on the anchor you have installed.
Step 5
Check for any loose straps that may put your baby in danger. Every car seat comes with an instruction manual.
If you're having difficulty installing the car seat, follow up on the instructions outlined in the manual.
How To Install Baby Trend Car Without The Base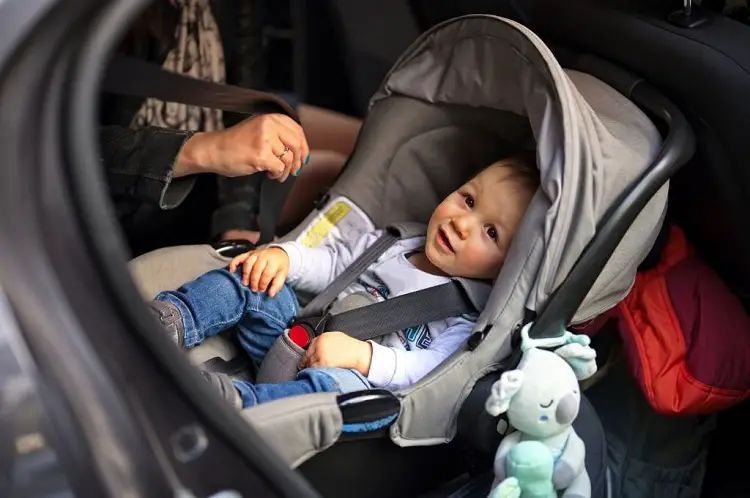 There are three common ways to install a baby trend car without its base.
1. Using the LATCH method
The LATCH method stands for Lower Anchors and Tethers for Children.  It involves using anchors already installed in your car, as narrated above.
Using this method, any infant or convertible car seat can be securely attached using tether straps that connect directly to your vehicle's lower anchors.
Finding these anchors in some vehicles can be challenging, but they are usually behind fabric flaps on all passenger-side seats.
2. By Passing the Seat Belt
Another way to install a baby car seat without a base is to pass the seat belt through the seat's side openings and fasten it around the bottom.
3. Securing the baby car seat with your vehicle Seat Belt 
The third way to install a baby car seat without a base is by using your car seat belt to fasten your baby's seat to your car seat.
All the methods mentioned above for installing a baby car seat without a base are simple, straightforward, and safe.
If you have a vehicle that doesn't offer these options or cannot find them, it might be time to get a new one.
Read Also: How To Get Mold Out Of Fabric Car Seats
How To Take Off The Base Of A Baby Trend Car Seat
If you observe well, each seat has two tabs underneath, which must be pressed if you want to take off the base of your baby trend car seat.
Can All Car Seat Bases Fit Into Any Car Seat?
All car seat bases can fit into any car seat. All you have to do is get the car seat with the base appropriate for your baby's size, weight, age, and height.
Many of these bases come with age recommendations; ensure to check the product label to know which is best for your baby's size and weight.
In cases where the bases are too big, there will be a few possibilities of having loose straps, not being able to tighten them enough, or lack of legroom between where the back passenger sits in their chair and the seated infant carrier. All these are very risky for you and your child.
How To Install Baby Trend Car Seats in Stroller
You may want to take your baby for a walk in his comfortable car seat and wonder how best to transfer the car seat from your car to the stroller.
You can achieve this in less than 10 minutes in the very straightforward steps below.
Detach the stroller from its base while keeping the wheel facing upward.
Fold the stroller's seats to create more space for the car seat to be installed.
Attach the car seat to the stroller setting it on either car or walker mode; anyone would serve.
Fasten the trend car seat to the stroller's frame, paying attention to every strap to ensure your baby's safety.
Can All Car Seats Be Rear-Facing?
The question of if all cat seats can be rear-facing is Yes, you can install baby trend car seats either in a rear-facing installation or forward-facing installation.
But each should be used according to the instructions regarding the age limit for each installation.
All car seats have an instructions manual indicating the size, age range, weight, and height they can carry.
Also, childcare experts suggest that babies should be kept rear-facing for up to 2 years at least.
Children placed in a forward-facing installation stand the risk of getting injured in the case of an accident.
When Can Babies Face Forward?
Formerly, children above two years could enjoy forward-facing rides, the standard age recommendation for forwarding-facing.
But recently, the American Academy of Pediatrics (AAP) made some adjustments to the rules such that instead of considering the child's age, his weight and height are considered.
Before a child is eligible for placement, he must've reached forward-facing weight and height recommendations.
The former age recommendation made it easier for babies to enjoy a forward-facing ride faster, even though they might have been far below the weight and height limits. This made them susceptible to neck and head injuries in the case of an accident.
This new requirement takes longer for a child to start riding forward-facing because, by the time they reach the weight and height recommendation, they're well above three years, which seems safer.
Other FAQs
How Do I Assemble a Baby Trend Hybrid Car Seat
The Hybrid is available in 2 parts, the backless booster portion and the back of the seat.
You should first set the booster portion on the floor to assemble the seat. Afterward, lay the back of the seat on the floor, with its "arms" overlapping the bar of the booster portion.
How Do I Install A Graco Car Seat Base?
Graco car seat base installation can be done quickly in two methods.
The first method is the seat belt, which works best if your vehicle has built-in locking belts.
The other method is LATCH (Lower Anchors and Tethers for Children), which is standard on many new cars today.
By lining up the connectors at the sides of each component and pressing down until they are firmly connected, you can install your Graco infant car seat using the seat belt method.
When this connection is complete, you'll hear an audible click. Then gently pull on both sides of the base while pushing downward; this motion should cause it to unlock so you can adjust it properly.
How Can I Remove An Isofix Base From A Car Seat?
You'll need a pointy tool, such as a screwdriver. Use one hand to hold the base and the other to remove the strap from both sides.
Once you have pulled one out, lift one on each side while wiggling back and forth. If you have removed the straps correctly, they should come off quickly.
The Isofix system is now disengaged.
Related Posts:
Conclusion
Suppose you're the type of parent that enjoys driving around with your newborn.
In that case, these steps on how to install baby trend car seat should be at your fingertips because you will not only be installing it; you may want to transfer it to another vehicle or even the stroller.
Foreknowledge about the best ways to install your baby's car seat will ensure your baby's safety and save you from paying a Certified Passenger Safety Technician (CSPT) to do it for you.