The question of which is the best between these two leading child carrier manufacturers, Graco Car seat Vs Chicco has always lingered for as long as the brands have existed.
The battle against which brand makes the best car seats have led to a constant comparison between Graco Car seat Vs Chicco and, in this article, an exposé on which amongst the two Giants is truly the best when it comes to manufacturing car seats for babies.
Brief History of Graco and Chicco Manufacturers
To have in-depth knowledge of which of these two brands is the best, knowing their origin will help us appreciate each brand's progress.
That way, you can easily understand why they have managed to stay on top of their game for so long.
Origin of Chicco
Chicco is an Italian company located in the outskirts of Milan, Italy, created in the year 1958 by Pietro Catelli.
Catelli had a son and named him Chicco, and due to the overwhelming joy he felt towards his son's birth, he decided to create a child care company named after him.
Chicco company is popularly known for making car seats and other baby gear that ensure child care and safety.
They're known for creating fashionable products that are high quality and safe for children.
They're currently present in about 120 countries globally and promise to take over with the quality of their products.
Origin of Graco
Today, what is known as a baby gear manufacturing company isn't what Graco began operations as.
They'd initially started as a metal company in 1942, and we're even called Graco Metal Products.
Until 1953, when one of their Engineers, Rex Thomas, had an idea to create an automatic baby swing.
After he'd actualized this idea, Graco made their first-ever baby product. Since then, they've been in the industry using innovation to create several other baby gears that offer care and safety at an affordable price range.
Things To Keep in Mind When Choosing A Car Seat For Your Baby
When getting a car seat or baby carrier for your baby, whether it is Graco, Chicco, or some other company, a few things to note may put your baby at risk if ignored.
Baby's age and weight
All baby carriers come with a weight limit usually indicated on the instruction label on the seat. For the case of Graco 4ever  Extend2Fit, the limit is 120lb, while that of Chicco NextFit Zip is only about 40lb.
Ease Of Installing and Adjustment
Check the installation and adjustment tactics for emergency cases before purchasing any car seat for your little one.
Safety
Safety should be your number one priority when getting a car seat for your baby. Ideally, there's a standard that all children's car seats must meet.
That is after they've passed the crash test. Every country has its set standard, but in the US, all car seats must meet the set standard of FMVSS 213.
What's The Difference – Infant Car Seat Vs. Convertible Vs. Booster Car Seat
If you've never used a car seat, you might wonder, "What's the difference?" Although the preliminary design and function are alike, a few significant factors differentiate the various types of car seats.
Let's go through what those distinctions are:
Infant Car Seat    
An infant car seat is a bucket-style seat where an infant or toddler sits. A five-point harness is used as a restraint to keep the baby secure.
Depending on weight and size, these seats are only appropriate for approximately two-year-old newborns. You'll need to upgrade to a convertible or booster seat as your child grows.
Convertible Car Seat
A convertible seat is a seat that sits between the infant and booster seats. And can be used in either the rear or forward position.
Infants should sleep in the rear-facing position, while toddlers should sleep in the forward-facing position.
Booster Car Seat
A booster seat is a bucket seat secured with the vehicle's seat belt. It helps guide your child on using the seatbelt on their own.
Children age 8 to 12 can sit in booster seats depending on their weight and height.
Some car seats are known as "all-in-one" seats. These booster seats with adjustable straps and padding allow you to make the seats smaller for babies and adjust them as the child grows.
These seats are inexpensive because they are purchased only once. A quality car seat also has the added benefit of lasting long enough to be used by multiple children.
Graco Car seat Vs Chicco – Key Features
For Graco Car Seats:
Installation
They are easy to install
Design
Infant, convertible, and booster seats are all available
All-in-one seats are available, allowing your child to use the same chair throughout
Safety Features
The anti-rebound bar adds an extra layer of support for rear-facing seats, limiting motion in the event of an impact.
Trueshield technology provides side impact protection from the head to the hips.
Advanced head protection provides by safety surround technology in the headrest.
Stroller Compatibility
It is only infant car seats that are compatible with Graco strollers.
Durability
It has good quality material, is breathable, and lasts long.
Weight
It varies, depending on the model, but most car seats are lighter than expected.
Value for Money
Convertible seats have varying positions that are simple to adjust for growing babies.
Extra legroom for growing legs ensures that your child is not uncomfortable as they grow.
Easy To Clean
Material is machine washable and can be spot cleaned for minor stains.
Pricing
Models available for under $100
You can buy the top models for under $200
Added Features
Removable cup holders for older children keep their snacks neatly within reach.
For Chicco Car Seats: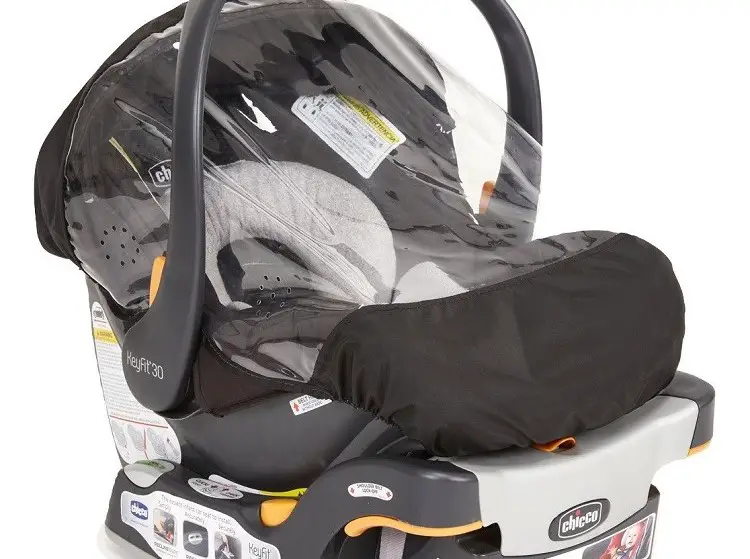 Installation
Best suited for most car seats
Easy to install
Its latch attachment and one-pull tightener makes fastening and unfastening very easy.
Design
All-in-one car seat options that combine rear-facing, forward-facing, and booster functions in a single easily adjustable chair
Contoured design for comfort and support
Safety Features
The five-point harness security system has easy-pull straps that simplify fastening and unfastening.
It has RideRight bubble levels, making finding the proper seat angle in your vehicle easier.
The LockSure belt-tightening system keeps your child safe with secure, adjustable straps.
The Duoguard side impact protection adds two layers of security, with a steel-reinforced frame that provides maximum support and protection.
The EPS energy-absorbing foam that surrounds the head and torso provides additional support. It also offers better impact resistance.
Stroller Compatibility
Keyfit 30 can suit a Chicco stroller
Durability
Material is durably breathable, meaning the seat will last for a long time.
Weight
The weight varies depending on the model you choose.
Value for Money
The height adjustment feature means the seat will adjust as the child grows, eliminating purchasing a different seat.
If you choose the suitable model, your child will use the same car seat from birth to 8 years old. As a result, you are making it a one-time expense.
Easy To Clean
The material is easy to spot and clean.
Seat covers can be washed in the washing machine using cold water.
Pricing
Models available for under $100
You can buy the top models for under $200
Added Features
Removable cup holders for toddlers
Booster seats have built-in padded headrests for neck and spine support.
Graco Car Seat Vs Chicco
Graco vs. Chicco Convertible Car Seat
Graco Extend2Fit vs. Chicco Nextfit Convertible Car Seats
Graco Extend2Fit Convertible Car Seats:
It is designed to carry babies weighing between 4 to 120 pounds and has both forward and rear-facing.
Pros
It has up to 10 height positions, which means you can use it for a long time and keep adjusting it to fit your baby's height.
It has a broader weight limit as compared to Chicco convertible car seats.
It comes with machine-washable padding.
Infants that weigh as low as 4 pounds can enjoy a comfortable ride while safely secured.
Cons
The adjustable crotch belt is relatively short, making it difficult to tighten correctly.
The base does not rotate, and if your car is high, putting your baby in the seat may be challenging.
The paddings are washable but hard to remove or put back on simultaneously.
Chicco Nextfit Convertible Car Seats                                               
Chicco NextFit Convertible Car Seats are designed for superior protection and simple installation, allowing you to grow from infancy to preschool.
Pros
Steel frame with two layers of side impact protection
Secure and straightforward installation with minor pulling
Multiple adjustments for proper fitting and comfort
Removable and dishwasher-safe cupholder
Zip-off seat cushion is easy to remove, replace, and is machine washable
FAA Approved
Cons
Slightly heavy at 25 pounds
Our Verdict: The winner here is the Graco Extend2Fit.
The Graco won due to its extended rear-facing capacity of up to 50 pounds. It is the safest way for children to ride, and your child is safe until age four.
It's also ideal for tall babies because it caters to a lower weight class than the Chicco. This convertible car seat will be excellent if your child has outgrown the infant carrier.
The Graco Extend2Fit car seat has a more extended expiration date than the Chicco, meaning that you're getting more miles for your money, and using it for ten years rather than eight is a significant difference.
I prefer the built-in cup holders over the clip-on because an attention-seeking toddler can quickly turn them into projectiles.
Graco vs Chicco Infant Car Seat
Graco SnugRide 35 vs. Chicco KeyFit 30 Infant Car Seat
In 2005, Graco added the Graco SnugRide Click Connect 35 infant car seat to the extensive Graco family of child restraints.
Since then, it has gone through several iterations since then, one of which was to reduce the minimum weight range from 5 to 4 pounds to fit preemies better.
Pros
It is fairly affordable
It fits in most small vehicles
It has an adjustable recline feature
Allows for extended rear-facing (up to 35 pounds)
Has large canopy
Machine washable cover
FAA Approved
It works with all Graco Click Connect strollers
Cons
Infant insert may not provide proper head support.
Carrier may be heavier than the product specification list
You cannot use the canopy easily while the handle is up
Carrier may become stuck in the base
Not ideal for smaller babies or preemies
"One-click" base attach may be unreliable
Harness requires rethreading for height adjustment.
LATCH system may be challenging to use
Fabric may not be breathable
Chicco KeyFit 30 Infant car seat
Chicco KeyFit 30 infant car seat has a weight range of 4 pounds to 30 pounds and a height of 30 inches.
Pros
Very easy to install and unhook
Due to its low weight allowance, it is the best option for even premature babies.
It forms a sound travel system since and you can combine it with a stroller.
The seats and shoulder pads a machine washable, making it easy to maintain
It has three different recline positions
Excellent padding for a comfortable fit for baby
Longevity, durability, and safety
One year warranty
Cons
While you can secure it to the carrier without the base, it is not easy.
It is only for infants within the weight and height range or permits. Once your baby outgrows it, you must take it out or get another one.
Our Verdict: The winner is Chicco Keyfit 30.
Chicco won because it provides a premium feel without a premium price tag.
Although the Graco has a higher weight limit, let's face it: no one wants to carry a 34-pound carrier. A convertible car seat is a much better choice to choose.
Chicco's fabric is breathable, so your child will not be drenched in sweat even during the hottest months.
Graco has a significant design flaw. The gap between the two is so narrow that your fingers will not fit. You cannot hold the handle while the canopy is down.
Graco Vs. Chicco Booster Seats
Graco Tranzitions Harness Booster vs. Chicco KidFit 2-in-1 booster seat
Graco Tranzitions Harness Booster
Purchasing a booster seat that will grow with your child saves a lot of money. Thankfully, this model does not disappoint.
The Graco Tranzitions 3-in-1 Harness Booster Seat is an upgrade over the older Nautilus, released in 2007.
The Tranzitions is a sleeker, narrower design that works better than the heavier Nautilus for transporting multiple car seats.
Pros
It comes in 3 fashionable colors
It has a lightweight design
It is affordable
8-position headrest
It comes with a washable seat pad, harness covers, and body pillow
Easily converts between modes
Narrow profile
Easy to clean
Cons
The manual is unclear
The seatback may detach unexpectedly
No push-on connectors
No harness or manual storage
It is not easy to install in all cars
The lightweight and high belt path make getting a tight installation challenging.
Chicco KidFit 2-in-1 booster seat
Babies grow rapidly, and before you know it, your baby has outgrown its infant seat. When the time comes to upgrade to a booster seat, this model is an excellent choice.
Pros
It fits many different ages/sizes with ten adjustable back heights
It is easy to install and easy for kids to buckle
You can easily convert it to a backless booster
It reclines in 2 positions to fit different vehicle seat angles
It is machine washable seat pad and armrest covers
It is removable, collapsible, dishwasher, safe cup holders
Has about 8 Attractive colors to choose from
The IIHS has rated it as the best bet
Cons
LATCH attachments may not function correctly in some cars
Even when not in use, you must use the seatbelt to secure the seat in high back mode
Cars with challenging to move or unmovable headrests could prevent proper fit
The high back portion may feel flimsy when carrying or rattle when the seat is empty
The price is a bit higher than its competitors
The design style isn't as good as other Chicco products.
Our Verdict: The winner is the Chicco KidFit 2-in-1 booster seat
There isn't much to criticize in the Chicco KidFit 2-in-1 booster seat. Its simple assembly, washable fabric, and cup holders make it ideal for parents. We liked how the cup holders can collapse quickly, especially if you need more space on one or both sides.
Although it is not the most affordable of comparable seats, with its excellent ratings and zero recalls, it is probably worth a few extra dollars to know you're getting a safe booster seat.
Thanks to the ten height positions and removable back, it's a good investment that will grow with your child for a long time. You might even be able to pass it on to a younger sibling thanks to the 8-year lifespan.
While it is not the most fashionable seat available from Chicco, we are confident in recommending it to anyone looking for a booster seat.
Read Also: How To Get Mold Out Of Fabric Car Seats
FAQ's
What are the similarities between Chicco and Graco Convertible Car seats? 
Both are very safe and convenient for babies, although some parents consider Chicco a safer option in the first year of experience.
Both brands allow the seats to be connected directly to strollers, a convenient combo for traveling.
Both Graco and Chicco are convertible car seats that help to save money. You can use convertible Car seats for a more extended period than infant carriers.
While baby quickly outgrows infant carriers as they grow, convertible car seats can serve from the infant stage to toddler or gown babies.
As the baby grows, his weight increases, and with the weight of the carrier, it may become too heavy for the parent to handle.
Convertible Car seats have adjustable straps and forward and backward-facing to ensure that your baby is safe on the go. The downside of convertible car seats is that you cannot easily click to the car's base.
Another similarity is that both Graco and Chicco car seats have rear and forward-facing. Although their weight limits vary, they're safe for toddlers below two years.
Also, both Graco and Chicco car seats are easy to install. There may be variations to which of the models is the easiest, but always check the installation directions of every car seat you're about to for convenience.
What are the differences between the Graco car seat vs Chicco Convertible?
Although both brands offer safety and convenience for your baby and save money, there are a few differences.
For the two top convertible models of both seats, Graco 4ever Extend2Fit Convertible Car seat has a weight limit of 120lb and allows a kid to rear face for up to 50lb. At the same time, the Chicco NextFit Zip Car seat, a convertible model, only allows for 40lb of the corresponding age.
What Are the Stages of Child Car Seats?   
The four stages of child car seats are rear-facing, booster, and seat belts.
Depending on the car seat you purchase, you may only need one car seat for your child's early travel stages. You might prefer to start with an infant seat and then progress to a larger booster seat.
What is the longest time a newborn can sit in a car seat?   
Baby car seats should not be used longer than two hours, according to safety experts and healthcare professionals.
If you're driving for an extended period, you should take breaks and remove the baby from the car seat to avoid strain on the baby's developing spine and neck.
Is it essential to use a car seat for children aged 8 or 12?
Some parents may believe that keeping a larger child in a booster or convertible seat is unnecessary.
However, when it comes to children in cars, the golden rule is "Buckle up every age, every seat, every trip."
In the United States, motor vehicle accidents are the leading cause of death among children.
Fortunately, you can avoid many of these fatalities if you buckle your children in age-appropriate car or booster seats.
According to studies, this can reduce fatalities or serious injuries by at least 80%. Don't cut corners; buy the right seat and use it every time.
Don't see it as a chore but as a safety measure to keep your baby safe and secure!
Read Also:
Take-Home
Your child's irrespective of what brand of infant carriers or convertible car seats you can afford or choose to get. That is what both Graco and Chicco manufacturers offer in all their models.
The comparison of Graco car seat vs Chicco gives a clearer picture of what both brands offer individually and can serve as a guide for getting a car seat for your baby.