Trying to keep in shape after delivery can be hard work, especially for C-section moms, so many women opt for belly binders and other forms of belly reduction techniques.
Due to the range of hormonal changes pregnant women experience during pregnancy, it is no surprise that the body undergoes drastic changes in shapes, sizes, and even colors.
Many women put on weight during pregnancy, and this weight is accompanied by a protruding belly which you must take care of to go back to the prepartum body.
So how are abdominal binders used? How long to use abdominal binder after c-section? These are typical questions any nursing mom would ask. We will provide answers to these questions in this article.
What Are Abdominal Binders?
Abdominal Binders, otherwise known as Belly Binders, are usually a piece of material used postpartum to wrap around the belly to keep it in shape.
Contrary to popular thoughts that belly binders are a new trend, Belly Binders have always existed, maybe not in today's form.
Many women used pieces of clothes large enough to go round their waist to wrap their tummies after childbirth. This exercise helped reduce the expanded belly from carrying the baby(s).
How Long To Use Abdominal Binder After C-Section?
How long to use an Abdominal Binder is dependent on the new mom. Still, since the main reason for using abdominal binders in the first place includes their ability to support the healing process, 6-12 weeks post-operation is the period when belly binders are mostly recommended.
An abdominal binder can be worn throughout the day so far as you're comfortable in it.
But it begins gradually with wearing it for only a couple of hours during the first few days post-operation and progressively increasing the hours with time.
In the early postpartum stages post-operation, abdominal binders can be worn for an average of 4-6 hours a day and increase gradually with time.
As you get more comfortable with it and the stitches heal up, you can go with a belly binder for 6-8 hours a day.
When To Start Wearing Belly Binders After A C-Section
You can wear Belly Binders from the first-day post-operation or once the pressure dressing has been taken out. You don't have to wait for months-long post-operation to use a Belly Binder.
However, when it comes to sensitive issues that involve health, it is always good to inquire from a professional, specifically the OBGYN, who is in charge of your situation.
If you notice the area around your incision looks red, warm, or has drainage, you might be developing an infection.
Avoid using a postpartum belly wrap, which can introduce more bacteria to that area as it contacts the incision.
Read Also: Yoga To Reduce Belly Fat After C-Section
How To Use An Abdominal Binder After C-Section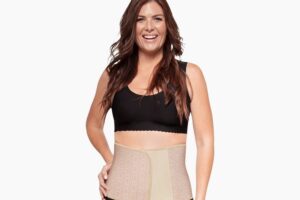 Using a Belly Binder is as easy as boiling an egg. You do not need a manual to do this because it is as simple as possible.
Wrap the Belly Binder around your belly and fasten it with the Velcro.
Adjust the Velcro until you're comfortable with the tightness.
If the Binder is too tight, loosen it a bit.
Even though it is good to be comfortable with the binder on, keep in mind that the purpose of the Belly Binder is to hold your belly in place and give it a flatter appearance, so you have to keep it tight enough to actualize this.
When using a Belly Binder, there are a few things to pay attention to; these things are easy to note and don't need the help of an expert.
1. Your diaphragm
Take note of your breathing by taking deep diaphragmatic breaths. If you're having much difficulty doing this, it probably means that the binder is too tight and should be adjusted.
Taking deep diaphragmatic breaths helps to activate the core and pelvis.
2. Your comfortability
Getting your prepartum body is the goal, but so is your comfort. You cannot afford to gamble your convenience totally for the prepartum body, primarily since you can't achieve it in a day.
Ensure that while you've wrapped the Belly Binder around your stomach, taking deep breaths and moving around is still achievable.
You can know this by trying to fix one of your fingers into the wrap, and if it doesn't fit, then the binder is too tight and should be adjusted.
When To Wear A Belly Binder?
The best time to put on a Belly Binder is during the day when you're more active.
This is because it is easier to endure the tightness around your belly during the day than at night when you should have fewer clothes on your body.
Is An Abdominal Binder a Necessity After C-Section?
A Belly Binder is important; it helps to strengthen the core, keeps the stomach intact, and gradually returns to the prepartum belly.
It is helpful, but a Belly Binder being a necessity is arguable. You can substitute belly binders for other options like massages or exercises; women can do without them even though they're helpful.
Other Benefits of Wearing Abdominal Binder
Aside recovering from cesarean deliveries and those with diastasis recti, some other benefits of wearing a postpartum binder include:
promoting recovery from childbirth
encouraging blood flow
improving posture and mobility
reducing back pain
stabilizing your pelvic floor
Providing essential support for your abdominal muscles to help with recovery or make workouts more comfortable
reducing swelling and fluid retention
Some new moms also use postpartum belly bands and wrap to support and align their abdomen, provide light compression, or relieve pressure on a healing Cesarean incision.
A 2019 study published in The Eurasian Journal of Medicine found that women wearing wraps or binders in the first 48 hours post-C-section could walk longer distances and experienced less pain than those who didn't.
However, you should wait 2-4 weeks after a C-section (and get your doctor's approval) before wearing a postpartum belly band, so you don't irritate your healing incision.
Be careful when you're putting on or removing your belly band.
How To Chose The Best Postpartum Belly Band
With so many options available, finding the right postpartum belly band that meets your needs and is safe can be overwhelming.
To help narrow down our choice, we prioritized the following factors:
ease of use
comfort
construction
price
Research is done by a medical organization or endorsement of a product
online reviews from postpartum people
Best Postpartum Belly Band Overall
This product can take you comfortably from pregnancy to postpartum.
The Bellaband fits over your unbuttoned pre-pregnancy pants and works as a tube top for your lower half.
Key Features
This product is made of nylon and Spandex. It stays attached to your body with silicone bands. It helps support your belly too.
It provides breastfeeding moms with an added layer of coverage.
It is machine washable.
The size range is 1-4 based on a person's pre-pregnancy pant size (0-24+).
Pros
Users love that the material holds its shape well.
Cons
Some users noted that the bottom of the band could occasionally ride up
Best Postpartum Belly Band for C-section Recovery
Belly Bandit Postpartum Luxe Belly Wrap
The Belly Bandit Postpartum Luxe Belly Wrap could be useful for women recovering from C-sections.
Key Features
This product is made of a silky-soft nylon/Spandex combo that compresses and aids your core muscles without causing any discomfort. This is an enticing feature for moms recovering from a C-section.
The Velcro fasteners allow you to adjust the band as your body changes after delivery.
The band also comes in regular and petite sizes, so people of all heights can receive full-back and stomach coverage from the band.
It is pretty expensive.
Sizes

: XS through XL to fit up to 57 inches postpartum stomach sizes. Sizes are available in two fits: regular (with a height of 11 inches on the front and 12 inches on the back) or petite (9 inches on the front and 10 inches on the back).
Pros
Great support, comfortable for moms that want to recover from C-section 
Cons
Best Adjustable Postpartum Belly Band
Belly Bandit B.F.F. Belly Wrap
Belly bands are often admired for their simplicity, but the Belly Bandit B.F.F. Belly Wrap is versatile.
Key Features
This wrap features six support panels, including two customizable compression panels, which hug you like a "best friend for life."
The fabric has up to 9 inches of adjustability, so you can continue to adjust the fit as your body changes postpartum.
Sizes: XS to XL, to fit postpartum stomachs up to 57 inches
Pros
The product is specifically designed to be worn postpartum, including for moms who've had a C-section 
Cons
Some moms found it too tight and uncomfortable.
Best Postpartum Belly Band with Adjustable Compression
TiRain 3-in-1 Postpartum Support Shapewear
New moms love this product; the TiRain 3-in-1 Postpartum Support Belt comes.
Key Features
This product comes with three bands that can be adjusted with Velcro straps to provide just the perfect amount of compression — more than most competitors.
It is bulkier than some of the other styles.
Unlike some belly wraps, the TiRain 3-in-1 can stay put. (For use, the belly band wraps around your stomach, while the waist belt fits around your waistline and the pelvis belt sits on your hips)
Sizes: Size F fits stomachs 26-36.7 inches, waistlines 26-39 inches, and hips 32.7-42 inches. Size Plus is aimed for guts measuring 35-40 inches, waists measuring 38-44 inches, and hips measuring 40-46 inches.
Pros
More affordable than other options on the market
Cons
Some users say that it's a bit bulky under clothing
Best Postpartum Belly Band for Back and Hip Support
This product is best for moms dealing with postpartum back and hip pain.
Key Features
This product comes in two parts: an extended band and a short band. Wrap the long band around your hips and the short band layer over it for extra compression. You can adjust the position of the bands to sit correctly on your hips.
It is less bulky and more discreet than some of the other brands.
Sizes: XS-M (fits sizes 0-8) and L-XL (fits sizes 10-18)
Pros
Users say it helps relieve hip and lower back pain. 
Cons
Some users say that the fabric can curl a little after wearing it consistently.
Read Also: How To Get Rid of Pregnancy Line on the Stomach
Frequently Asked Questions
When is it too late to wear an Abdominal Binder?
Belly Binders provide postpartum support for many women, both those who have a normal delivery or those who had C-section, but it also aids the healing process of their stitches for C-section mothers.
Between 6-12 weeks is the period of healing; during this period, a Binder is most effective; after this time, using a Binder won't be as effective and hence, is unnecessary.
Can you sleep with a Belly Binder on?
Many women can sleep in a Belly Binder, but it is not healthy or advisable to wear a Belly Binder to bed.
While it is easier to ignore the tightness around your belly during the day, it is not the same with wearing it to bed at night.
Ideally, it is best to wear loose clothes to bed to allow free air and blood flow. Meanwhile, wearing a Belly Binder to sleep will impair all this.
Does postpartum belly wrap help with weight loss?
Postpartum belly wraps will not help you lose weight or shape your body.
As a result, wearing a wrap may cause you to sweat more in your abdomen. However, this will not affect your weight.
The best way to lose belly fat is by following a healthy diet.
Check out my post on the best ways to lose belly fat after delivery.
Conclusion
Many women who use an abdominal binder in their healing process often wonder how long to use Abdominal Binder after C-section because, as easy and comfortable as it is to use, it has to be dropped.
While some women decide when they're comfortable with parting with the binder, a few weeks post-operation is not harmful to stop using abdominal binder, significantly if the stitches have healed up properly.