Being a new parent can bring a lot of mix feeling – today it can be exciting and tomorrow confusing. 
Before you welcome your little one, you must have some baby items in your nursery, including diapers, baby clothes, strollers, cribs, walkers, and jumpers.
Since you'll need tons of places for baby to lay, sit, and play (like high chairs, bouncers, walkers, and jumpers). Interestingly, each of these baby items comes with all sorts of questions. You may wonder, which ones do you need?
This article is focused on jumper vs walker to help you decide which one to buy.
The difference between jumper vs walker is that baby jumpers are stationary and relatively safer. In contrast, baby walkers can move around a space as the baby pushes around with their legs.
Read on to learn everything you need to know about baby jumper vs walker, their key specifications, pros, and cons.
Jumper Vs Walker – Key Specifications, Pros & Cons
Baby Jumpers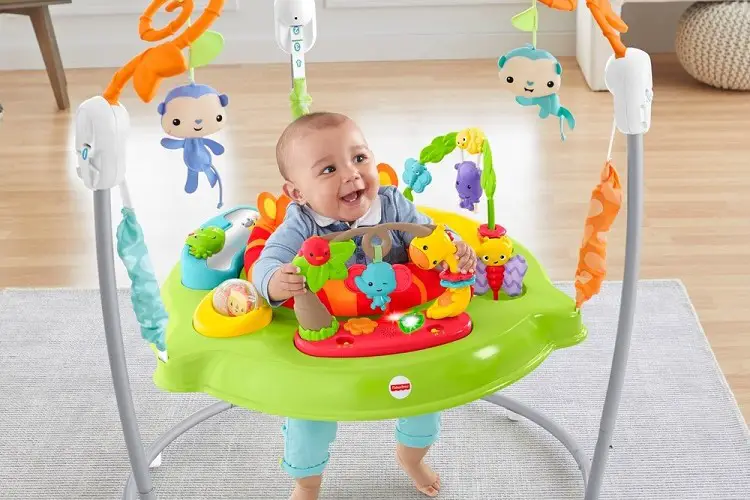 Baby jumpers suspend your baby in an upright position, but they are different from walkers because they do not allow your baby to move freely at home. 
They only allow your baby to jump, bounce, and hop movements in a stationary spot. These can be a lifesaver for an active baby who needs stimulation, but you must keep them out of trouble for a few minutes!
Baby jumpers come in two main types. One is made of plastic and has a seat in the middle for your baby to sit on and bounce up and down or stand stationary. It's similar to a baby walker, except it doesn't have wheels. 
The other baby jumper suspends securely in a doorway with straps hanging down. These straps attach to your baby's seat to either jump off the ground or swing around.
Now let's have a look at their Key specifications.
Baby jumpers provide full-body movement. The elastic base allows good landings.

Jumpers have padded seats, which allow your baby to play freely and get in touch with the attached toys from day one.

Jumpers are usually elastic, and they can grow with babies. So, when a baby no longer uses it for jumping, you can use it for other activities.

They have a music system that keeps the baby entertained. As your baby jumps, the music goes off. This brings great joy to kids.

It is suitable for babies at the age of four months which is the ideal age when babies start to sit. So, the jumper would help build leg muscle and eventually help with their walking.

The jumper price range costs around $100 to well over $300
Pros and Cons of Baby Jumpers
Pros
It is best suited for a baby four months old and up.

Jumpers are great because they keep your baby in one spot, making them easier to watch and safer. They allow your baby to move freely without moving around the house.

They come in two different options. You can choose between a stationary, freestanding jumper or a jumper that fits in a doorway.

Jumpers keep your baby engaged. As parents, we all need a little break sometimes! Putting your baby in a jumper could buy you some spare time to do house chores or check your phone.
Cons
Baby jumpers can be expensive, particularly the ones with the most toys. 

Some health professionals advise against the use of doorway jumpers. A baby's head is proportionally larger than the rest of the body in a doorway jumper, causing imbalance and injury. The method could also result in overenthusiastic jumpers smacking into the doorway.
Read: How To Fold Baby Einstein Jumper For Storage
Baby Walkers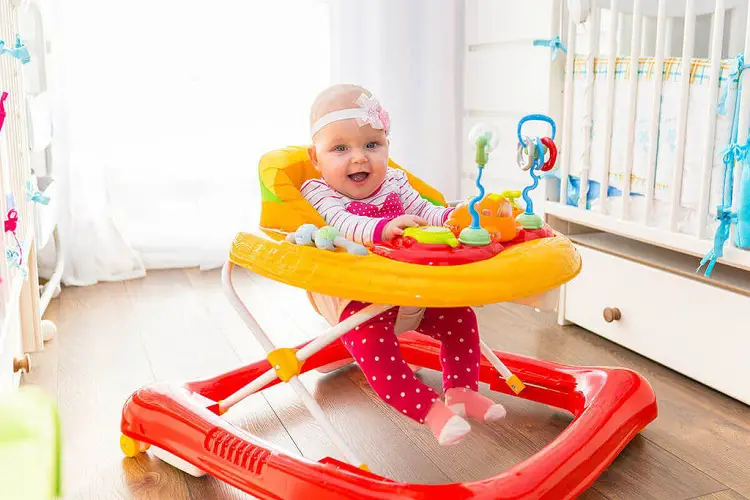 As your baby clocks about 8 – 9 months old, they will start to pull up on objects to stand up. This can be fun to see but can be challenging to handle.
The baby walker can help improve babies walking abilities by moving them right when they start to stand up.
A baby walker has a cart-like design that he pushes around with his hands standing up or a circular table with a seat in the center.
Now let's have a look at their Key specifications.
Baby walkers can help babies who can stand straight for a few seconds to walk. 

The baby walker table is secured with legs and a base that moves with wheels.

Baby's tables are often adorned with little toys to keep them super interactive and take care of their developmental skills while keeping them entertained.

There are tons of activities that you can do with the big multi-purpose tray. It also has a more comprehensive base so that if the walker hits something, the baby is still unharmed.

Baby walkers are suitable for babies up to 6-7 months old.

The price range costs less than $20 to over $100.
Pros & Cons of Baby Walkers
Pros
Babies love them. Most babies find baby walkers exciting and fun once they figure out how to push them around.

Babies can move freely in them, which helps give them a sense of independence.
Cons
Based on medical advice, health professionals do not recommend baby walkers, Canada has banned them, and Australian authorities have also called for a ban on their sale. However, you can buy them in the US.

It doesn't help your baby learn to walk. Babies must play on the floor, pull up on things, and cruise around, holding on to coffee tables and sofas a lot before they master the skill. 

It is not recommended to use baby walkers to teach your baby to walk since they don't support the entire weight of the baby.
Safety Tip:
Keep in mind, though, that most medical professionals do not recommend the use of baby walkers since it is associated with many baby accidents.
These baby walkers allow babies to gain speed and height, reach things they wouldn't otherwise be able to get and topple over onto stairs as they gain speed and height.
When a baby is in a walker, parents may feel a false sense of security, easing their alertness and not thinking about the dangers they could encounter.
Baby walkers are banned in Canada, but you can still buy them in the United States. 
Ensure you research properly and make a safe decision before purchasing any baby-related item.
Jumper vs Walker: Which one to buy?
Both baby jumpers and walkers are fun and engaging. In terms of keeping your baby entertained and safe, jumpers have advantages over walkers.
Jumpers are stationary and relatively safer, whereas a walker allows your baby to move freely, up and down stairs, and be exposed to other potentially hazardous elements around the house. As a result, you must pay more attention than usual.
Baby Einstein Neighborhood Friends Activity Jumper is one of the best baby jumpers to buy on the market, and it features 12 interactive activities with lights, songs, and sounds. 
Walker isn't far behind, either. It has a few advantages over a jumper. With a walker, the baby can move freely, giving him a sense of freedom, whereas, with a jumper, he may feel confined.
In the end, whatever you decide to keep your baby in for a moment's peace, keep them in sight, and don't keep them in there for too long.