Seeing your little one getting to do things adults do can be as exciting for them as it is for you.
They're energetic about moving around by themselves, and they do so excitedly.
Some gears like the Baby Einstein Jumper have been made available to usher them into this phase to make the development exciting and worthwhile.
To take care of these gears is to ensure that your baby continues to have a fun time while growing; that is why this article centers on how to fold baby Einstein jumper to keep it away safely.
What Is A Baby Jumper?
A baby jumper is a baby gear made to suspend the baby upright while bouncing up and down.
It is made of a fabric suspended by either elastic suspender that permits the baby to jump.
The suspended fabric has two leg holes where the baby puts its legs.
The fabric is usually fastened to a plastic board or tray, holding toys and music buttons. It can be folded and stretched whenever need be.
How To Fold Baby Einstein Jumper
The best way to help your baby enjoy his baby Einstein jumper for a long while is to ensure that you safely tuck it away once it is no longer in use.
Knowing how to fold baby Einstein jumper will keep it in good condition, eventually extending its usage.
Step 1                                           
Move the four balls connecting the padded seat and the Jumper to the fabric wrapped area, the two arche bars.
Step 2
Hold the end of one arche bar steadily while pressing the hub's release button. Keep pulling it gently until it is detached from the hub.
Step 3
Repeat this process to the remaining bars across the other side of the Jumper's frame until the entire four hubs are detached.
Step 4           
When you're done detaching all four bars, the bars will be lying on top of the base frame, which you can now safely keep away.
Why You Need To Buy A Baby Einstein Jumper
There are several baby jumpers in the market. The Baby Einstein baby jumper has become a household name despite its unique and outstanding characteristics.
It encourages the holistic growth of the child from intellectual to physical development.
It can rotate at 360 degrees; this gives the child the right to play in any different direction. The activity center offers three play stations with more than 12 activities for babies.
It comes with a light-up piano that offers your baby the chance to compose their first tune.
You can add your baby's favorite toys to the Jumper to increase the baby's activities. It comes with a spinning frog beard; this can help improve your child's hand eyes coordination.
It comes with a bouncer chair that allows your child to jump and dance. This can help in the development of your baby's leg muscles.
It is safe to watch your baby play from a distance while in the Baby Einstein jumper.
When To Start Using A Baby Jumper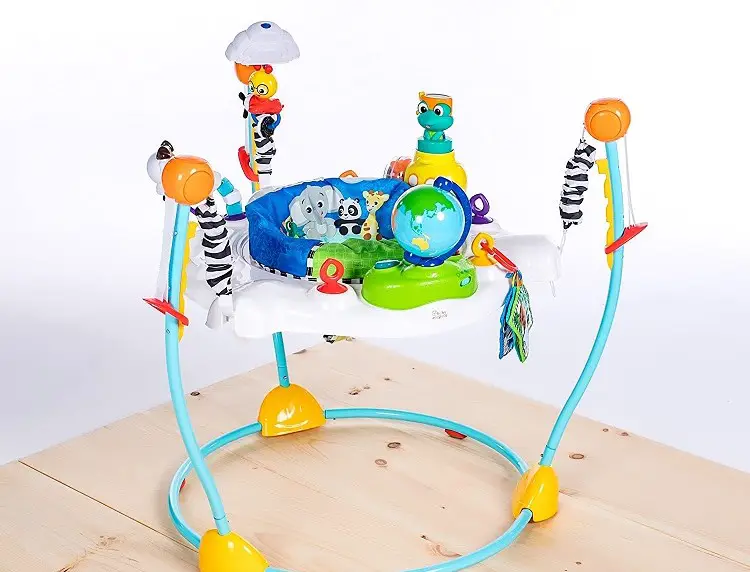 A baby jumper is meant to reduce the stress of having to engage your baby all the time.
You can get involved with something else and be rest assured that your baby is safe and happy playing in its Jumper.
As much as it is designed to give you the liberty to enjoy your time with other things while your baby plays, knowing the appropriate age when your baby is eligible to start using a baby jumper is a plus.
Specific factors to consider when you want to introduce your baby to a baby Einstein jumper include;
If the baby's neck muscles are strong enough
If the baby has good enough torso strength
Suppose your baby's neck is strong enough to turn on either side without any help from an adult. And if it has torso strength to support the rest of its upper body, then your baby is eligible for a baby jumper.
Asides from these factors, babies can begin to use a jumper at 4 months. Still, because different babies grow differently, you may want to consider the stated factors before deciding if your baby is fit for a jumper.
Risks Of Using A Baby Jumper
Like every other manufactured device, the Jumper has a risk resulting from its wrong usage.
Head injuries are prevalent with jumpers because, while the plastic frame serves as a shield, it can only protect the baby to an extent. If your baby is the hyperactive type, you may want to keep a close eye on him so that he doesn't fall out of the Jumper while actively jumping in it.
Your baby can have sprained ankle when turning in the Jumper.
In some cases, your baby may be placed wrongly in the Jumper, which will result in it having a dislocated hip bone.
Many jumpers, including Baby Einstein Jumper, come with a weight limit. This is to hint that a baby that weighs more than the allowed weight limit can break the Jumper, leading to severe injuries to the baby's neck, head, and limbs.
Read Also: When To Put Baby in a Bouncer Chair
How To Clean A Baby Einstein Jumper
Besides knowing how to fold baby Einstein jumper, cleaning up the Jumper is another effective way to maintain the Jumper for a more extended usage period.
While your baby plays in the Jumper, it'll likely spill a lot of juices on it. It could be his saliva, his pee, or the sweat he must have sweated during the long hours of fun.
These stains contain a lot of microorganisms that will make the baby sick if exposed to them.
That is why, beyond just maintaining the Jumper, cleaning it ensures that the baby's plaything is healthy enough for the baby.
Follow the steps below on how to clean the Baby Einstein Jumper.
Step 1
Take out the padded fabric from its harness on the frame. Wash it with a non-scented baby-friendly detergent that is mild not to expose your baby's skin to harsh chemicals.
Step 2
Once the padded seat is detached, you can easily clean the remaining plastic frame.
Using wipes (Lysol) or a clean towel and an antiseptic surface spray cleaner, spray the frame with the surface cleaner and clean neatly. You can take out the toys to make the process easier.
Step 3
Repeat the second step to ensure that the frame is germ-free.
Step 4
Air-dry the frame and leave the fabric in the sun to dry. Once both parts are adequately dried, you can go ahead with fixing back the toys and seats for your baby.
Alternatives To Baby Einstein jumper
The best alternatives are an activity center and a stationery play gym. The two have several advantages, including strengthening the baby's back and neck.
The baby learns to crawl and use their limbs more quickly and effectively. Because they are always left alone, the baby learns to crawl faster.
Read: Jumper vs Walker – Which is Better?
Conclusion
Knowing how to how to fold the baby Einstein jumper is an excellent way to maintain your baby's play item for a more extended period. Once it is not in use, it should be folded and stored.
Also, it is good to note that while the Jumper is a safe play gear, it is not secure enough to leave the baby alone in it without adult supervision for a long time.