Outdoor play is crucial for the development and growth of toddlers. It helps them improve motor skills, socialize, and connect with nature.
Here are some popular toddler outdoor toys suitable for your child.
Sand and Water Table
Wooden Climbing Set
Bubble Machine
Toddler Rock Wall
Balance Bike
Playhouse or Play Tent
Ball Pit or Ball Pool
One thing about outdoor time is that it is very important for growing bodies and minds, but families need the right gear to entice young kids and to make it as fun as possible.
One of the beautiful things about outdoor toys for toddlers is their ability to be maximized for outside playtime while being able to withstand all the rough play little ones can dish out.
This article will surely give you the best toddler outdoor toys that you can use for your baby.
Toddler Outdoor Toys
1. Sand and Water Table
This is a  versatile and engaging toy where toddlers can play with sand, water, or various toys.
It's great for sensory exploration and imaginative play. A sand and water table is a small, elevated table designed for outdoor play. It usually has two compartments – one for sand and one for water.
Toddlers can scoop, pour, build sandcastles, and experiment with water flow. It's a great sensory activity that helps in developing fine motor skills.
2. Wooden Climbing Set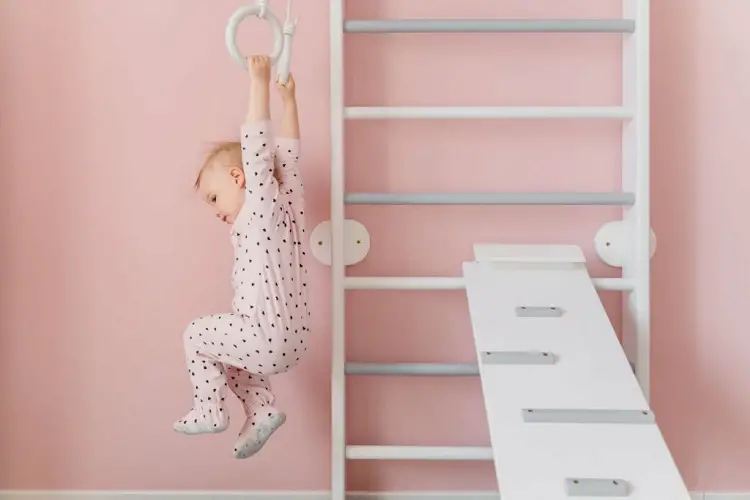 Introduce your young children to the fun and benefits of physical activity with this charming wooden climbing set designed specifically for toddlers.
Created with safety and exploration in mind, these outdoor toddler toys provide a secure and imaginative environment for them to climb, crawl, and explore.
3. Bubble Machine
Toddlers love chasing and popping bubbles. A bubble machine makes this activity more fun and exciting for them.
A bubble machine is a device that generates a continuous stream of bubbles when a bubble solution is poured into it.
Toddlers love chasing and trying to pop the bubbles, providing entertainment and helping improve their hand-eye coordination.
4. Toddler Rock Wall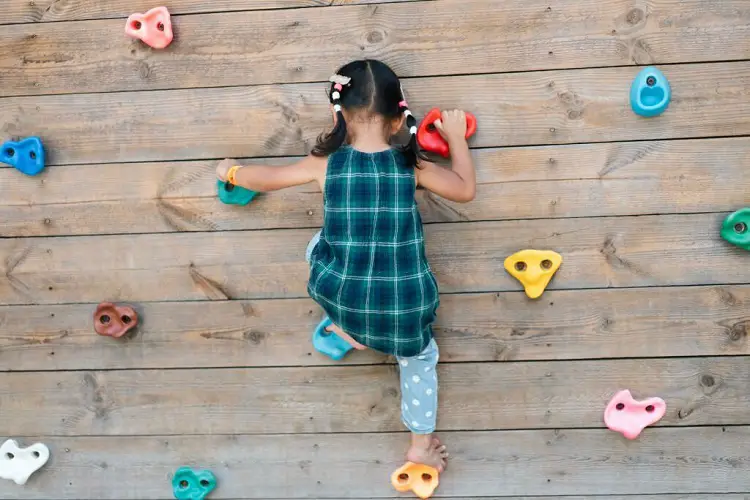 Looking for an engaging and challenging outdoor activity for your kids?
Consider building a climbing wall in your backyard! With a rock climbing wall set, you have the flexibility to customize the height of the wall to suit your kids' age and skill level.
As your children grow and develop their strength and technique, you can gradually increase the height of the wall to provide a greater challenge and sense of accomplishment.
Not only is rock climbing a fun and exhilarating activity, but it also helps to build confidence, resilience, and problem-solving skills.
So, why not invest in a climbing wall set and help your kids reach new heights of physical and mental prowess?
5. Balance Bike
Balance bikes are excellent for toddlers who have not yet learned how to pedal.
They are designed to help kids learn balance and coordination, which is an essential skill for riding a bike.
With a balanced bike, toddlers can move at their own pace and gradually develop their confidence and skills.
However, if you are skeptical about the effectiveness of balance bikes, you can always opt for a regular big kid bike and use training wheels instead.
Training wheels can provide extra stability and support, but they do not offer the same level of control and balance training as a balance bike.
It all comes down to personal preference, but both options can help your child develop a love for biking and an active lifestyle.
6. Playhouse or Play Tent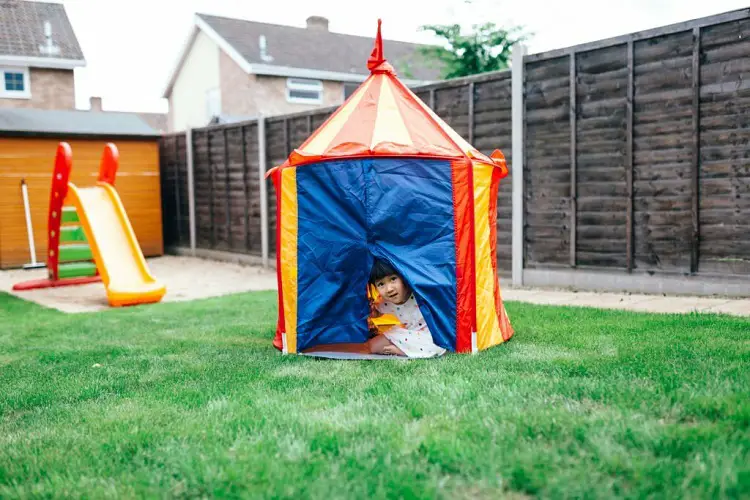 Toddlers enjoy having their own space for imaginative play. Playhouses or tents provide a cozy environment for creative play.
These are small, safe structures designed for imaginative play.
Toddlers can pretend they have their own little house, which encourages creativity and social play with friends or siblings.
7. Trampoline
A toddler trampoline such as the Little Tikes 3′ Trampoline can also serve as an exciting outdoor activity for your little ones.
Not only is it an enjoyable way to keep your kids active, but it's also a fun way to develop their motor skills.
This enclosed trampoline is specially designed for kids up to 7 years of age, ensuring their safety while they have a blast.
It even comes with a basketball hoop that can be adjusted to fit their height, allowing for extra fun and games.
With this trampoline, your kids will be entertained for hours on end, while staying active and healthy.
8. Swing Set or Toddler Swing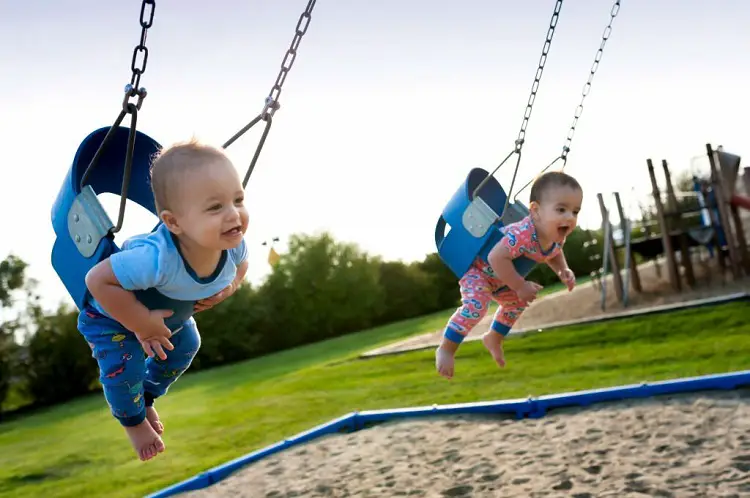 A toddler-friendly swing set or a toddler swing can provide hours of entertainment and help with gross motor skills.
A swing set with a toddler swing is a safe way for toddlers to experience the joy of swinging. It helps with balance, and coordination, and provides a thrilling outdoor activity.
9. Sidewalk Chalk
Toddler-safe chalk allows them to draw and doodle on the pavement, promoting creativity and fine motor skills.
Sidewalk chalk is large, easy-to-hold chalk used to draw on sidewalks or pavements.
Toddlers can use sidewalk chalk games to create colorful art and practice holding writing utensils, which supports their fine motor development.
10. Sprinkler or Water Table
On a hot day, a sprinkler or water table provides refreshing water play, allowing toddlers to splash and have fun.
A sprinkler or water table provides a source of water play for toddlers. They can splash, pour, and play with water toys, providing a fun and refreshing outdoor activity on a hot day.
11. Toddler Scooter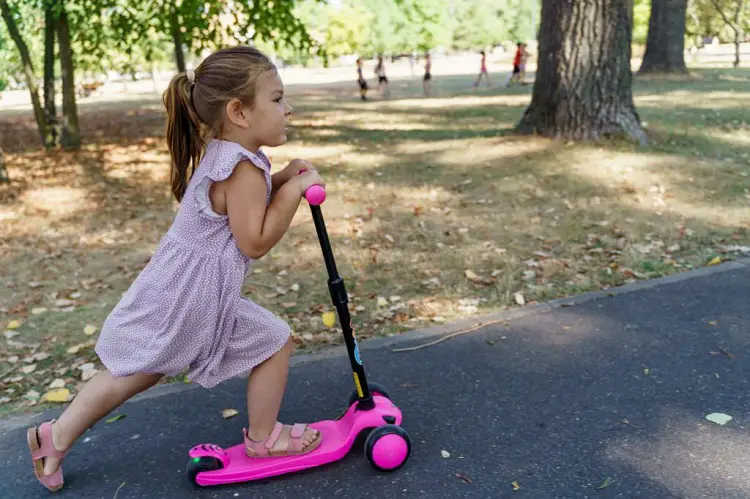 One of the most popular ride-on toys for toddlers is the toddler scooter, which can help improve their mobility.
This scooter is designed with safety and excitement in mind, providing a stable and enjoyable ride that is perfect for developing balance and coordination skills.
12. Outdoor Playset with Slides and Climbing Features
A compact outdoor playset with age-appropriate slides, climbing walls, and other features can provide endless entertainment and physical activity for toddlers.
An outdoor playset usually includes features like slides, climbing walls, and swings.
It's a comprehensive play area that encourages physical activity, climbing, sliding, and imaginative play.
13. Bounce House
A bounce house is an excellent plaything for toddlers as it provides a lot of fun. This bounce house includes a slide that is ideal for young children who want to jump and play safely.
Read Also: How to clean a white bounce house like a pro
14. Water Blob
If you are looking for an engaging outdoor activity for kids, water blobs could be a great option.
These inflatable toys are perfect for summertime fun, allowing children to jump, roll, and sit on them.
What makes them even more attractive is that they are relatively safe, as you don't have to worry about the water pressure becoming too high and causing the toy to break.
Kids can enjoy hours of entertainment in the sun with these versatile and durable water blobs.
15. Nature Explorer Kit
A kit with a magnifying glass, bug jar, and other tools for observing and exploring nature can encourage outdoor discovery and learning.
A nature explorer kit typically includes a magnifying glass, bug jar, butterfly net, and other tools.
Toddlers can use these tools to explore and learn about nature, fostering curiosity and a love for the outdoors.
16. Kiddie Pool
A shallow kiddie pool is perfect for toddlers to cool off and splash around under adult supervision.
A kiddie pool is a small, shallow pool designed for young children. It allows toddlers to splash around and play in the water, providing a cooling and enjoyable outdoor experience.
Always prioritize safety when choosing outdoor toys for toddlers and ensure they are age-appropriate and free of choking hazards. Additionally, adult supervision is crucial during outdoor playtime.
17. Wooden Seesaw and Balance Beam
Looking for a fun outdoor playtime activity for your toddlers and preschoolers? Our top recommendation is the wooden seesaw and balance beam set.
This combination of classic play equipment is not only versatile but also offers endless entertainment as children sway and balance, which helps improve their motor skills and coordination.
18. Ball Pit or Ball Pool
A small inflatable or portable ball pit filled with colorful balls is a delightful way for toddlers to have fun and improve hand-eye coordination.
A ball pit is a shallow container filled with colorful plastic balls.
Toddlers can crawl, sit, or even lie down in the balls, promoting sensory exploration and motor skills as they reach, grab, and throw the balls.
19. Climbing Dome
Experience boundless creativity with the climbing dome, a popular outdoor toy for active play. Children can climb, swing, and explore in this versatile structure, developing physical strength and imagination.
20. Sand Box
Here's a great outdoor toy for kids that's perfect for developing fine motor skills. A sandbox can hold up to 800 pounds of sand and provides ample space for multiple children to play.
Things To Consider When Buying Toddler Outdoor Toys
Whenever you're shopping for a gift or just looking to add to your home collection, there are a few things to keep in mind to get the best outdoor toys for your toddlers.
You should always bear in mind that your "Toddlers are still exploring and experimenting with the world through play. They like to watch what we do and imitate.
They like to climb and tumble but are not the most elegant at this age and do not always have the best safety awareness.
Experts believe that outdoor toys should have the characteristics of being "safe and sturdy," especially if the toy is something your child might climb or lean on (including toy walkers).
Also, bear in mind that toddlers love color, sound, and things that move.
So while getting toys for your toddlers, especially outdoor toys it should be something colorful, capable of producing sounds, and capable of movement.
Another beautiful thing about outdoor toys that are colorful, and capable of producing sounds and movement is that they are also good for their development.
Read Also: How to clean wooden toys
Conclusion
Outdoor play is essential for a toddler's development, offering a myriad of benefits such as improved motor skills, social interaction, and a deeper connection with the natural world.
Choosing appropriate outdoor toys for toddlers is vital to ensure their safety and engagement.
Some fantastic options include sand and water tables for sensory play, bubble machines for hand-eye coordination, tricycles or balance bikes for motor skill development, and playhouses for imaginative play.
Swings, ball pits, chalk, and trampolines offer physical activity and creativity, while nature explorer kits and kiddie pools encourage exploration and refreshing outdoor experiences.
Always prioritize safety, age-appropriate toys, and supervision to make outdoor play a delightful and enriching adventure for toddlers.