The first year of your little one's existence is the most crucial stage in your baby's life and should be taken seriously regarding feeding and care.
Optimum growth and development are achieved through the supply of nutrients through breastfeeding or substitutes through formula.
While some mothers cannot breastfeed their babies due to specific reasons, you should select formulas for babies based on a baby's medical condition and infant's individual needs.
Questions like Aptamil vs Bebelac are bound to arise when considering formulas for one's baby, and this article will surely answer them.
Table of Contents
Baby formula: Everything You Need To Know
Baby's formula is manufactured food with a strong and striking resemblance to breast milk. It intends to nourish your baby in the same way as breast milk.
This formula is for bottle-feeding or cup-feeding from powder (mixed with water) or liquid (with or without additional water).
The infant formula becomes a substitute for mothers who cannot undertake breastfeeding due to reasons like unwillingness to breastfeed due to busy work schedules, medical conditions, or sometimes breastfeeding difficulties.
The companies that manufacture these formulas ensure that the formula they manufacture resembles breast milk by using ingredients almost the same as the makeup of breast milk, especially during the first three months of breastfeeding.
This means formulas are manufactured with essential ingredients that make them similar in composition and nutrients to breast milk. 
Still, different brands have various means of achieving each with their manufacturing materials.
Making Choice of Formula
It is suitable for a parent to care about their baby and their welfare by researching the various formulas available.
But there is something you must bear in mind which is this; there is no magical brand that can satisfy the individual needs of every child because every child is unique.
Your long hours of research may not pay off well because your baby may not be comfortable with the particular brand you have chosen as the wonder brand.
You need not panic because there are lots of alternatives on the market. All you have to do is to keep an open mind while perusing the list of the baby's formulas.
All the brands in the market meet the minimum nutritional standards set by the Food, Drug, and Cosmetic Act and FDA regulations, so do not be perturbed if the brand your baby is at home with isn't what you want for your baby.
Types of Baby Formula
No formula brand has a particular choice, but there is a wide range of options with the same brand. 
This caters to infants with varied needs, including breast milk-based formula, lactose-free formula, soy formula, and premature baby formula.
Breast milk-based formula
These formulas are based on breast milk, and their production mimics breast milk and, in many, similar fats to those in breast milk. 
The presence of MFGM, which research has proven to have the ability to support cognitive development in infants, has been used in the manufacture of breast milk-based formula.
Probiotics like 2'-FL HMO, known to support your baby's immune system, are also used to manufacture breast milk-based formulas.
Gentle formulas
Formulated for babies whose stomachs are not comfortable with breast milk-based formula and who need something gentler on their stomachs.
The lactose composition of this formula is reduced so that it may reduce the lactose-induced fussiness in babies to the barest minimum. And some of the examples include Enfamil Gentlease & Similac Sensitive.
Added Rice Starch Formulas
This type was formulated to meet the needs of babies with Acid Reflux and, as such, may require a formula with a thicker consistency.
This kind of consistency is achieved by adding rice starch to the formula, and because of this kind of thickness, it doesn't come back up quickly, nor does the spit-up rate the same as others.
Soy Formulas
Some babies may be more comfortable and at home with soy formulas, probably due to lactose intolerance, milk protein allergy, or galactosemia.
You should use soy formulas (like Gerber Good Start) if your baby falls in this category.
Aptamil vs Bebelac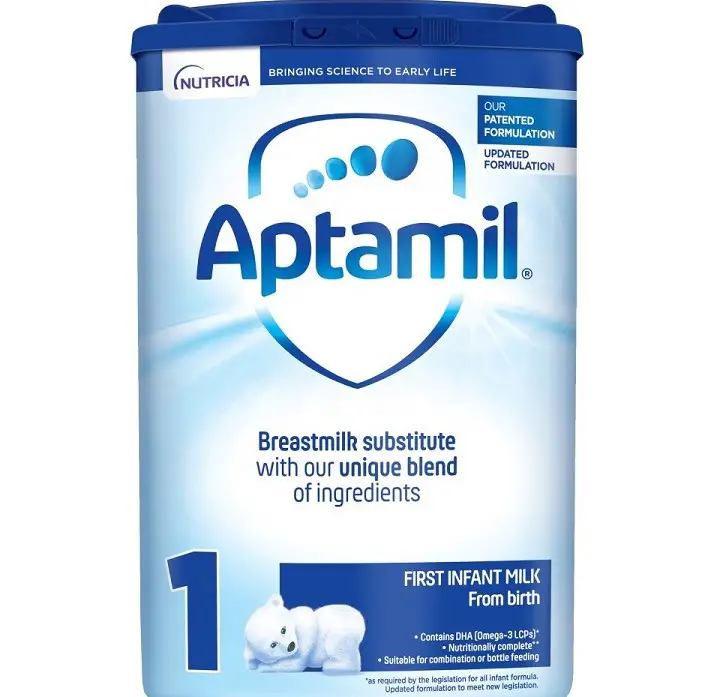 Aptamil formula is a nutritionally complete formula that can be used solely as your baby's milk source or in combination with breast milk to serve as a top-up.
This product's manufacturers claim that 50 years of research went into creating this nutritionally rich infant formula.
It is suitable from birth and as part of the weaning diet from 6 months.
Key Features
It contains DHA that supports the baby's normal brain development
Nutritionally complete
It can serve as a milk substitute.
Some of their products support the dietary requirements of babies diagnosed with colic, reflux, and cow's milk allergy.
It has a unique taste that can entice your baby's taste bud
It contains Iron and folic acid
Contains nucleotides
It promotes the growth of healthy bacteria.
Contains probiotics
Supports gut bacteria
Contains DHA
Discourages the growth of harmful bacteria
Contains vitamins
Pros
It promotes the growth of healthy bacteria
Contains probiotics
It is Easy to digest
It is Gluten free
Non-GMO
Helps with colic
Cons
It is expensive
Can make your baby gassy
There are chances of clumping
Read: Kendamil vs Aptamil – Which is the Best?
Bebelac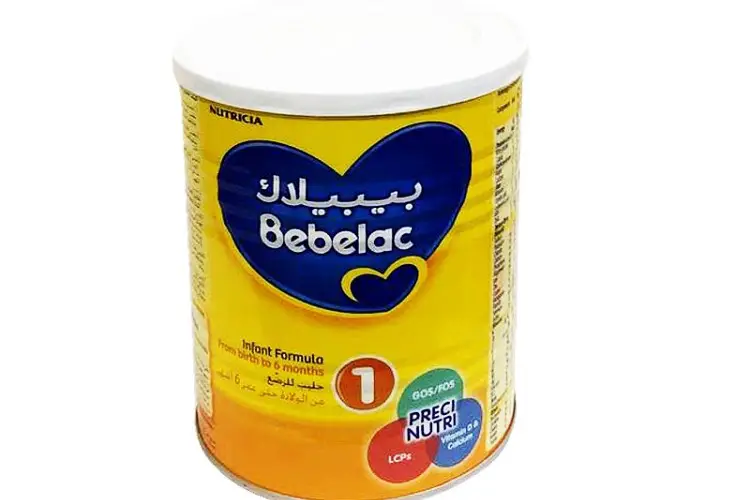 Bebelac is a baby formula brand that contains prebiotics and adapted proteins and has formulas that you can use from 0-6 months and 6-12 months to its credit.
The Bebelac-1 formula is used for babies from 0-6 months of age, and Bebelac-2 is used for babies from 6 months and above.
Key Features
It contains DHA that supports the baby's normal brain development
Nutritionally complete
It can serve as a milk substitute
Contains Iron
Contains Vitamin D 
Contains Calcium
Pros
Bebelac baby formula contains all the necessary nutrients for your baby's healthy development.
It contains Vitamin D 
Contains Calcium
It contains Zinc
It is cheap and budget friendly
Read: Nan Vs Aptamil: Which one is the Best?
Aptamil Vs Bebelac – Similarities & Differences
Similarities
Both products have formula suitable for babies under six months
Both products contain vitamins
Both products contain minerals
Both contain DHA
Differences
Aptamil contains DHA/ARA, while Bebelac has only DHA.
The smoothness of preparation of Aptamil is better than Bebelac
Aptamil has a vanilla taste while such taste is lacking in bebelac
Aptamil is costlier than Bebelac
Related Posts:
Final Verdict
Looking at the pros and cons of both Aptamil Vs Bebelac formulas, you'll have a clearer picture of how similar or different they are and how they can each serve you differently.
Breastmilk is best for babies, and a healthy diet / maternal nutrition is essential when breastfeeding. The decision not to breastfeed can be hard to reverse. Infant formula is suitable from birth when babies are not breastfed. 
Your choice should be made on what you feel is the best for your baby and if possible, seek the advice of your baby's pediatrician, midwife, health visitor, public health nurse, or dietitian, and then follow their advice.
Also, do not forget to carefully follow all preparation and feeding instructions, as improper preparation could lead to health hazards.