One question that usually comes through the mind when cleaning our house especially our carpets is can I use fabric softener in my carpet cleaner?
We all know how necessary it is to keep our carpets, there are times when the need to add the power of the industrial-strength carpet cleaners is required, and there are times when homemade recipes can be used that are easier and more economical.
These solutions are available in the market and can use them to neutralize the residual cleaning chemicals used in the carpet.
They also help make your carpet feel much softer and comfortable. If you are wondering whether you can use fabric softener in a carpet cleaner to soften your carpet or other ways to make your carpet soft after cleaning? Read on we have all the answers for you here.
Can I Use Fabric Softener in My Carpet Cleaner?
Yes, you can get your carpet clean and softer by mixing a half cup of fabric softener for each gallon of warm water.
Creating a solution containing baking soda, hot water, liquid laundry detergent, and fabric softener makes a great low-cost, non-toxic carpet cleaner that deodorizes and softens your carpet fibers equally.
Read Also: How To Get Pee Smell Out Of Carpet From Dog
How to Clean Your Carpet with Fabric Softener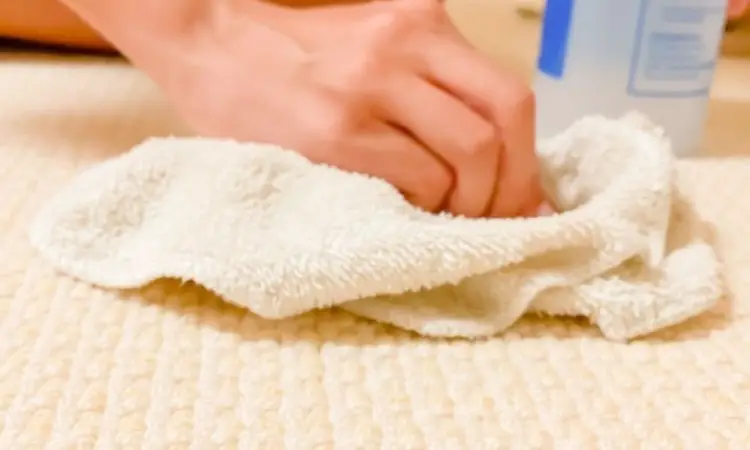 Carpets are made from some of the same basic fiber types that are used to make what we wear and we use fabric softeners to make our clothing softer when we wash them. Here's how to clean your carpet using a fabric softener.
Firstly, clean your carpet, as usual. Then use your preferred cleaning product, like a mix of half a cup of liquid laundry detergent per gallon of hot water.
Rinse the carpet, as usual, to remove as much of the soap as possible.
Then rinse the cleaning solution tank and mix one half of a cup of fabric softener per gallon of warm water.
Finally, spray the cleaning solution all over the carpet, and then let it sit for two minutes. After that then extract, and rinse with clean water then extract again.
How to Clean Your Carpet Using a Carpet Cleaner With Built In Softener
If you have a steam cleaner or carpet shampoo machine, you probably bought it to save some few bucks over having to go to the laundry store to rent it.
However, unless you stock up well on basic cleaning solutions during your last grocery shopping trips, you may still have to drive down to the store to purchase the cleaner when the need for it arises.
That is unless you create your homemade cleaning solutions for regular maintenance cleaning, leaving the store-bought cleaning solutions for the major deep cleaning jobs in your home.
Here's how to use carpet cleaner and fabric softener to clean and soften your carpet.
First, make a mixture of one cup of clear vinegar per gallon of hot water to help remove most dirt and light stains that aren't heavily stuck into the carpet's fibers.
For more additional cleaning strength, you can add a tablespoon of dishwashing detergent per gallon of cleaning solution.
Apply enough solution and then vigorously scrub it into the carpet's fibers to loosen the stains.
After this is done, extract the dirty cleaning solution completely and then rinse it well with warm or hot water while scrubbing.
You can ensure your carpet becomes softer when mixing half of a cup of fabric softener per gallon of warm water.
Spray the softener into the carpet while scrubbing. Allow the solution to sit on the carpet for two minutes and extract fully.
Finally, rinse and extract one more time while allowing your carpet to dry completely.
How to Clean and Make Your Carpet Softer with Baking Soda
Using baking soda, hot water, liquid laundry, and fabric softener is another effective homemade solution that can help you clean the carpet and make it softer.
It is by far a cheaper option to soften your carpet. It is a non-toxic carpet cleaner that serves best in softening the carpet fibers too. Here's how to do it
First, create a solution with baking soda, hot water, fabric softener, and your preferred liquid laundry detergent to create an effective low-cost, non-toxic carpet cleaner that deodorizes and softens the carpet fibers equally.
Make sure the ingredients are well mixed, then spray the mixture onto the affected areas of the carpet, and scrub.
Finally, rinse it well and extract.
What Else Can I Use Fabric Softener For?
You can a fabric softener to remove the following
Old wallpaper
Scarp carpet shock
Take out hair-spray residue
Clean now, not later
Float away baked-on dirt
Keep paintbrushes pliable
Take out hard-water stains
Make your fabric softener sheets
Related Posts:
Wind Up
We hope this article has given an in-depth discussion to answer the question of can I use fabric softener in my carpet cleaner.
Hopefully, with the tips we've listed above, you can keep your carpet free of dirt, softer, and smelling nice.
These tips are quite easy to do so you don't have to worry whether it requires a lot of time. Just make sure you use the right solution with its appropriate quantity on your carpet to avoid damaging it.
When cleaning your carpet, try to scrub very gently to ensure that the carpet fibers remain completely soft and intact.