It wouldn't take long before your baby begins to crawl around and sit. In a matter of months, usually 6, your baby will learn body coordination and be able to sit upright.
During this period, you'd need a portable and comfortable seat to accommodate his fragile frame. And two of the top baby seats are high chairs and booster seats.
When you understand the difference between a high chair vs booster seat, you see how unique each of the two baby gears are and how useful they can be to your journey as a parent.
Table of Contents
High Chair Vs Booster Seat – Explained
The difference between a high chair and a booster seat throws more light on their uniqueness and how they can help your baby individually.
Although they're both useful and designed to make parenting worthwhile, they're not the same and clearly will serve different purposes at different times.
These chairs are designed to keep your baby upright during meal times which also straightens their spine and helps them to develop a good sitting posture.
Parents who have been opportune to use both seats understand how each seat is built, how they work, and the right time they're most useful.
But if your comparison is from an ignorant point of view, there are some key points to know about the high chair vs booster seat comparison. 
This comparison is not aimed at throwing jibes at one while praising another. It is also not aimed at putting one seat lower than another.
Both are seats designed for babies under the age of 3 years, and they serve the same purpose only in different ways. So, one may not necessarily be better than the other but based on preference; one may serve you better.
Therefore, to make this easy, let us look at the statements below and see which category serves your purpose. You will likely find what you need in this category.
Choose High Chair if:
You cannot use a booster seat with your dining chairs.
You prefer having maximum height options.
You have enough space for this baby item.
You are planning to use the seating at home primarily.
You have extra bucks to spend and like having different kinds of options.
Choose a Baby Booster Seat if:
You can use your dining chairs with Booster Seats.
You are ok with the limited height settings.
You have less space available in your home.
You like a portable seating solution for your child.
You want to stay on a budget and don't feel so much for many options.
Knowing these key points will help you look at both seats with an open mind which will help you make better choices based on your preference and your baby's needs.
Now let's extensively dive into everything you need to know about high chairs and booster seats, including their pros, cons, and differences.
What is a High Chair?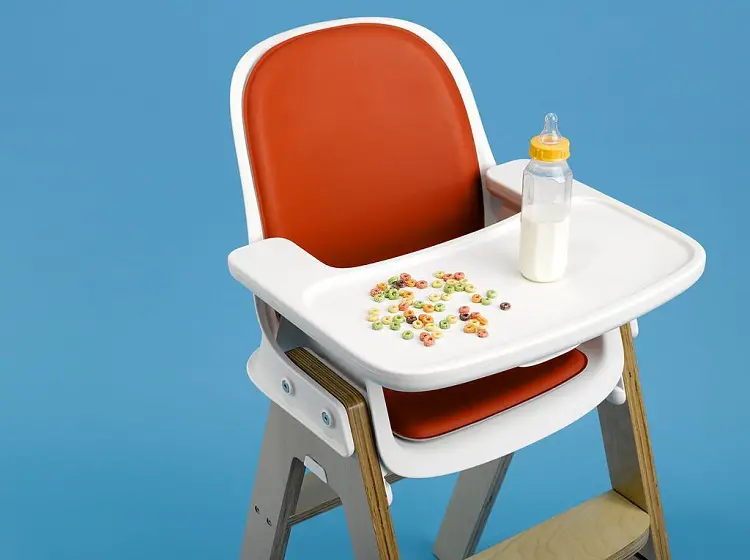 A high chair is a type of chair that stands independently on its legs without being attached to another chair. Many high chairs have adjustable legs to increase or decrease the height based on how comfortable your baby is.
Some have extra features like straps that can harness your baby when eating. The straps prevent your baby from falling forward should he become playful in it.
Another unique feature is a foldable table. Many children's seats, including a high seat, come with a foldable table to support the tray or plate holding your baby food. It helps to encourage healthy eating.
Some high chairs have extra padding on the seat and backrest to make it more comfortable for your baby. It prepares your baby to get used to sitting on regular chairs that are not attached to other things.
Pros
Some features make a high chair stand out from other types of baby seats. This uniqueness makes it preferable to some parents and can be considered the pros of using a high chair.
It is sturdy and balanced. The sturdiness of the seat makes it stand steady, and we'll balance on the ground, reducing the chances of your baby tipping it off.
The extra padding is a thoughtful way of ensuring that your baby enjoys his meal in comfort and style.
You can use it at a very young age of 4 months up until he's 2 years old, depending on your baby's growth rate.
The five-point harness ensures safety even when no adult is watching over the baby.
Wooden options are available if you want to avoid plastic baby high chairs.
It protects your regular dining table chair from wear and tear when a booster seat is placed on it.
Cons
The cons are the downside of using a high chair. They're the reasons why some parents choose other baby seats over a high chair.
Its sturdiness and size make it difficult to carry around.
It is heavy
It takes up space
You cannot use it for babies below a certain age (7 months).
It is pretty expensive compared to other seats that serve the same purpose.
Read: Best High Chairs For Small Spaces
What is Booster Seat?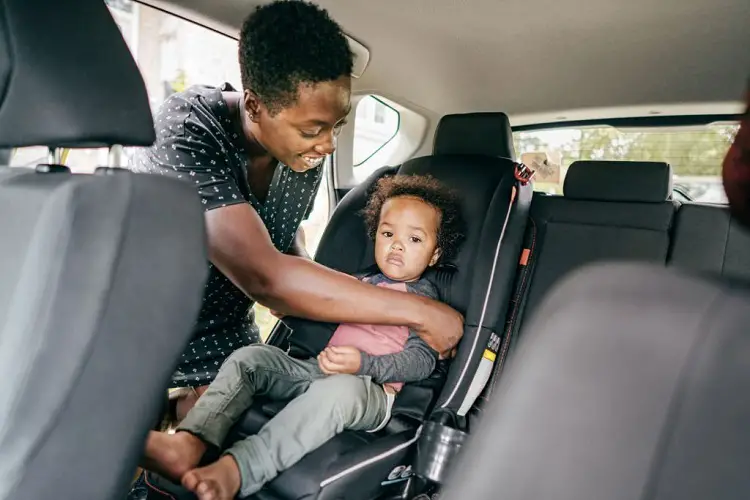 A booster seat is light and portable enough to carry along for a long journey and can also be attached to car seats.
Unlike a high chair, booster seats do not stand independently on the ground. They're like the shorter version of high seats, but they're usually more padded than the high chair.
Like a high chair, a booster seat is also designed to keep babies upright when eating.
Babies who use these seats have indeed gone beyond the breastfeeding stage and are now into finger foods, which means they can sometimes be left to feed themselves. This mini chair for babies comes in handy after introducing your baby to finger foods.
Pros
The advantages of a booster seat are based on where it serves and how effectively you can put it to use. This gives people the reason to understand the value they're getting when going for a booster seat.
It is lightweight, and you can easily move it around.
It is more versatile since you can use it for your baby during meals and as a car seat.
It does not take up much space.
It is pretty affordable for the value it offers.
You can quickly get it cleaned up by simply taking it to the bathroom and washing it down. 
Cons
Just like every baby gear, no one is 100 percent efficient and may not serve all purposes and at all times, bringing us to some of the downsides of choosing a booster seat.
It is less sturdy, which means it is less balanced and steady and can be easily tipped when your baby is playing in it.
The thick padding is made of fabrics and, when stained, can be challenging to clean.
You cannot use it for a long time.
Wooden options are currently unavailable.
High Chair Vs Booster Seat: Differences
Based on their design model, a high chair and a booster seat have similarities and differences, making it easier to understand how they're designed.
Age Recommendation
You can use a high chair for babies under 6 months old and above for up to 2 years. You can only use a booster for babies who can sit and eat independently.
Design
High chairs are sturdy and steady, while booster seats are lightweight and easy to carry.
Price
A high chair is more expensive in comparison to a booster seat.
Storage
Booster seats are easier to store than high chairs.
Function
High chairs are only used for feeding, while you can attach a booster seat to a car seat or dining chair or even place it on the floor.
Price
High chairs are generally more costly than booster seats.
Things To Keep in Mind When Deciding on High Chair vs Booster Seat
1. If you need it to fold flat for storage or carrying around, then you should choose a booster or travel high chair or a fold-flat highchair
2. If you want the chair and tray height to be adjustable, then a highchair is recommended
3. If you're looking for an easy-to-clean baby item? Both will work but don't choose one that is full of nooks and crannies
4. Is the tray removable? – Both high chairs and boosters come with removable trays
5. Is there a five-point harness on it? – It is essential for both types to ensure your baby's safety
6. Would you like your child to sit directly at the table? – Buy a high chair without a tray or a booster seat for your kitchen a chair that fits safely.
Safety and Cleaning Tips For Baby Feeding Chairs
Whenever a child is eating in a high chair or booster seat, or anywhere else for that matter, never leave them unattended
Ensure the harness is fastened when your baby is seated in the chair. A 5-point harness is highly recommended.
While some manufacturers advertise the dual-use of booster seats, you should never use them as car seats. A booster seat is NOT safe as a car seat for babies.
Keep the chair clean as soon as possible after the child eats to prevent food buildup. Some baby feeding chairs come with dishwasher-friendly trays in case you use a dishwasher. Mixing water and vinegar will also work well, or you can use a baby products-specific liquid cleanser.
Take-Home
A high chair is a tall seat for babies, while a booster seat is the shorter version, only that they each come with features that make them stand out from the other.
Comparing the high chair vs booster seat gives an insight into how each seat works based on their design models and unique features to support your baby's time.