As your baby advances in age, his food requirement changes, from when you first weaned him to when he gets introduced to solid foods.
Having ideas on the type of finger foods for one year old can help you deal with his food requirements during his first year of consuming other foods besides breast milk.
Moving onward, you will begin to replace the meals with the appropriate foods required for him within every given age range.
In this article, we talk about finger foods; what are they? which ones to avoid and the best finger foods for 1 year old.
What is Finger Foods?
Finger Foods are generally foods cut in size to fit into a toddler's hand.
As babies grow, they begin to try doing things for themselves, including feeding themselves with the solid foods you offer them.
They attempt to reach into their bowls to pick up some pieces of the food into their mouth.
Ideas about finger foods for a 1-year old that your toddler can easily reach for without choking, even without needing your assistance, can come in handy during such times.
Safe Finger Foods For 1 Year Old
When considering the type of food for your toddlers, you must consider their safety first.
Although solid foods are healthy for babies, they shouldn't be fed with just any solid food, especially in the early stages of their introduction.
Squishy and softly cooked foods are best for babies who have just started eating solid foods.
Avoid introducing finger foods that are dry, large, sticky, or don't dissolve easily because they pose choking hazards to your baby.
Examples include gummy foods like candy, raw carrots, popcorn, dried cereals, or sticky foods like peanut butter.
Sugary foods should also be avoided. Not only are adults sensitive to sugary foods, but babies are also. Avoid feeding your baby foods with too much sugar.
Another important factor to consider when selecting the best finger foods for your baby is that many adult foods, particularly snacks, can be extremely salty.
Often, parents will doctor a food to make it more appealing to their tastes, and their tastes may contain more sodium than a baby's taste.
When making baby food, try to avoid using salt as much as possible. (If you're cooking for a family, you can always add it separately to your portion).
Healthy Finger Foods for Babies and Toddlers
Finger foods are the everyday foods we adults also consume; the only difference is that they may not include dry and hard foods like ours.
These foods can be eaten at any time of the day by babies from 6 months to a year old.
You can easily fix a meal with any of the following by ensuring it is not dry or too hard for your baby to swallow.
Hard-Boiled eggs
Soft-cooked foods like carrots, broccoli, potatoes
Sliced fruits like mangoes, cucumbers, avocado
Peeled ripe fruits such as bananas, ripe pear
steamed apples
Soft boiled rice
Scrambled eggs
Mashed potatoes
Rice and lamb curry
Cheese
Homemade muffins
Finger Foods Ideas for Toddlers And Babies: Fruits
Fruits are great finger food for kids because they are often flavorful and require little to no preparation.
Some of my favorite fruits for kids and serving suggestions are listed below.
Steamed apples, shredded or cut into matchsticks
Shredded apples or cut into matchsticks
Bananas (broken up and sectioned)
Blueberries (cut in half)
Raspberries (cut in half)
Blackberries (cut in half)
Strawberries, diced
Clementines or oranges (cut in half)
Grapes (cut in half)
Kiwi, diced
Watermelon, diced or in sticks
Very ripe and soft cantaloupe
Cherries, pitted and chopped
Ripe honeydew
Ripe soft mango
Ripe pears
Finger Foods for Babies: Dairy
Dairy is a frequently overlooked finger food, but there are so many simple ways to serve it
Cheese, diced or shredded
Goat cheese, crumbled
Cottage cheese
Frozen yogurt drops
Hard-cooked eggs
Scrambled eggs
Egg muffins, diced
Finger Foods For 1 Year Old: Breakfast Ideas
Although it is indicated as breakfast, they're not fixated; they can be eaten as lunch, dinner, or a snack.
Mixed grain cereal with whole milk
Boiled eggs and steamed veggies
Mashed potatoes
Boiled sweet potatoes and scrambled eggs
Toast and whole milk
Sliced bananas or avocado pear
Whole Wheat cookies and milk
Low-sugar sponge cakes or muffins with whole milk
Broccoli egg muffins
How To Prepare Broccoli Egg Muffins
Looking for a delicious egg recipe for your child that is also freezer-friendly? Then try these Broccoli Egg Cups!
They are ideal for those hectic mornings when you quickly need breakfast for your child (and yourself).
With only a few minutes of prep time, these egg muffins pack in nutrients and flavor without the hassle.
Egg muffins have four ingredients: eggs, milk, chopped broccoli, and cheddar cheese. While they are lacking in ingredients, they are delicious.
Rich in protein
A perfect choice when on the go
Good for 6+ months and up
Good choice for finger food stage or baby-led weaning
gluten-free
family-friendly
Customizable (You can add any veggie you like)
great for leftovers
freezer-friendly
Preparation:
Preheat the oven to 350°F and line a muffin pan with paper liners. These reusable silicone muffin liners are my favorite.
Next, whisk together the eggs and milk in a small bowl.
Stir in the chopped broccoli and cheddar cheese.
Pour the egg mixture into the muffin liners once it has been combined.
Place the muffin tray in the oven for 20-25 minutes or until golden brown.
Serve and enjoy
Finger Foods For 1 Year Old: Lunch Ideas
Soft-boiled rice and vegetable sauce
Mashed potatoes and veggies
Mashed potatoes
Toast fingers and milk
Toast and scrambled eggs
Baked beans with rice and vegetable sauce
Potatoes chips and scrambled eggs
Vegetable rice with cheese sauce
Rice and carrot porridge
How To Prepare Rice and Carrot Porridge
Rice and Carrot Porridge is a nutritious sweet porridge made with carrots, rice, dates, and raisins.
Carrots can be prepared quickly and taste delicious. This healthy rice and carrot porridge recipe can be given to babies as young as seven months and above.
Ingredients:
2 small-sized Carrot
2 Tsp Rice
1 Tsp Ghee
Milk (1/4 Cup)
Cardamom Powder
Chopped Raisins
Preparation
Here is a step-by-step guide on how to prepare a rice and carrot porridge recipe for your toddler.
Thoroughly wash the rice and carrots.
Now peel and cut the carrots into small pieces.
Put the rice, carrot, water, and dates into a saucepan and boil it for 10 minutes.
Remove the carrot from the heat after it has finished cooking.
Allow them to cool.
In a blender, combine cooked carrots and rice to make a smooth, pureed blend until your baby achieves the desired consistency.
Melt some ghee in a saucepan, then add the porridge.
Combine the cardamom powder and chopped raisins in a mixing bowl.
Stir in the boiled cow's milk and cook for another two minutes.
Your food is ready to eat. Serve it hot.
Read: 7 best homemade juice for babies & toddlers with their recipes
Finger Foods For 1-Year-Old: Dinner Ideas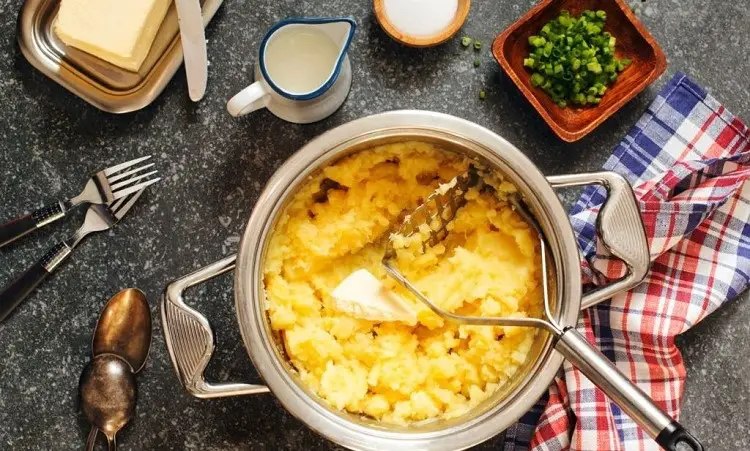 Mashed potatoes and avocados
Rice and lamb curry
Toast, scrambled eggs, and whole milk
Cookies and whole milk
Steamed carrots and sweet potatoes
Mashed bananas and whole milk
Sliced boiled apples
Fruit salad containing sliced bananas, watermelons, avocados, and boiled apples
Mashed potato, carrot, and chicken
How To Prepare Mashed Potato, Carrot, and Chicken Puree
Ingredients
50 g carrot
50 g of potato
40 g of chicken breast
250 g of water
1 tablespoon (soup size) olive oil
Preparation
Wash the peeled potato and the scraped carrot well. Cut the vegetables and the chicken breast into cubes.
Then in a small clean pot, pour the water with the vegetables and meat. Let it cook over medium heat for about 20 minutes.
At the end of the time, check that the vegetables are soft and the chicken is cooked.
Grind everything together until you get the right texture
Read: Healthy Recipes For Picky Eater on a Budget
Snack Ideas For 1-Year-Old
While feeding babies less than 18 months of snacks is not advisable, you can incorporate some in-between meals with their regular feeding time.
There are no special snacks for one-year-olds, but you can choose to repeat their regular foods between their mealtimes with just a few alterations from the regular plan.
Snacks Ideas For Babies: Fruits And Veggies
These produce-based snacks are excellent additions to any snack menu. If possible, pair them with another food group, though the baby will not always eat perfectly balanced snacks, which is fine.
Baby Food Pouches
Roasted sweet potato (Make sure it's mashed slightly)
Warmed frozen peas
Roasted Zucchini, diced small
Diced Roasted Sweet Potato
Fresh blueberries, cut in half
Fresh raspberries, broken up into small pieces
Frozen mango, blueberries, and strawberries warmed and fully thawed, and chopped.
Freeze-dried fruit
Banana, broken into small pieces
Ripe and very soft avocado (Make sure its diced and mashed slightly)
Protein Snacks Ideas For Babies
Shredded cheese
Tofu, diced and sauteed lightly or steamed
Lightly mashed or diced meatballs
Shredded chicken, cut up finely
Cooked ground beef, turkey, or chicken broken into smaller pieces
Lightly mashed beans
Warmed frozen peas
Scrambled eggs, broken up into smaller pieces
Diced egg muffins
Yogurt(plain whole milk)
Cottage cheese
Carbohydrate Snacks Ideas for Babies
Potato chips
Spinach pancakes diced
Baby Puffs
Mini rice cakes
Baby Banana Muffin
cereal
Chex cereal
Cheese crackers
Baked Oatmeal, diced
Leftover pasta, rice, or oatmeal
Sweet Potato Teething Biscuits
Read Also: How To Make A Carrot Puree For A Baby Without A Blender
Healthy Drinks For Babies
There are a few drinks parents can give their babies; they include the mother's breast milk, whole cow's milk, semi-skimmed milk, skimmed milk, and other fruit juices.
These drinks have vital roles in child growth, but they're not appropriate for babies of all ages.
Breast milk
Breast milk is the best drink for any baby below 12 months. Some mothers begin feeding their babies with baby formula as early as six months, but ideally, breast milk is what they need since they're still in their forming stage.
Whole cow's milk
Babies can begin taking whole cow's milk at 12 months old; feeding a baby below this age is unhealthy. Instead, you should feed them with breast milk.
Below this age, the milk can cook some of their meals and prepare their formula. Aside from that, it should not be given to them as a drink.
Skimmed milk
Skimmed milk is not suitable for children under five years old because it doesn't contain enough calories that their bodies require to develop.
Semi-skimmed milk
Semi-skimmed milk can be given to babies above two years with a good diet to complement it.
Fruit juices
Sugary drinks should be discouraged. Although they may contain high calories, the sugar may lead to tooth decay and set them up for health-related issues at a very young age.
My Toddler Has No Teeth – Can I Introduce Him To Finger Foods?
Yes! Gums are incredibly strong, as is the tongue, so the number of teeth your baby or toddler has (or doesn't have!) is not a sign of how well they will be able to eat finger foods.
It is important to ensure the foods are soft enough for them to chew and that the pieces are the right size.
Related Posts:
Conclusion
As a parent with a baby who is newly into solid foods, coming up with ideas of finger foods for one year old or even older can be quite challenging since you can't just feed your baby with just any food within their first year.
You must ensure that whatever your baby eats is soft and safe enough for him to feed himself even without your assistance.
The good part is you do not need to break the bank to prepare these foods since they're made with regular food items that you consume as an adult, which this article has made obvious.
To reiterate, when making a food timetable for your 1-year-old, you have to look out for their safety first; that is the essence of having ideas about what type of finger foods for 1 year old.
They should be soft enough to munch on and swallow without gagging. Also, it should be healthy for their age in the case of the type of milk they consume.