DockATot is a baby accessory designed to be used for various purposes.
It was designed for resting, tummy time, safe co-sleeping, changing pads, and much more.
Normally, every baby item used regularly tends to get stained, and DockATot isn't an exception.
If a Dock a Tot can get stained, then the next thing should be how to remedy the situation.
In this article, we will be answering the question of how to get stains out of DockATot, along with its frequently asked questions.
DockATot: All You Need To Know
Dock a Tot is a baby longer manufactured to serve multiple purposes like resting, tummy time, safe co-sleeping, changing pad, and more.
Dock a Tot has the unique advantage of being light-weighted and portable, and these unique features enable it to be moved around and used for diaper changes.
The fabric used in the manufacture of this lounger is of higher quality. It is non-toxic, hygienic, made from 100% cotton material, and most importantly, it is completely breathable because of its high air permeability.
This lounger also provides an exquisite environment that is nice, snug, and conducive to sleeping for your baby, and also it comes in different varieties of colors and patterns.
Types of DockATot Baby Loungers
This beautiful baby lounger is known to have two different versions: DockATot Deluxe+ and The DockATot Grand.
The major and primary difference between these two versions of DockATot lounger is their sizes.
DockATot Deluxe+ was designed and manufactured solely for babies from 0-8 months old, while the other version was designed and manufactured for babies and toddlers from 9 months of age to 36 months of age which is three years.
DockATot Deluxe+ at a glance
Some of the features of DockATot Deluxe+ include the following
The manufacturer of this version of DockATot was done with the highest safety standards
It is suitable and can be used for co-sleeping
Its womblike shape gives comfort to the baby reclining on it
Its manufacturing fabric does not encourage overheating
It has a high air permeability
It can serve multi-purpose
DockATot Grand Dock at a glance
Some of the features of DockATot Grand Dock include the following
It helps in reducing nighttime waking interruption as a result of the cozy environment of the lounger
It is an excellent aid in a crib to bed transition
It is cozy
Its manufacturing fabric does not encourage overheating
How To Get Stains Out Of DockATot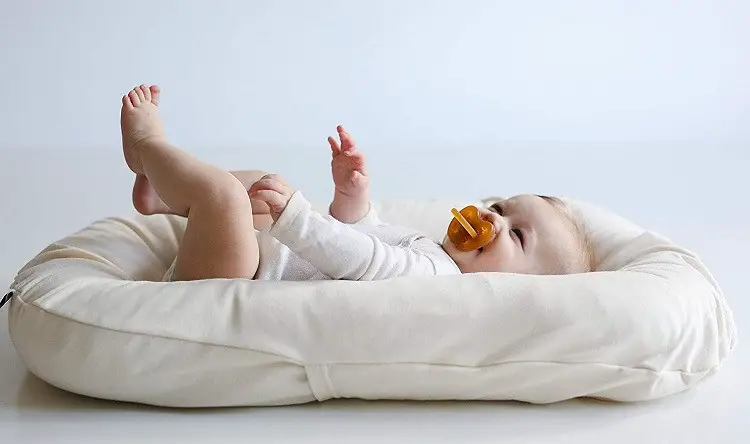 It is normal that anything, especially your baby's accessory, gets stained due to usage. We advise you get these stains out by washing the particular part that has been stained.
The following guidelines would be of great help to you while washing your baby's lounger.
Outer Cover
When trying to get out stains from this part of a Dockatot lounger, first, you should machine wash it using warm water in a garment bag.
Ensure that you do not bleach, dry clean, or iron this part of your baby's lounger.
After washing, you should hang it outside to dry immediately to avoid color bleeding, especially if the cover has color prints. Also, do not tumble dry.
Pad
You can remove the stain from this part of a DockATot by hand washing it and then laying it flat to dry. While you do this, do not tumble dry, iron, bleach, or dry clean.
Inner Sleeve
This part of the lounger is usually cleaned by machine washing and then hanging to line dry. Ensure that you do not tumble dry, iron, bleach, or dry clean.
Inner Tube
It is not advisable to wash this part of your baby's lounger; shaking and airing this part takes care of the cleaning.
Read: Snuggle Me Vs Dock a Tot – Which is Best?
Safety Precautions To Take While Using DockATot For Co-Sleeping
In as much as the ownership of this baby lounger comes with advantages like co-sleeping with your baby, there are certain precautions you should take while using it to avoid causing problems for your little one, and they include:
Make sure that your baby doesn't co-sleep with an adult with any sleep disorder or under the influence of drugs or alcohol. Any adult who co-sleeps with a baby must be conscious of the baby's presence on the bed.
You should carefully prepare the bed by placing the dock on a firm mattress and ensuring that it remains flat. Also, its position should be the center of your bed while you ensure that all extra pillows and blankets are removed.
Always place your baby on the back in a dock to reduce the risk of sudden infant death syndrome.
Do not add pillows and blankets under your baby on a dock.
Cords and Strings should be kept far away from your baby to avoid making your baby prone to strangulation.
Your baby should never be left unattended in an adult bed.
The components of your baby's lounger should never be used separately.
Read: How Long To Use a Lounger? Explained
FAQs
Is It Ok To Use Dockatot in a Crib, Bassinet, or Play Yard?
The answer to this question is a NO. Experts recommend that babies be placed in a bare crib without additional beddings, blankets, or pillows. It should never be used in a crib, bassinet, or play yard.
Can You Tumble Dry Dockatot Cover?
You should wash The DockAtot cover in cold water with like colors, a non-bleach detergent, and lay flat to dry.
Tumble drying the cover (using hot air or a hot surface to dry it) will cause too much shrinkage. Do not forget to wash in a wash bag.
Can I Wash Dockatot Covers in a Washing Machine?        
The DockATotTM features child-safe zippers around the bumper, and its cover can be removed, and machine washed. The covers are machine washable.
We recommend washing the covers in a washbag with like colors. We recommend a non-bleach detergent.
Read: How To Get Spit-Up Stains Out Of Couch
Conclusion
I hope this article has given an in-depth discussion to answer how to get stains out of DockATot and other information about Dockatot.
Always remember to follow the guideline given on how to get the stains off and other safety precautions that you must adhere to while using your baby's lounger to avoid the risk of an accident.