If there are times when you should pay particular attention to what your baby consumes, it is the first days, months, and years of their life.
The reason is that these times n your baby's life are the most important and determine your baby's growth and health later in life. 
There are brands that the FDA has recalled due to huge cases and reports of their food products containing toxic chemicals and heavy metals.
If you care about your baby's health, you should know the type of baby food brands to avoid for your baby's safety.
Thankfully, this article provides a list of baby food brands to avoid.
Based on our research, Gerber, Beech-Nut, Sprout Organics, Happy Family Organics, Walmart (Parent's Choice), Cerebelly, Earth's Best Organic, Hole Organics, and Plum Organics are some of the baby food brands to avoid.
We have added a list of some baby foods to give your baby at the end of this article. Let's get started.
How To Identify The Worst Baby Food Brand?
Every product in the market claims to be the best product for your baby, and you shouldn't be surprised because every manufacturer wants to make sales.
There are products in the markets that you shouldn't feed your baby, and we term them the worst baby food.
So for any food product to be classified as the worst baby food brand, then the food brand must contain excess toxic metals such as cadmium, arsenic, mercury, and lead. It also offers flavorless food.
A good baby food brand will not contain exceedingly high levels of harmful metals that the FDA disapproves of and will offer a rich taste.
If you want to be double sure if the food brand you want to start feeding your baby is among those labeled worst food product, then do the following:
Check the reviews.
Read the FDA's listing of brands that contain toxic metals.
Look at the ingredients on the packaging to check for any allergens.
Research how sustainable the brand is.
Compare the price point of different brands.
Baby Food Brands To Avoid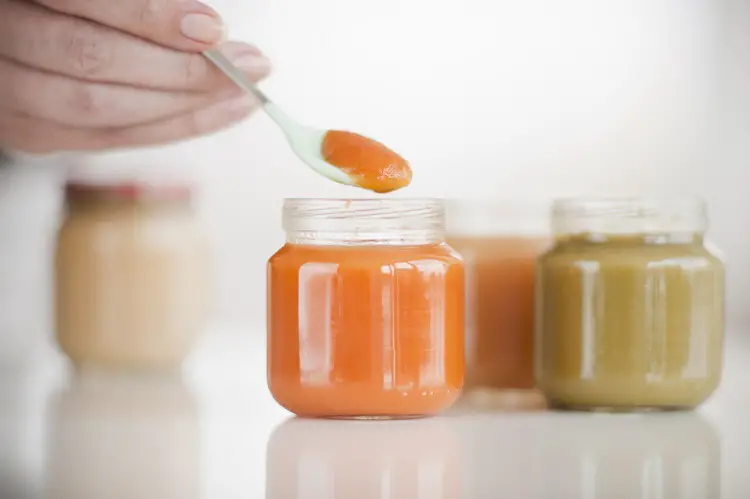 1. Gerber Baby Food
When FDA released its report in October 2021, it published several baby food brands that have been mentioned and accused of having toxic chemicals and heavy metals in their products. 
It will interest you to know that amongst the list is Gerber Baby Food, although the company refuted the reports and said that it was completely false. 
The company agreed to the FDA committee's request for an investigation. Upon invitation, they discovered that Gerber baby food, with some other food brands, contains traces of cadmium, lead, mercury, and arsenic. 
All these toxic chemicals and heavy metals can be directly associated with health issues in children, like autism or attention-deficit/hyperactivity disorder (ADHD). 
The brand also shows a lack of concern for hygiene, as hair was found in people's food while feeding their babies. Not just that, users found a rock in their food as well.
Moreover, many parents reported panic attacks after finding a thin plastic film in their food, causing their babies to gag. 
They also said that their baby started gagging after eating the food. All these are generally enough reasons to put a brand on the 'worst' list.
Why You Should Avoid It:
Rice cereal has no flavor
Toxic metals were present, which led to the recall by FDA
Cornstarch present
Least hygienic
Complains of finding plastic film
Caused allergies
2. Beech-Nut
This brand made it to the list because it has a history of product recalling by the FDA because of the presence of toxic metals.
They found their products to have contained Heavy metals like Lead and Arsenic in quantities way beyond the limit set by FDA.
Reviews from customers had them complaining that they only offer a few vegetable options. This makes it unsuitable for those who want to feed their babies some greens.
Their jars are single-use lids making the container useless and inappropriate for the environment. Also, glass jars are prone to damage during delivery. 
Beech-Nut's food has a watery texture, and the meat options have a weird smell. Some parents complained that their babies had diarrhea while the expiry date was still far away.
Why You Should Avoid It:
Heavy metals present
Less vegetarian options
Single-use lids
Jars break during shipping
Watery texture
3. Happy Family Organics
One of their weaknesses that makes them among these lists is their high sugar content and some of their useless calories for the babies.
Excess consumption of high-sugar foods can cause obesity and put the child at risk of high blood pressure and type 2 diabetes.
Their products are shipped in plastic bags, and customers complained that some of the marketing and listing of ingredients made them buy this food.
And they are shocked to find out that the food they picked wasn't the one that reached them. 
Why You Should Avoid It:
The high amount of sugar
Sour taste
Plastic bags used for shipping
4. Walmart (Parent's Choice Baby Food)
In addition to blankets and baby food, the brand is one of Walmart's fastest-growing baby brands. 
We found that they recalled this brand, too, for having high levels of toxic metals. People report having to stop feeding their babies this food as soon as they discover it.
There is no flavor to their little puffs; people rant about how bland it is, cite the dilution as the reason, and say there are hardly any nutritional ingredients. They contain a high amount of sugar! Can it get any unhealthier?
A parent's Choice certainly is not something that could be suitable for small children, as the Little Puffs is a product made with wheat starch, turmeric, and other shady ingredients.
Why You Should Avoid It:
It contains high levels of toxic metals
Very diluted products
It includes a lot of sugar
Unhealthy ingredients for babies
5. Sprout Organics
One of the issues this brand faces that makes them one of the foods to avoid is that they failed to submit internal policies and test results to prove they don't include problematic ingredients. 
This boils down to showing how they regard the Subcommittee on Economic and Consumer policy.
Their Stage 3 pouches in Turkey has a liquid texture and grainy bits. Not just that, the babies hate how their products smell. 
The smell of their food is so disgusting that most consumers said their dogs disliked the smell when they offered this food to their dogs. 
Another complaint is that the pouches have almost no meat, which boils down to the fact that their brand doesn't meet the iron requirements of babies.
Why You Should Avoid It:
They couldn't prove their claims
Disgusting smell
Almost no meat
Salt in food
6. Earth's Best Organic
There are cases of their food having a chemical aftertaste, yet they claim that their food is organic, they have a chemical aftertaste. 
Also, they contain non-organic vitamins, proving that their products aren't purely organic.
Reviews also showed that customers have complained that the product they received was different from the packaging. 
Sometimes the packaging said it was made of whole grain, although it wasn't.
Why You Should Avoid It:
Heavy on the pocket
Watery texture
Rocks in cereal
Chemical aftertaste
Non-organic vitamins
It doesn't include whole-grain even when it says it does
7. Cerebelly
A practicing neurosurgeon founded this baby food to promote brain development in babies. 
Their Peppa Pig pouches were a hit for a while, but not anymore. A major turn-off is the flavors they provide. 
Consumers have complained that the products have caused their babies to spit and gag, and they also have the most unpleasant smell in baby food. It is almost as if they are torturing their babies.
However, consumers complain that Cerebelly's price is not budget-friendly, saying they can buy four pouches of other baby food for the same price.
Return policies are scams, leaving you with an awful product you can't return.
Why You Should Avoid It:
Hardened consistency of food
Bland food
Bad smell
It is not budget friendly
Poor return policy
8. Holle
While Holle claims to be working towards a healthier environment, too many things caught our attention. There is a lot of room for improvement, so let's discuss the things that need to be acknowledged.
The prices for their products are costly – not everyone can afford them. On top of that, why spend money on something you can do for a lot less?
Several of their products contain tree nuts, which can cause allergies in some babies. So why spend so much money on something that makes your baby sick?
Furthermore, the industry does not like palm oil as a fat source, and maltodextrin is added as a carb source, causing allergic reactions, bloating, and gas problems in babies.
Why You Should Avoid It:
It is pricey
Contain allergens
Palm oil as a fat source
9. Plum Organics
The Campbell Soup Company sponsors it, and the brand offers a variety of flavors to encourage adventurous eating. 
Now, let's take a closer look at their quality, which lies beneath the surface level of marketing. 
According to the FDA, almost 40% of their products contain higher levels of cadmium, and their arsenic levels are also high. 
This is a bad sign, especially for a brand that sells food for small children.
In some cases, the products they sell contain molds growing inside. Just thinking about this makes me feel icky. 
Spinach and pea flavors are too strong for some babies' taste– they don't seem hooked on them. 
There is something awful about the taste of the "Mighty Four," especially the blue one. 
It has a bitter taste and lumpy texture. Avoid this brand if you don't want your little one to suffer from bad taste in the future.
Why You Should Avoid It:
Water like the feeling of the "Just Prunes" pouch
It contains toxic metals
Molds growing inside products
Bad taste
Read Also: Healthy & Easy Foods For Extremely Picky Eaters
5 Best Baby Food Brands
If you are still searching for a trustworthy brand to feed your little sunshine, let's look at some recommendations so you understand the shelves at your local supermarket.
1. Yumi
Besides being a subscription service, they offer Certified Organic foods, meaning you can trust their credentials. Their food contains no additives, heavy metals, excessive sugar, gluten, or preservatives.
Additionally, their jars are recyclable and free of BPS, a toxic substance used in food storage.
Why We Love It?
It contains no artificial flavors
You can add different flavors weekly
It contains no free metals
Recyclable packaging
A company called Else Nutrition offers plant-based products for infants and toddlers. 
With 50% less sugar than other brands, these products are made without soy, gluten, corn syrup, dairy, GMOs, or other potentially harmful ingredients. Instead, they are made with clean, plant-based ingredients.
They also contain almonds, buckwheat, and tapioca, natural sources of vitamin B, vitamin C, calcium, iron, magnesium, polyphenols, healthy carbs, and proteins for your child. 
Registered pediatric dietitians and experts in the field recommend Else Nutrition as an excellent choice for infant and toddler nutrition.
Why We Love It?
Plant-based
No soy, gluten, or other harmful ingredients
Less sugar
Serenity and Joe Carr founded the company. The idea was to provide the best nutrition for their wonderful daughter as parents, and they realized that the baby food on the market does not meet the needs and quality requirements expected from baby food.
That is why Serenity Kids' baby food is truly groundbreaking. 
The food is made from organic ingredients free of artificial sweeteners, chemicals, sugars, GMOs, low-nutrition fillers (grains, legumes, and corn), and allergens.
Everything is made under the supervision of top experts and doctors, and the food packaging is recyclable through Terracycle.
Why We Love It?
Made with organic natural ingredients
It has no sweeteners or sugar.
Recyclable packaging
They provide cold-pressed food, which is essential for preserving nutrients in food – a fantastic attempt!
Their collaboration with "Raised Real" provides food that promotes baby-led weaning and teaches babies how to use various utensils. Once Upon A Farm also serves a wide range of foods.
So, whether you're looking for food for your 3-month-old or your 2-year-old, you'll find it here.
Aside from that, there are no added sugars. So you don't have to be concerned about the extra calories.
Why We Love It?
Their technique help preserve all the nutrients in the food
Helps baby familiarize with various food textures food and utensils
It has no added sugar
5. Baby Gourmet
Baby Gourmet provides food in portable pouches that also have a resealable lid. This demonstrates how thoughtful a brand is to take such steps!
On the other hand, there is an infinite variety to choose from. It is suitable for all types of picky eaters. 
They are safe to eat because they are packaged without BPA and do not contain preservatives such as citric acid. Excellent work!
Why We Love It?
It has user-friendly packaging.
Lip-smacking taste
Great variety
Free from preservatives
Read Also: 30+ Healthy Foods For 1 Year Old
How To Limit Heavy Metals in Your Baby's Diet
According to the AAP, the most important thing for parents is to provide a variety of foods to their children because it is tough to avoid heavy metals in any food due to their natural presence on the earth.
However, there are a few evidence-based steps you can take to reduce heavy metals in your baby's diet:
1. Alter the types of foods available
The best — and most practical — a piece of advice for parents is to vary the types of food offered to their children to provide a variety of nutrients while also reducing the amount of arsenic in their diet.
2. Limit fruit juices
To reduce the risk of obesity and dental caries in children, the AAP has long recommended limiting the intake of all sweet beverages, including juice. 
Fruit juice has a high sugar content and no fiber, but a 2019 study discovered arsenic and lead levels in many popular fruit juice brands. 
According to the report, grape juice and juice blends had the highest average heavy metal levels. 
Fruit juice should be limited to no more than 4 oz per day and avoided until the child is at least one year old. 
Instead, try breastmilk or infant formula for babies, and for older children, try water or milk.
3. Limit rice and rice-based products
Rice is the main ingredient in many baby food and snack items, including rice cereal, puffs, and teething crackers. 
One of the heavy metals of concern, arsenic, is naturally present in rice. 
Limit or avoid rice-based products in your baby's diet, and instead, offer infant cereals like oat, barley, or multigrain options.
4. Try parboiling rice
Rice is an essential culinary component in many cultures. If brown or white rice is a staple in your home, a cooking technique known as parboiling with absorption (PBA) may remove a significant amount of arsenic. 
This method entails pre-boiling the rice before draining and refreshing it in cold water.
5. Provide your baby with a variety of grains 
Buckwheat, millet, amaranth, farro, barley, quinoa, oats, and bulgar are all nutritious grains to include in your baby's diet.
Conclusion
I am sure you have had a good ride reading through the baby food brands to avoid and why they made it to the list.
Any food product classified as the worst baby food brand must contain excess toxic metals such as cadmium, arsenic, mercury, and lead. It also offers flavorless food.
A good baby food brand like the ones mentioned in this article does not contain exceedingly high levels of harmful metals that the FDA disapproves of and offers a rich taste.