When comparing MamaRoo Vs RockaRoo Vs BounceRoo baby swings, you look at each swing's features, pros and cons, and how beneficial they can be to your baby's growth stage.
Many baby gears are designed to suit their age, size, and weight to accommodate them safely, and baby gear that falls short of providing a comfortable and safe space for your baby should be reconsidered.
Table of Contents
Baby Swing – General Overview
Baby swings are designed to make your parenting journey easier while keeping your baby comfortable and safe. They serve as a relaxing place for babies. 
Most times, it becomes the fastest way to make babies fall asleep. Babies love to be soothed, either with lullabies, rubber pacifiers, or just the back-and-forth movement of their gears.
You may have observed that babies tend to fall asleep faster when rocked or swung gently. 
This is the work these swings do, the popular ones amongst them being the MamaRoo, RockaRoo, and BounceRoo, with many reviews from parents who used them for their babies. It relaxes their nerves and improves their sleeping habits.
If at any point you need to pick between the three baby swings, MamaRoo Vs RockaRoo Vs BounceRoo, you have the option to compare the details that make them unique from another.
Looking at each swing, you'd understand the different features they possess, their benefits and cons, and decide which you consider being the most appropriate for your baby. 
Here are comprehensive details about each swing and its pros and cons.
MamaRoo Vs RockaRoo Vs BounceRoo (Features, Pros & Cons)
MamaRoo Baby Swing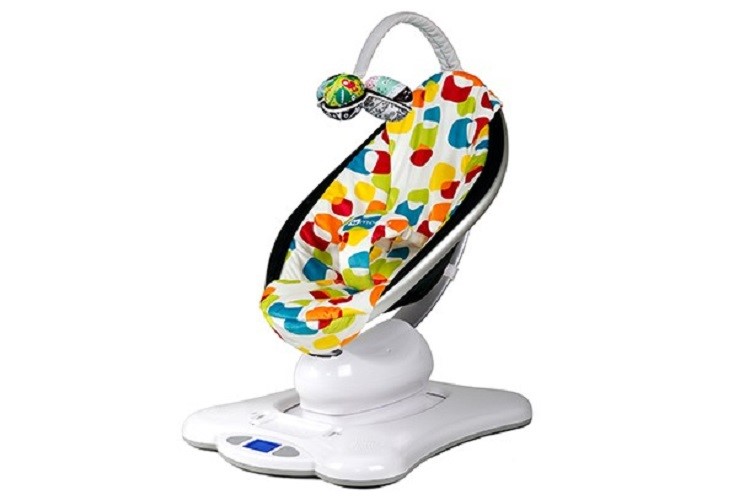 MamaRoo Multi Motion Swing prides itself as the only baby swing with multiple features with an imitation of natural motions; it moves up and down and sways from side to side like a mother rocking her baby.
It has five unique motions that can be set to different speeds to increase your options of soothing your baby. 
It is also suitable for babies from birth until they weigh about 25 pounds and can support themselves to sit upright.
Key Features
It has five different motions unique to the product: car ride, kangaroo, tree swing, rock a bye, and wave. As the name implies, the motions are made to move like a car ride, a hopping kangaroo, a slow swinging tree, and a wave. These motions are usually calm and exciting, depending on which combination you choose.
It has 5-speed options for choosing how best to keep your baby calm and entertained.
One fun thing that keeps babies interested in MamaRoo is the four inbuilt sounds feature.
It has an MP3 option for external sounds from other devices.
It has an adjustable seat that can be reclined and inclined at different angles.
It has various options that can keep your baby occupied while you engage in other things.
It has Bluetooth that allows you to control the motions using the sounds.
Pros
The fabric is machine washable
It has a mobile control
Can be reclined in different positions
Five fun and unique motions
It has a built-in sound
Cons
It is expensive. It cost about $240 on Amazon.
Even though it offers you different speed options, the speed can be relatively slow and boring.
The available upgrades are expensive
The speakers are not so sound
RockaRoo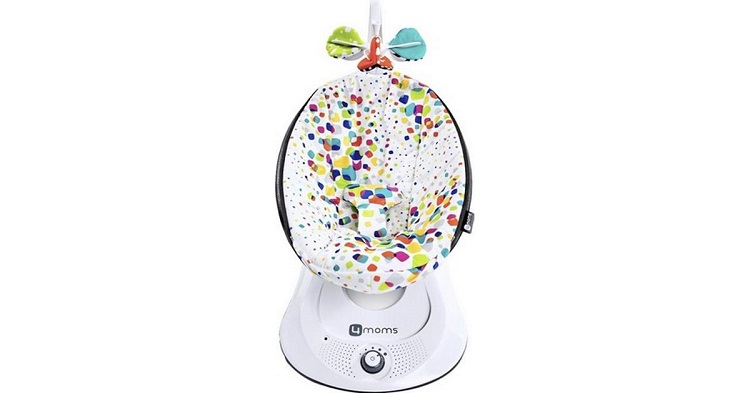 RockaRoo is big on safety precautions when it comes to babies. It has a reclined seat that glides from the front to the back and adjustable straps that can keep your baby safely harnessed.
It is usable from birth until when the baby is up to 20 pounds or can support himself in an upright seating position.
Unlike the MamaRoo Baby Swing with five motions, a RockaRoo makes just a front-to-back gliding motion that is perfect for a rocking chair. 
It also has five-speed options that allow you to decide what speed is best for your baby.
With such a smooth movement like the gliding of a RockaRoo, your baby is sure to fall asleep quicker than usual and also keep his calm and comfortable in a situation where he's restless.
Features
It has a reversible and removable toy feature where your baby can turn the toys in different directions.
It has an AUX plug-in that supports external soothing music
It has a fashionable seat fabric that is removable and washable
It uses an AC adapter. Therefore, batteries are not needed.
A compact size that doesn't take up much space
It has a 3-point harness system
Pros
It is compact and portable
It is easy to assemble and collapsible
It is simple and gentle
It has toys to entertain your baby
Cons
It is relatively smaller than other similar swings
It doesn't have a reclining feature
Its contemporary design is easily prone to malfunction
It is noisy and distracting
It is pricey
BounceRoo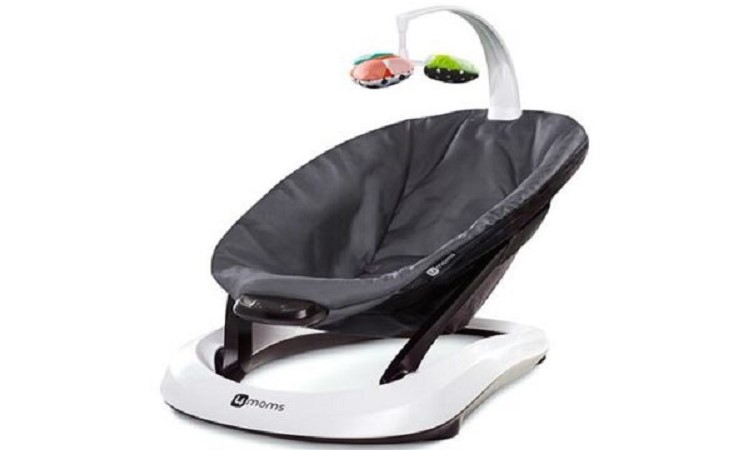 BounceRoo is a simple, lightweight baby gear that combines two major swinging and spinning motions.
The base remains firmly standing while the seat swings or spins in different directions. It has three distinct vibration modes that stand out from other baby seats; heartbeat, wave, and bee.
These vibrations mimic the natural vibrations of a heartbeat, an ocean wave, and a buzzing bee, which are suitable for relaxing a baby.
Features
Three unique vibrations; Heartbeat, Wave, and Bee.
It is collapsible and portable enough to move around the house and for road trips.
It uses batteries
Comes with reversible and removable toys
It has a washable machine fabric
Pros
It is easy to assemble
It has a beautiful design
Its seat lining is plush and made with fleecy microfiber
Cons
It has a noisy base.
The harness can sometimes be large for small babies.
Read: Can you put a swaddled baby in a swing? Explained
MamaRoo Vs RockaRoo Vs BounceRoo
From all indications, all products between MamaRoo Vs RockaRoo Vs BounceRoo are suitable for babies from birth, and each has a unique way of soothing your baby.
While not all have a range of features that keeps your baby calm and happy, they're all safe and comfortable for babies yet to start sitting or crawling.
The decision of which is best is a personal decision based on your baby's needs; this means you can only choose the one to buy by comparing their features and how much value they can offer you.
Here is a comparative table listing all the features in each of them. Hopefully, this helps you to decide which is best for you.
Here is a table listing all the features in each of them. Hopefully, this helps you to decide on which one to go for.
| | | | |
| --- | --- | --- | --- |
|   | MamaRoo | RockaRoo | BounceRoo |
| Motion | Car ride, kangaroo, tree swing, rock a bye, wave | Forward and backward | bee, wave, and heartbeat (vibrations) |
| Adjustable Speeds |  5 |  5 | 3 Intensity Settings |
| Built-in sound |  Yes |  No |  No |
| MP3 compatible   |  Yes |  Yes |  No |
| Seat Recline |  Yes |  No |  No |
| Bluetooth Enabled |  Yes |  No |  No |
| Power Source | AC Adapter | AC Adapter | Battery Powered |
| Manual Option |  No |  No |  Yes |
| Weight | 19 lbs | 11.5 lbs | 5.8 lbs |
| Dimensions | 19.5″L x 33″W x 25.5″H | 29.6″L x 16.5″W x 27.5″H | 18.8″ L x 29.4″ W x 7″ H |
As you can see from the table, the Mamaroo offers all the features you could ever want in an infant seat and all the features you didn't know you wanted.
When choosing a baby gear, your baby's needs and safety are too much priority before aesthetics, as many parents only consider the exterior looks.
Related Posts:
Final Verdict
Each seat between a MamaRoo Vs RockaRoo Vs BounceRoo has a unique feature that makes it stand out from the others. 
They all have their benefits and downsides, which, if considered, can help decide which is best for your baby.
For us, the best choice is the Mamaroo. It is a fully-loaded infant seat with all the essential features you can ever want and all the features you never knew you needed.
The Rockaroo is a high-tech version of a contemporary rocker that requires less space. 
The bounceRoo is the smallest and simplest of the three, with three vibration settings, and it is easy to move around the house. Which one suits you best?