Babies are beautiful gifts to families, and often arrangements are made before their arrival.
One of the pieces of furniture used by your baby is a changing table; sure, its relevance may seem to end once your baby outgrows it.
At this point, will you toss it away or allow it to occupy space in your home? Hell no, you should repurpose it into something else that is useful.
This article addresses how to repurpose baby changing table, and you will surely learn new things you can do with your baby's changing table.
How To Repurpose Baby Changing Table
You can do many things with your baby's outgrown changing table so that it can still be useful to you despite its non-use as a changing table.
The things you can use your baby's changing table to do include the following:
1. Desk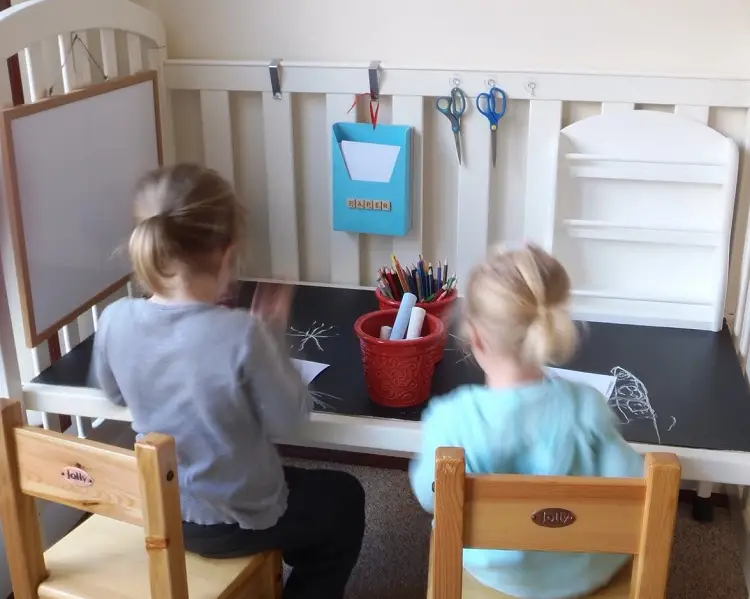 Your changing table can be converted into a desk housing many of your favorite accessories and fitting them in your house or home office.
You can use this desk to keep your baby busy by coating the desk's writing surface with chalkboard paint, as this will create an excellent surface for your baby, who can use it for hours of drawing.
There is an increase in the adoption of the idea of distant learning, homeschooling, and working from home, hence the need for a desk that your baby can use for homeschooling or keep your baby busy while home working.
2. Toy Kitchen
You can convert your baby's changing table to a toy kitchen that your baby can use to practice kitchen work.
The provision of a toy kitchen helps spurn your kid's interest in the kitchen, and they can practice their culinary skills in their kitchen.
Your child will be delighted to mix batches of cookies and cupcakes with all enthusiasm and excitement.
You can decide to add to your child's joy by customizing the toy kitchen so that your baby feels this excitement and fulfillment that the kitchen they are practicing with belongs to them, and I can tell you that it is fun.
3. Toy storage
Your baby's changing table can be restructured and turned into a toy storing device for your little cutie.
Your baby could use it as a car park for his toy cars, dozers, and other types of play vehicles. You can spice up this car park by creating a portion for each car and have it marked and designated for that car alone.
If your baby doesn't have car toys, do not think that it is only car toys that you can keep in a toy park, other toys can be kept there and named accordingly.
This practice keeps the room beautiful and tidied and makes your baby's room look organized.
An organized room is a sight to behold; nothing makes a room organized, like keeping things in order. 
So instead of allowing your baby's car toys or any other toy to litter, you can convert your baby's changing table into toy storage.
4. Book nook conversion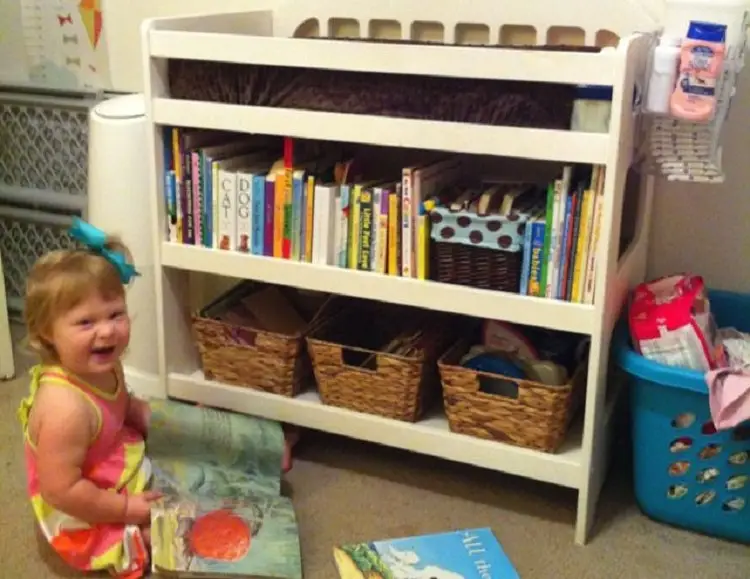 Your baby's changing table can be converted to a book nook for yourself if you are the type that loves reading books or even for your kids.
You can store your favorite books in baskets underneath, then lay them on a soft and cozy blanket on the back.
You can then sit on the bench with your child and pick a book and tend to read together, fostering bonds between you and your child.
5. Laundry center
You can convert your baby's changing table to a laundry center, and the shelves and drawers are utilized.
When you change and repurpose your baby's changing table into a laundry center, you would have saved space and utilized otherwise useless furniture because the changing table becomes useless once your baby has outgrown it.
Read: 6 creative ideas to repurpose old high chairs
6. DIY Bedroom Storage
You can convert your baby's changing table into an additional storage facility for your bedroom.
You could use it to display photos or even old quilts. Wondering about color mismatch, you can paint the changing table to suit your room's color.
So instead of leaving the changing table in your baby's nursery unused, you can turn it into an extra storage facility.
7. Lemonade stand/Play store
Your baby's changing table can be converted into a play store or even a lemonade stand so they can use it to practice business.
It is also a means of keeping a child engaged and happy, and the leftover space can be used as storage for toys that can serve as your baby's merchandise.
8. Console table
You can convert your baby's changing table into a beautiful console table that you can display in the living room or entryway.
You can use it for picture displays and other décor displays, and I tell you that the sight this portrays is beautiful and heavenly.
9. Project Potting Bench
Speaking of the yard, garden decor, and furniture, let's not leave out all those great garden plants. If you are a gardener, surely you'll need a potting bench to house all your planting tools and seeds. You can repurpose your changing table into a potting bench for your potted plants, pots, and seeds. 
10. Laptop Cart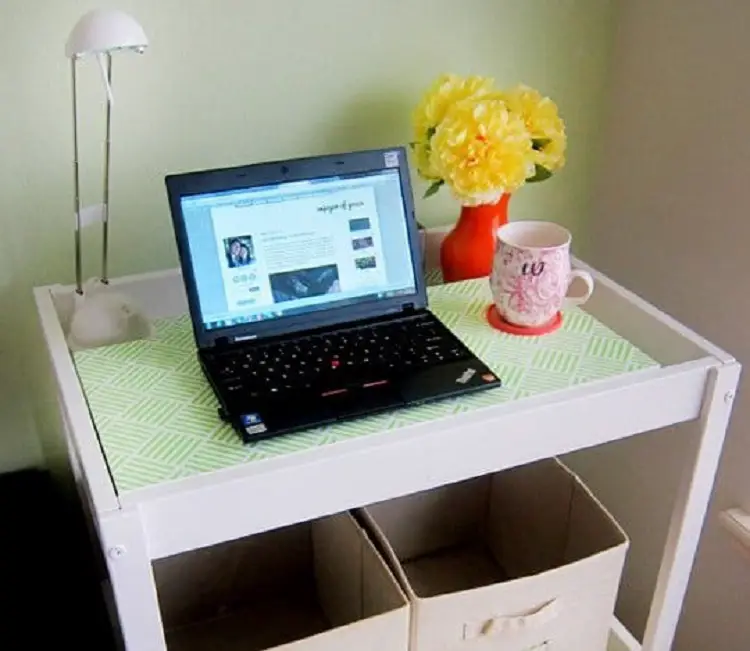 You can quickly and easily turn an old changing table into a mini desk or laptop cart that is perfect for when you need to do work, check your emails, or look up recipes while cooking in the kitchen. 
11. A Driving Dresser
This idea is great for any home with car-crazed kids that drive everywhere. This is perfect for moms with boys. You can turn your old changing table into a fun driving dresser for your kids (you can store their cars when they are finished playing). You can keep the kids busy for hours with this great repurpose project.
12. Bar Carts
Just cut the top shelf to hold an ice bucket, decorate it, and have an excellent bar. You can add some wheels and roll this great repurposed piece onto the patio for evening cocktails. 
The little cart is the perfect entertaining tool if you add some martini glasses, a club soda tray, and a lime juicer. Remember the olives and mini umbrellas. 
13. Food Serving Cart
You can turn a changing table into a serving cart. That's great when you're hosting dinner parties. It doesn't take much work and produces an amazing little cart – complete with wheels if you want. 
It can also serve as a great plant stand for your kitchen or dining room when you don't need it for serving.
14. Dandy Little Dog Crate Table
You can create a decorative and multifunctional piece of furniture and a safe and cozy space for your furry friend! Turn you're Gulliver changing table from IKEA (like this one) into a custom side table dog crate! 
Take out the center shelf, insert the dog crate, and voila! It's great if your dog doesn't like his crate standing out in the center of the living room, if he hides when guests come over, or if he has anxiety.
15. Cozy Cat Corner Nook
It's easy to repurpose changing tables into the perfect under-the-window cat perch with the IKEA Snigler. Wrap the legs in burlap as a scratching post, or add a few soft cushions for sunbathing. 
You could even place a few hooks on the sides for their favorite toys for playful kitties. Place the cat toys under the bottom shelf, so they are out of the way when guests arrive. Genius!
16. Repurposed Changing Table Window Seat
Another great way to repurpose your changing table is to use it as a window seat. You can place this seat in front of a picture window or bay window if you have one. 
You can do this easy DIY project to give you the most comfortable place to relax and add extra seating when you have a big party.
17. Entertainment center
Your old changing table can be used as an entertainment center to house your media supplies, and you can employ the aid of baskets to give the room a facelift when used in shelving.
It is also one way to repurpose your baby's changing table and keep your property, saving it from being discarded and lying dormant after your baby has outgrown it.
Related Posts:
Conclusion
I hope this article has given you creative ways how to repurpose baby changing table rather than tossing it away.
Any options that appeal to you can be used, and it also depends on what you need in your home or what you feel is of utmost priority to you.
The whole purpose is to put your old baby's changing table into good use and utilize it once more, but this time not as a changing table.