Are you thinking of what to do with your baby's old high chair and believe repurposing it would be the best thing to do?
Allowing your high chair to sit ideal isn't a good option because there are many beautiful things you can do with it.
Throwing it into the trash isn't an option because you will be wasting something valuable that you can easily repurpose.
This article will show you smart ways to repurpose old high chairs to get your desired outcome instead of wasting them.
How to Repurpose Old High Chair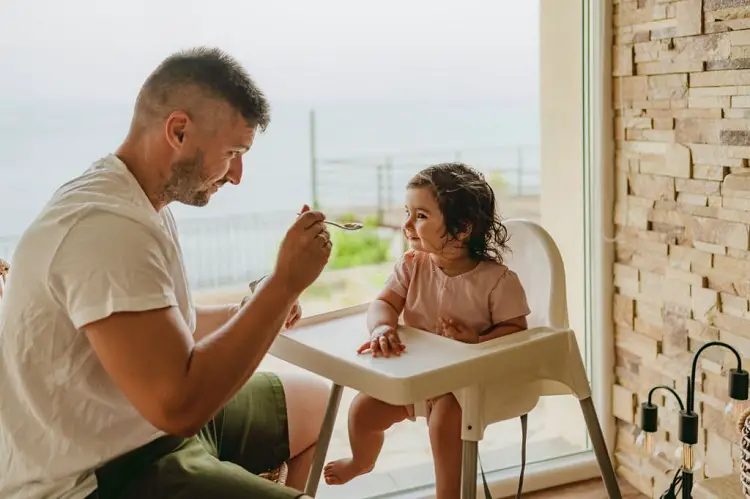 1. Use it as a storage stand
Instead of discarding your old baby's high chair or allowing it to lie in waste by being dormant, you can re-convert it to be used as a storage stand in the house.
Now while you use the old baby high chair as a storage stand, you probably would be conserving it for your future grandchildren.
Children will find it exciting and attached to learn that furniture used in taking care of them during their childhood belongs to their parents.
There is this consciousness it strikes in the mind of children. It teaches them the importance of keeping their properties safe at a very tender age.
It leaves an indelible mark in the child's mind, and before long, they would want to keep their property safe for their child to use, the same way they used their mother's or father's baby's property.
2. Use it as a plant stand
Another valuable way to repurpose old high chair is to convert it into a plant stand.
Flowers are lovely, and their presence in a house makes it appear beautiful. The aura of your home becomes heavenly when you have flowers whose fragrances are topnotch.
What better way to make the presence of the flowers in your house attractive if not by setting them on an old baby high chair?
By so doing, you have utilized your old baby's high chair and, at the same, making your house very attractive and captivating.
Sometimes keeping flowers in your house has a way of advertising the beauty of your garden if you are a horticulturist.
Your house becomes your exhibition center, and people coming into your home would become attracted to your garden when they learn that the beautiful flowers they admire come from your garden.
When using your old baby high chair as a plant stand, there is one precaution you need to adhere to so that you don't spoil it.
Avoid overfilling the pot so that water doesn't spill on the wood, as it may cause spoilage or even encourage mold growth in a moist environment.
To avoid this, you can use the tray. You place the pot on a tray, so that should there be a spillage, it wouldn't pour on the wood but the tray.
3. Use it as a napkin holder
Thinking of what to do with your baby high chair, think of it no more. An example of how to repurpose an old baby high chair is to convert it into a wooden stirrup napkin holder.
You can keep it in your breakfast room, where it would serve as a napkin holder.
Instead of wasting your resources buying a napkin holder to keep in your breakfast room, you can convert your old baby high chair into a napkin holder to save money, resources, and space, rather than allowing the chair to lie desolate and occupy precious space in your house.
Read: Best High Chairs For Small Spaces
4. Use it as a regular baby's chair
Another way to repurpose old high chair is to convert it into a chair that your baby can use.
Thinking of how to go about this repurposing plan, all you have to do is to remove the tray and the spindles that support the tray, and you would have repurposed your baby high chair into a regular chair.
Do not discard the spindles and tray because they can be reattached later in life when needed; probably, when you become a granny, you can use them for your grandchild.
5. Use it as a decorative piece in your dining
This is another creative way to repurpose an old high chair. You can remove the spindles and tray and keep the chair as a decorative piece in your dining room.
You can keep any object of interest on it, like a doll or anything that you think is the best for you, so that it beautifies your eating environment.
When you have babies visiting, you wouldn't be stranded, nor will you be at a loss of what to do because you have an extra chair they can occupy while they enjoy their play with the doll or any other object of interest found there.
6. Using it in the kitchen
Another place that you can use your baby high chair is in the kitchen after repurposing. 
After repurposing, you can keep it in the kitchen and put a decorative bin on top. In this bin, you can put your kitchen towels and mittens in them, so they are always handy.
Should you need it, you can pick it up with ease. Also, you can keep your apron around the chair to be easily accessible.
Related Posts:
Conclusion
I hope you have learned one or two ways to repurpose old high chair, right? Repurposing them is the way forward! You don't have to discard the high chair if you have finished giving birth.
You should repurpose your baby's unique items, so they don't lie dormant or be a habiting environment for dirt or molds. It would be best if you put them to good use.