Do you have a Snuggle Me Organic Lounger? Are you thinking of the best way how to wash Snuggle Me Organic Lounger? Don't worry; we believe this guide will help a lot.
A Snuggle Me Organic Lounger is a place for babies to relax when mom or dad need a hands-free moment when the baby is awake.
This is why a lot of parents love it, and just in case you're still thinking of which baby lounger to go for, we'll introduce you to the Snuggle Me Organic Lounger and then dive into how to wash it along with other related questions.
What is the Snuggle Me Organic Lounger?
The Snuggle Me Organic lounger is a kind of baby lounger specifically designed for babies at nine months and under.
A lounger is the most convenient place to keep the baby, especially during awake time.  It is a soft pad that looks similar to a pillow, which tucks inside an equally soft case.
Are They Truly Organic?    
Yes! This product lives up to its name. Snuggle Me Organic lounger is made up of Global Organic Textile Standard certified organic cotton fabrics and hypoallergenic polyester fiberfill.
All the cotton thread used in manufacturing is grown here in the United States and the other Snuggle Me Organic.
The Snuggle Me Organic lounger is also perfect for babies' sensitive skin; with the soft, organic covers that allow them to take naps in peace, you won't have to worry about irritation.
How To Wash Snuggle Me Organic Lounger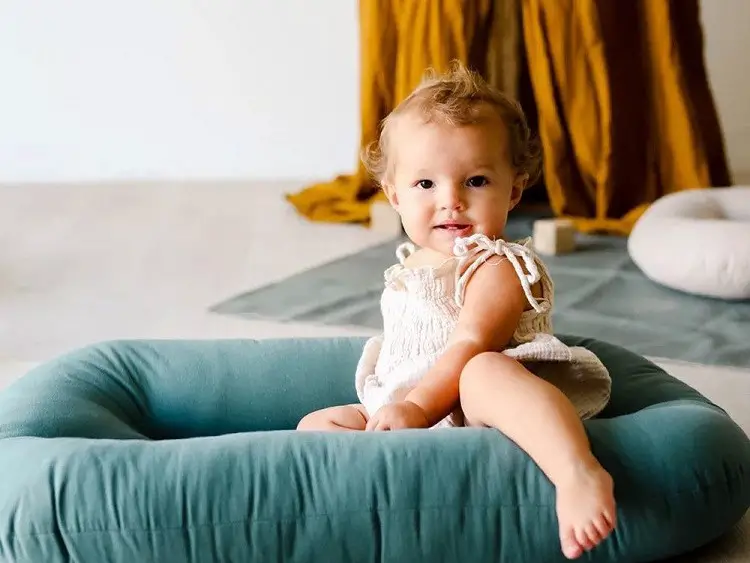 Wherever a baby is, mess follows. It can be pretty frustrating if most of your baby items in the house are too challenging to wash. Of course, you can't run to the dry cleaner every time your baby spits up or poop on their cloth. Fortunately, The Snuggle Me Organic is relatively easy to wash and dry, which is more reason to go for it.
 What You'll Need:
Coldwater
Washer
Clean cloth
 Throw the Snuggle Me Organic in the washer, add your mild detergent, and set the cold water on the delicate cycle.
After washing dry on a cooler setting in your dryer, please leave it to air-dry. Ensure your Snuggle Me Organic is completely dry before putting your baby in it!
Read Also: Baby Shopping List For First Time Moms
Snuggle Me Organic Lounger – Other FAQs
Do I Need To Wash Snuggle Me Before Use?
You only need to dry clean or spot clean using a clean cloth. There are 100% organic cotton moisture barrier pads you can get on Amazon to help protect your Snuggle Me Organic from pee and other baby messes.
How Many Covers Should I Get For My Baby Lounger?
Since babies mess a lot, it is expected that your baby lounger will get dirty too. This is why it's necessary to have a few different covers.
However, the number of covers you get will depend on how many babies you have at one time. You should have two covers for a single child and three covers for two children.
It is wise to have one more sheet than you have infants, that way, while one cover is in the laundry, you can still use the lounger without risking irritation to your baby's sensitive skin.
What is the Warranty on the Snuggle Me Organic?
Usually, there are warranties on every baby's stuff you're buying, just in case. The Snuggle Me Organic Lounger warranty is six months when you buy it directly from their website.
Though there are some complications that this warranty doesn't cover, such as if the fabric shrinks, discoloration after washing, the fill becomes uneven after washing, and if the item is from their Imperfect Collection.
Although, they have a 60 days return policy on their website, which helps you return the product after the initial purchase.
Is It Ok For Baby To Sleep in Snuggle Me Organic?   
Although, it's pretty inevitable for your baby not to fall asleep on this product. But, do not allow your baby to sleep on it or lie face down or on the side because they may cause the baby to suffocate.
How Long Can Baby Use Snuggle Me Organic?
Snuggle Me Organic Lounger is best suited for babies aged 0-9 months. Use this product to engage your baby actively during supervised lounging, feeding time, or sitting support.
Keep in mind. All Snuggle Me Organic fabrics are organically dyed vary slightly in color.
When Should Baby Stop Using Snuggle Me?
How long a baby can use the infant lounger is a typical question every concerned parent would ask.
Babies are well suited into the lounger until their butts begin to come up onto the end of the lounger when lying down.
This usually occurs when they are between 6-9 months old. After this period, babies can still use the lounger while propped up onto the end until a few years.
Between Dockatot Or Snuggle Me, Which Is Better?
It is best advised to use Snuggle Me if you have a newborn because the size and cradling effect may be more soothing for your baby.
If you're looking for something that can last longer, the Dock A Tot is the best choice. But it's all down to your preference and what you consider essential in a product.
Is A Baby Lounger Worth It?
If the price of modern baby loungers bothers you and you're wondering if a baby lounger is worth it. This question will depend on your day-to-day life and how busy you are.
Sit-at-home parents or parents working from home to raise their children may enjoy a lot of benefits from using the baby lounger than other parents who are using the services of nannies or babysitters.
And since baby loungers are portable and can be moved easily around the house without stress, they help parents a lot who often work with their hands and need somewhere safe to keep their baby.
Also, since babies are very young, it's best to consider how much you'll use your lounger during those nine months.
Related Posts:
Conclusion
We hope this article has given in-depth knowledge to answer the question of how to wash Snuggle Me Organic Lounger and everything other things you need to know about the Snuggle Me Organic. We wish you the best and hope your baby loves their lounger.