You may find yourself in a dicey situation when choosing what baby formula is best for your baby between Nan Comfort Vs Optipro.
It is more difficult if you don't have any prior experience with either of the formulas. 
You have to consider the effects it'll have on your baby's growth and if it will be cost-effective for you to continue with it.
Fortunately, this article comprehensively compares both products to make it easier for you and other parents to choose what formula to use.
Table of Contents
Nan Comfort Vs Optipro
When comparing two formulas like the Nan Comfort Vs Optipro, many parents look for significant differences between both products.
The difference may be minimal, but it makes each formula unique. These differences could be in their formulation, nutritional value, taste, or how babies react to them.
But before you notice any difference between two products from the same brand, you have to understand the products individually.
The most practical way of observing your baby's reaction to a formula is when you feed them with it.
That may not be a wise decision since you'll not only be spending money unnecessarily. 
You may also be putting your baby's health at risk because you don't know which formula will trigger allergies (if your baby is allergic to any ingredients in the formula).
However, you can get a vivid picture of how the formulas work if you read up on the ingredients in each of them and take note of your baby's allergies and triggers to ensure that the formula you choose won't cause any health complications.
This is why we'll look at each formula, its features, nutritional value, pros and cons, and everything to know about it.
Nan Comfort
Nan Comfort is a gentle starter formula made with ingredients that provide all the nutritional requirements for babies from birth.
It has a higher percentage of whey protein than casein, making it easier for the baby to digest and reducing the risks of constipation.
Ingredients
Milk solids
Vegetable oils
Maltodextrin
Minerals ( calcium citrate, potassium citrate, magnesium chloride, potassium chloride, ferrous sulfate, zinc sulfate, copper sulfate, potassium iodide, sodium selenate)
Emulsifier (soy lecithin)
Vitamins ( vitamin C, E, B5, B1, B2, B6, K1, D3, B12)
Inositol
Taurine
Biotin
Antioxidants
Acidity regulator
L-carnitine
Features
It contains a whey-to-casein ratio of 60:40
It contains 1.4g of protein per 100ml
The formula's nutrients are sufficient for babies to take it independently or combine it with breast milk.
Pros
It smells nice and attractive
It is easy to digest
The price is fair
It mixes well without lumps and leaves no white stain on the bottle.
Cons
Some babies had issues of constipation after taking the formula.
How to Prepare
Wash your hands thoroughly before preparing any baby food.
Sterilize the bottles and every item you'll be using in the preparation
Boil drinking water and let it cool to a 40°C which is not too cold and not too hot
Pour some of the water into the feeding bottle and use a scooper to add some formula powder into the water
Stir it properly and close it immediately to prevent air from getting into it.
Store in the fridge for later or feed baby immediately.
Nan Optipro
Nan Optipro is a protein-rich formula with a whey-to-casein ratio of 70:30.
It contains naturally active probiotics and DHA and ARA, which are fatty acids that are necessary for a baby's brain development.
Because it is nutritionally rich and easy to digest, it is suitable for babies from birth up to 6 months.
Ingredients
Vegetable oils
Minerals ( calcium citrate, potassium citrate, magnesium chloride, choline, potassium chloride, sodium phosphate, sodium chloride, calcium hydroxide, copper sulfate, zinc sulfate, potassium iodide, sodium selenate)
Vitamins
Milk solids
Omega LCPUFAs (DHA from fish oils)
Features
It contains Bifidus BL, DHA, and ARA, all of which are a special type of fatty acids found in breast milk and necessary for brain growth and development.
It can be a stand-alone formula from birth up to 6 months
It contains chlorine for healthy liver and brain function. 
It has a 1.7g of protein per 100ml
It has neat packaging.
Pros
It mixes smoothly
It has a nice smell
It is gentle on babies' digestive system
No review of constipation
Cons
It is costlier than Nan Comfortis and some other regular formulas
How to prepare
Wash your hands thoroughly by touching the feeding bottles and other utensils you will use to prepare the formula.
Our hands pick up germs from random surfaces we touch when we move about.
Even though our stomachs may be able to fight these germs, a baby's stomach does not have this ability, especially within the first six months.
The germs can contaminate and alter the taste of the food you are preparing and risk your baby's health if you leave them on.
After washing your hands with soap and water, follow these steps to prepare the formula;
Sterilize the bottles and other items you'll be using. Usually, before you store these items, sterilize them and keep them in an airtight container to prevent contact with contaminated air. It is unhygienic to leave used bottles without washing them.
Boil enough drinking water and leave it to cool down to 40°C. At this point, the food will be perfect for your baby to eat without burning his tongue.
Pour some of this water into the feeding bottle. Let the water be at half of the bottle.
Scoop the recommended quantity of formula into the water and stir it to mix.
Hint:
Use only boiled warm water when preparing your baby's food. The water helps it mix properly and gives the baby a feeling of sucking breast milk, which is always warm.
Do not shake the formula in an attempt to mix it. Shaking it can introduce air into it and make it foam.
Differences Between Nan Comfort Vs Optipro
| | |
| --- | --- |
| Nan Comfortis | Nan Optipro |
| It is strictly made with cow's milk | It has additional probiotics |
| It has more whey than casein in the ratio of 60: 40 | The whey-to-casein ratio is higher in Optipro (70: 30) |
| Contains no DHA, and ARA | Contains DHA, and ARA |
| Contains no choline | It contains choline, a vital nutrient that helps a baby's liver and brain function. |
Nan Comfort Vs Optipro – Our Verdict
Both formulas are designed to meet every child's nutritional requirements and have done so effectively because of the positive review many parents leave on the brand site.
Even though some parents may complain about one thing or the other, their experiences with the products won't be the determinant for many other people. You can only be sure of your experience once you try the products.
However, in this contest, Nan Comfort vs Optipro, based on nutritional content, Nan Optipro is the best choice since it contains DHA and ARA, essential nutrients that aid in promoting baby brain, visual and cognitive development. These nutrients are also present in human breast milk.
Use the factors of choosing a formula to determine which will suit your baby.
Read Also: Enfamil vs Similac vs Nan Pro
Factors to Consider Before Choosing a Formula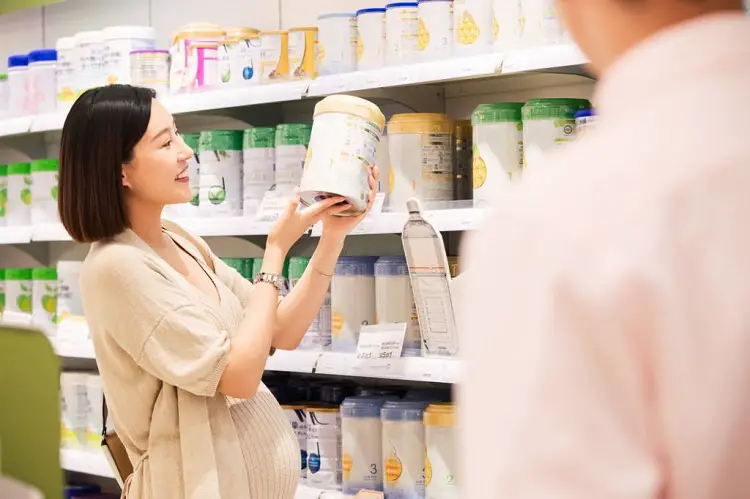 Albeit all the nutritional value many formula brands claim to offer, you can't just pick any of your likings off the shelf and feed your baby.
Not necessarily that the formulas aren't worth it, but because of how unique every baby is and how differently they react to these formulas.
When weighing two formulas like Nan Comfort Vs Optipro, you must consider a few factors that may directly affect your baby if you ignore them. A list of these factors includes;
Age recommendation
Accessibility
Cost and Convenience
Allergies
Age recommendation is at the top of the list of things to consider when choosing your baby's food because almost everything that involves children comes with an age recommendation.
Some essential nutrients are necessary for a baby's development at a specific age and time.
Unfortunately, not every baby food may have these essential nutrients in them.
Using the appropriate formula at every stage will help your baby grow accordingly without missing any nutritional requirements, especially if you're practicing exclusive formula feeding.
Accessibility
Another problem you may come across is the accessibility of some formulas.
It'll be an exhausting year for you if your baby enjoys a particular formula. Still, you don't have access to it, maybe because it is limited, out of production, or not easily available in your country.
Not to discourage you from giving your baby the best formula available but before you introduce your baby to any food, check on how you can easily restock it whenever you run out of it without starving the baby.
Cost and Convenience
Apart from food, you'll be spending money on many other baby items like diapers, toiletries, and baby clothes.
As your baby grows, so do these expenses compound. While it is true that many good formulas are sometimes costlier than regular ones, try to be mindful of your budget to avoid causing many inconveniences for yourself.
Some good quality yet affordable formulas are easy to keep up with without breaking the bank. An alternative to these formulas is organic foods like;
A blend of banana, boiled egg yolk, cooked oats, and milk
A blend of cooked oats, steamed carrots, and milk.
Allergies
Observe your baby's reaction to food ingredients like soy milk, cow milk, or other substances.
Some formulas include these ingredients in them. If your baby is allergic to any ingredient, avoid anything that contains it.
Related Posts:
Conclusion
To determine which one of the two formulas Nan Comfort vs Optipro is the best for your baby, you should first figure out their food preferences, allergic triggers and reactions, age, and nutritional needs.
With the variety of products available, you'll be making a mistake if you ignore these factors that will eventually form the basis of your decisions for your baby's food.