Has your baby ever had a massive diaper blowout that poop was up to their back and all of a sudden diaper change turned into bath time?
Sadly, you just dressed your baby in those cute white baby pajamas you love. Now they're covered in poop stains, and you're wondering if there's any way to get rid of the stains? What is the best stain remover for baby poop stains?
Well, it's possible to remove stubborn poop stains out of your cloth diapers, baby clothes, and even your carpet to look good as new.
In this article, we'll show you the best stain remover for baby poop stains, effective methods to use, and things to consider before buying stain remover baby poop.
Best Stain Remover For Baby Poop
There are plenty of effective stain removers that are available in the stores/market. Whether powder or gel, spray or stain sick? There are plenty of to choose from, it can be quite difficult to choose the perfect product for you and your baby.
Here are our top picks of some of the best stain remover for baby poop out there to keep those adorable pajamas and clothes fresh and clean. These products are tough on stains but gentle enough for baby clothes.
1. Best For Soaking
This laundry powdered formula is oxygen-based and is only activated when water is added. Once this powerful laundry detergent is added to your soaking laundry, the powder bubbles up as it works to eliminate stains and odors from your baby's clothes.
Additionally, this product is chlorine and fragrance-free, therefore you can use it for even the most sensitive babies. The only con to this product is that you can't target a stain; this powerful stain remover treats the entire fabric.
Many reviewers have testified that this product is a lifesaver; according to one parent, she says "Incredible at removing yellowed storage and poop stains from all my baby clothes!
I let it soak all through the night, and then ran it through the washer. This saved me lots of cash in baby clothes by saving all my daughter's hand-me-downs that had yellowed in storage. I was so happy because some of the stains were severe and it still got them out!
Key Features :
Easily activated by water
Saves time and energy
Effective in removing dried-on formula and baby food, juice spills, and diaper stains from all your baby's fabrics
It's 100% chlorine, fragrance, and dye-free
2. Best For On-The-Go Messes
This unique stain remover pen by Dreft is the best if you want to treat a mess on the go. This product is filled with Dreft's liquid laundry stain remover that can remove any stains from spit-up to spills no matter where you go.
Just bring it along with your purse or simply toss it in your diaper bag before you head out, then uncap it and treat the stain whenever the need arises. While this stain remover has a light scent, it's completely safe for babies and you can use it in all colors and fabrics.
Not only do reviewers love this pen for their newborns, but they also use it for themselves each they step out! According to one reviewer, she says, "Dreft stain-removing pens are the handiest things I use, I couldn't be without one. I always make sure that I have one in my purse and one at my desk at work.
Key Features :
Specially formulated for tough stains on babies clothing, bedding, and blankets
Effective in removing stains and odors caused by formula, spit-up, food, diarrhea, and more
Color-safe on kinds of clothing and effective at all temperatures
Does not harm the flame resistance of babies sleepwear
Has no strong fumes
3. The Best All-Natural Option
This plant-powered stain remover by Puracy is not only all-natural but also extremely effective. Whether you're faced with formula, berries, sauce, or mud stains, this stain remover uses six different plant enzymes to eliminate stains.
Just spray, allow it to sit, and toss your baby's clothes into the wash for clothes and bibs to look brand new. Additionally, this product contains no harsh chemicals or sulfates, and it's 100-percent vegan, hypoallergenic, and cruelty-free.
One reviewer writes, "With our two boys" we are very active and have lots of stains. I had learned to avoid the dreaded white colors because it stains easily… Well, thanks to Puracy, my baby can put on white again since I know that if something does get on it – it will come out.
Key Features :
Safe & effective plant-powered formula
Can be used on dark clothing
Contains no harsh chemical
Gentle on sensitive skin
Removes hard to clean stains easily
Made of natural ingredients, gluten-free, biodegradable
4. Best Liquid Treatment
This spray stain remover by Dapple is the perfect stain remover for the treatment of any specific stain. This product is made with a water-based formula and plant-derived ingredients.
The dapple Stain remover is gentle and is completely safe for even the littlest babies. Just spray the stain, allow it to set in, and throw the clothes in with your regular laundry cycle.
The powerful stain remover works perfectly in removing tough stains such as poop, urine, foods, diarrhea, milk spit-ups in as little as a single treatment. When purchasing this product, one thing to keep in mind is that a lot of Dapple's products include essential oils and are lightly scented.
According to a reviewer she says, "I wasn't sure this product could get those tough yellow newborn poop stains out until I tried it out! Thankfully, it did! I also tried it on a few days old stains and after I've treated with the spray, and tossed it in the washer the stains disappear! I'm impressed.
Key Features :
Best for newborns, and babies with eczema
Specifically designed for use on cloth diapers
Works effectively on spit-up stains, poop, and mashed in food
Gentle, plant-based, non-toxic, hypoallergenic, and effectively tested
Effective Steps To Remove Poop Stains From Baby Clothes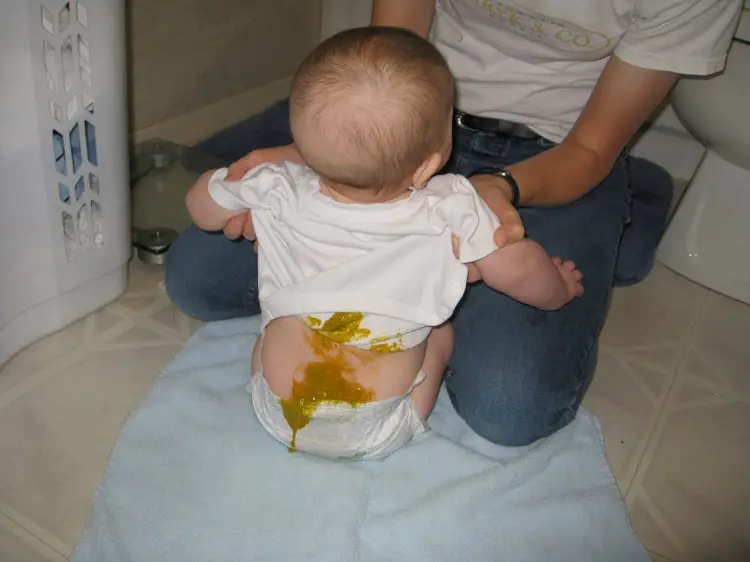 Poop stains are inevitable, whether it's new or old stubborn poop stains, here are practical steps to take when cleaning baby's clothes.
Step 1
Bring out some baby wipes, and clean off poop as much as possible from the fabric.
Step 2
Use warm water to rinse the remaining messes off the cloth. Do this by either soaking or submerging for a few minutes in warm water. Do not rub, allow the water to do the cleaning as much as it can.
Step 3
In this step, there are a few options to go with;
Apply lemon juice on the stain or make a mixture of lemon juice and water, maintaining a 1:3 ratio. Then use a spray bottle and spray it directly on the stained area on the fabric.
Baking soda, laundry dish soap, and hydrogen peroxide can be used to remove stains. Make a solution with these ingredients maintaining a 1:1:2 ratio, and apply the solution to the affected areas on the fabric.
Commercial stain removers like the ones we've mentioned are the easiest option to tackle tough stains. Simply spray or pour the liquid stain remover onto the affected area. Allow it to dry for about 5 – 20 minutes, depending on the fabric type. Then, launder as usual in your washer.
Read Also: Baby Shopping List For First Time Moms
Things To Consider Before Buying Stain Remover For Baby Poop
Before buying a stain remover, make sure to check the following things to make the purchase worth it.
1. Stain Type
Commercial stain removers can eliminate all kinds of stains. However, purchasing a multi-strain removing product can perform poorly if you are specifically concerned about one or two types of stains.
For the best outcome, it is advised to buy a product that is specially formulated to remove those particular stains you find difficult it remove. Most stain remover products in the market can handle baby poop, urine, etc. very effectively.
Therefore, as your little one makes messes with foods, spillage, spit, grass, mud, always ensure that the stain remover you wish to use is effective at cleaning these stains.
2. Effect on Skins and Clothes
If you decide to use the stain remover on your baby sleepwear and garments, make sure the product will not affect your baby delicate skin. I have listed above the 4 best stain removers that cause no harm to baby-sensitive skin.
Always make sure that the formula is color-safe and gentle on baby's fabrics. I'm sure you don't want to ruin the color and fabric quality using such a formula for sure.
Read Also: Is It Ok To Use Fabric Softeners On Baby Clothes 
3. Chemical or Plant-Based Formula
There are both chemical and biodegradable plant-based stain removers all available in the market. Chemically formulated stain removers are used for stubborn stains like oil, grease, and mud.
Bear in mind that, it can cause skin irritation problems if a person wears or makes contact with the treated fabric.
Plant-based formulas are more eco-friendly but less effective than chemical formulated ones. However, for the treatment of baby poop, urine, diarrhea, grass, food, or day-to-day stains, a plant-based stain remover will do the job effectively.
4. Eliminate Odors
Most stains come with odors. And when a stain sits for a long period, the odor becomes very stinky. Therefore, make sure you choose a stain remover that can be able to eliminate odors from the fabrics and also make your fabric smell nice and fresh.
Read Also: How To Remove Baby Poop Off Your Carpet
Conclusion
We hope this article has given an in-depth discussion to answer the question, best stain remover for baby. No matter how adorable your baby is, keeping those cloth diapers, pajamas, bibs, and sweet cheeks clean can be a daunting task challenge.
However, having the right information, investing in the best stain removers for baby poop, and also knowing the best method to wash your baby clothes will help you keep them clean without damaging them. Still, need to know more? Learn How To Clean Used Baby Stuff.