Be it a kid or an adult, thinking of what foods to feed a picky eater can be very frustrating sometimes especially when you've run out of options on the menu. But we can't get tired and ignore them as this could be our children, relatives or even us.
A picky eater may choose to eat something very different from what is available in the house. If their choice isn't available, they will settle for the next food they can tolerate.
In such instances, they're likely not to enjoy the meal and will eat very little of it, which, if it continues, will result in malnutrition and unhealthy weight loss.
How, then do you formulate healthy recipes for picky eaters on a budget to prevent all the frustration of coming up with what the next meal would be? Read on as we list out these recipes for you.
What Makes One A Picky Eater?
Certain factors make one a picky eater. Experts believe that control is one factor that makes one a picky eater.
For kids, grumpiness for food can be born out of a habit they picked up at a younger age, adults could be dealing with allergies or just pure dislike for a particular food, and other people just want to be in control of what they eat.
Whichever it is, coming up with healthy recipes for picky eaters on a budget is not a walk in the park for many especially when you're not exposed to the right information.
And we cannot force them to settle for what is on the menu either, be it for ourselves or a relative, these are frustrating moments we don't want to deal with.
When we cannot come up with the perfect meal combo, we may decide to keep eating a particular food repeatedly, which is not healthy.
Those who are big on carbohydrates will mainly consume foods like pasta, rice, or bread round the clock because they can't figure out what to eat next.
To save you from the stress of coming up with something healthy and affordable for consumption every time, you need to have a budget-friendly menu with recipes that can serve throughout the week.
These recipes provide a variety of foods and add nutrition to a plate of their preference. Here are some healthy recipes for picky eaters on a budget for you to try.
Healthy Recipes for Picky Eaters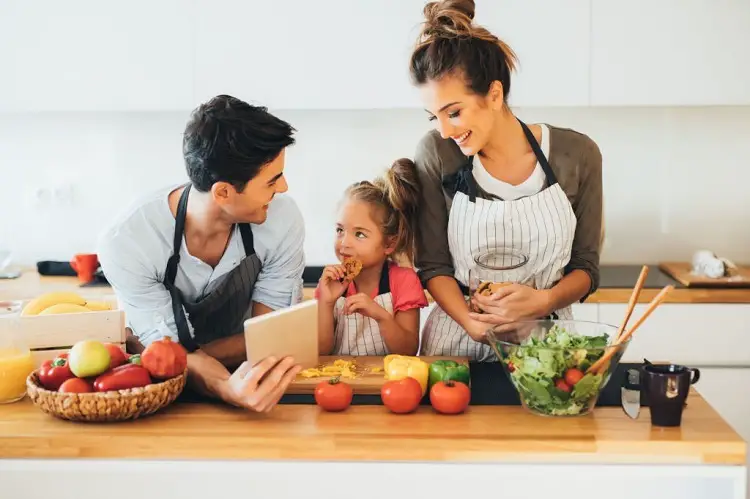 Healthy Snacks for Picky Eaters
Here are superb snacks made with fruit, vegetable, and chocolate. Each one also has its health benefit for the snack; this gives you a heads up on the nutritional benefits it has to offer during snacking time.
1. High Fiber Chocolate Bites
A good one for snack time, each bite comes with added nutrition with tons of natural fiber. You can mix them with a little yogurt for a yummy, protein-rich snack.
2. Cheese Straws
This snack is made with fresh cheese and puff pastry; homemade cheese straws are perfect for snack time or appetizer recipes. They can be served in a lunchbox with a marinara sauce for dipping, or you can serve them alongside soup and salad during dinner time.
3. Strawberry Fruit Leather
Fruit roll-ups are a great choice for kids, and this version is made with fresh berries and a little amount of honey for additional sweetness. Give it a try, you'll be thrilled at how easy they are to make at home!
4. Banana Chips
These are another healthy snack for any picky eater. They are a sweet-salty alternative to your regular chips and a smart way to consume those overripe bananas. They contain no added sugar.
5. Spinach Balls 
Spinach balls are one of the easiest ways to get your kids to eat spinach. They are enriched with vitamin A and iron and are a great choice for the lunchbox or a party appetizer.
6. Healthy Blondies
These are another healthy snack for any picky eater. The snack taste like cookie dough minus the gluten, dairy, and eggs! It contains less sugar and is a sweet treat for less than 160 calories per serving.
Read Also: 30 Healthy Finger Foods For Babies and Toddlers
Breakfast Recipes for Picky Eaters
1. Whole wheat bread
Whole wheat bread is good for sandwiches, bread stuffing, or pudding.  It has high protein content and contains about 120 calories.
2. Oats
Can serve as cereal hot or cold, granola, or served with muffins. It contains about 150 calories.
3. Potatoes
This can be served as mashed potatoes, baked potato chips, potato salads, or casseroles. It offers about 168 calories per medium size.
4. Brown rice
This can be served at any time of the day. It can be eaten with salads, fried rice, stew, or casseroles. It has 170 calories per 1/4cup.
5. Boiled eggs
Eggs are rich in protein and can provide a lot of calories. They can go with vegetable salads, bread, and a cup of tea or rice.
6. High Fiber Chocolate Smoothie Bowl
This recipe tastes like a dessert, the smoothie beats the fiber cereal, and it tastes like chocolate and is a lot healthier. You can serve it out of a bowl with a straw or pack it in a thermos for a healthy-filled snack.
7. Banana Split Oatmeal Bar
If your child does not like plain oatmeal, this strawberry-banana combination can be everything they want and more. It is enriched with fiber, protein, balanced breakfast, and added fruit.
8. Green Berry Juice
Although this is not a meal, it can serve as a breakfast add-on for your picky child! Your baby would love the idea of having fruits and veggies in one delicious drink.
Lunch Recipes for Picky Eaters
1. Homemade Pb & J Uncrustables
Once you prepare this DIY recipe at home, you'll forget about store-bought! You can make many of these with your choice of jelly and peanut or nut butter options and freeze them for future use.
2. Gluten-Free Fish Sticks
This is another lunch recipe for kids. It is made with gluten-free breading and fresh fish for a crispy, crunchy, and super tasty meal. It is a great source of protein and gluten-free. You can try it with carrot fries or sweet potato tater tots.
3. Bistro Box 
If you need a lunch recipe for kids, that's quite easy to assemble and prep, bistro boxes are your best choice!
Unlike other pre-packaged cracker and cheese lunches, you see at the store, preparing one of these at home allows you to pack all kinds of fresh fruit, veggies, cheese, deli cuts, and healthy dips.
4. Crunchy Turkey Pinwheels
This is another lunch recipe for kids. To prepare this, just wrap it up and cut it into bite-sized pieces; your kids will love it!
5. Mini Pizza Quiches
Though it's a Pizza, it's not a pizza per se. These bite-sized baked eggs are a great choice for breakfast or lunch and are enriched with protein in each bite.
6. Ranch Veggie Cups
This is a healthy lunch recipe for kids. Just pack these healthy and easy Ranch Veggie Cups for lunches or snacks while on the go.
Read Also: 27 healthy and easy foods for extremely picky eaters
Dinner Recipes for Picky Eaters
1. Pasta and Salad
This is a healthy dinner recipe for kids. If your kid is big on carbohydrates, this combination will make an excellent dinner recipe.
2. Black Beans Tacos and Cauliflower
This is a protein-rich meal that is not too heavy for a dinner meal and will still give adequate nutrition to your kid's body.
3. Baked Fish Nuggets 
If your little one needs a little convincing to eat fish, you can try these delicious crispy baked salmon nuggets! They're a great source of protein, and healthy omega's from the salmon.
This dinner recipe is breaded with Parmesan Panko breadcrumb mixture and can be cooked easily using an oven or air-fryer!     
4. Broccoli Pesto with Spaghetti Sauce 
Broccoli pesto is a healthy dinner recipe with lots of veggies, but if your kids don't seem to like green foods, you can combine it with their favorite red spaghetti sauce, and the green disappears like magic!
5. Cheesy Beef Goulash
This delicious dinner recipe is packed with baked pasta, beef, seasoned tomato sauce, and melted cheese. You kids won't have any problem scarfing down this meal.
6. Fried or baked fish fillets
If your kids are not the type that loves fish, this crunchy meal will be irresistible to them. You can also serve it with vegetable salad.
7. Broccoli and Cheese
Everyone likes cheese, well maybe not everyone but Broccoli and cheese is a combo you'll like to try out for dinner with your kids.
Weight Loss for Picky Eaters
Picky eaters looking to shed some weight may find it a little difficult since they tend to consume most of what they love, especially those who are big on carbohydrates and will mostly eat more pasta, rice, or bread than anything else.
But even as difficult as it may be, it is not impossible to achieve. All that is to be done is to replace low-fat foods with other substitutes like vegetables, fruits, or high-fat foods and probably a routine exercise.
Read Also: Best Formula For Picky Breastfed Babies
Things to Note about Picky Eaters
1. Do Not Take Their Grumpiness for Food Personally
These kids or people are not out to frustrate you, no that's not their plan. All they want is to control what goes into their mouths during mealtime.
Acknowledging this will help you deal with the frustration of their demands better.
2. It Is Okay To Repeat a Food
When trying to eat healthy on a budget, repeating a particular food should not be much of a big deal.
You can do a little bit of mixing with other food accessories for a little change. But you need to be careful about how often you do this.
Take, for instance; your kid loves bread a lot. It is okay if he or she has a sandwich and hamburgers at different intervals of the day, only that you can choose to add a cup of tea or eggs just for a little change. And this should not be done often.
3. Sometimes, You Can Make the Preferences of Your Picky Eater Child for the Entire Family
Choosing to cook what your child wants for dinner for the entire family may seem like giving in to the child's demands, but that's not just it, choosing to eat your child's choice of food will encourage him to try out the food the entire family is eating the next time.
Can A Picky Eater Change?
Yes, a picky eater can change when it is not related to allergic reactions and is just out of habit.
But for a kid, forcing them to eat whatever you give is not the best because some may end up not enjoying the food or developing great repulsion towards it.
As they grow, their curiosity to try other foods may help them outgrow the habit.
Adults who are picky eaters can also decide to try out other foods and maybe get to enjoy it also but overall, forcefully feeding a picky eater just anything available on the menu isn't the best approach.
Read Also: How Much Gerber Should a Baby Eat
Conclusion
We all know how hard it is to come up with what food to eat at what time, not to mention fixing a quick meal for a picky eater.
But like they say knowledge is power, having the right information on how to make healthy recipes for picky eaters on a budget has given you the power to deal with your picky eater child better at any time of the day and on a budget.