When you mention the name Texas, if you are a fun-loving person, it will strike a chord because it is a fun city and a place for exciting weekend getaways.
Texas has got lots of fun, and among the cities, the popularity of Austin and Houston is skyrocketing because of their food and mind-blowing art scenes.
What of the coast of Texas, wow! Don't even go there because it is now top on the destination list for families on a beach vacation.
The weather is sunny, and Texas is laden with lots of kids-oriented attractions that can leave their imprints in the memories of your kids for all eternity.
In this article, we share some kids-friendly weekend getaways in Texas to help you plan for your getaway before arriving in Texas.
Kids-Friendly Weekend Getaways in Texas
The following places are kids-friendly getaways in Texas where you can enjoy your vacation or getaways with your kids, and they include:
1. Gaylord Texan Resort and Convention Center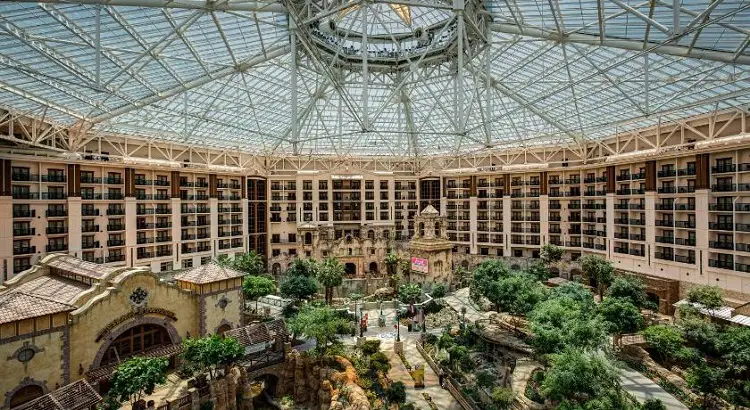 This convention center in Texas has to its credit ten restaurants of exquisite quality, a water park, and about 5 acres of indoor gardens.
When you pay your resort fee, you are granted access to all these facilities, and in this convention and resort center, there are lots of things to captivate the interest of your little cuties.
For the adult visitors, the center takes care of their needs through their professional spa service, and at night live music with sweet and captivating melodies is played in the on-site nightclub in the facility.
This convention and resort center can be your go-to place for weekend getaways with your kids in Texas.
2. Brazos Bend State Park
This place is located 45 miles outside of Houston's downtown core. Brazos bend state park occupies 4900 acres along the Brazos River. There are wide ranges of recreational opportunities on the land and water.  
The facility has 27 miles of exploration trails and a half-mile boardwalk across the wetlands, and visitors can cycle through the forest.
There is provision for geocaching adventures and many sites for camping with your little ones. You can also go fishing in the park's lake, knowing how intriguing it would be to fish with your little one.
3. Big Bend National Park
Located along the Rio Grande river's big bend, the park covers over 100 miles of land bordering Mexico. 
This beautiful park is home to over 1,200 species of plants, 450 species of birds, 75 species of mammals, and 56 species of reptiles. 
You can find a lot of fun outdoor activities in this amazing park for you and your kids to enjoy. You can please your senses by driving along the Ross Maxwell Scenic Drive in the park. After that, you can take a soak in the hot springs and check out the Fossil Discovery Exhibit.
Views of the sky and desert are available from The Window, a large V-shaped notch in the mountainside. The wheelchair-accessible trails at Big Bend lead to stunning sunsets for everyone.
The Gage Hotel is a historic property with a rustic yet luxurious feel, exceptional dining, and charm you can't find anywhere else. After a long day, a luxury resort or a charming historic lodge can be a welcome treat. 
4. Cedar Hill State Park
This getaway location is along the shore of Joe pool lake, and when you want to defeat the hustle and bustle of the city, this place becomes your number one location.
There are provisions for swimming, boating, fishing, and other things that make it a darling for families seeking vacation or getaway locations.
The facility also offers services like boat ramps, lighted fishing jetties, and even a perch pond for your little ones to try fishing. I tell you, your kids will enjoy such activities, and the memories will be something they will relish forever.
You can also visit the Penn Farm Agricultural History center, where you and your little ones can be taught farming history while touring the historic family farm.
This can also add academic spice to your vacation and increase your wealth of knowledge and even that of your child.
5. Four Seasons Resort and Club Dallas at Las Colinas
This vacation center in Dallas is fun-filled, kid-friendly, and an ideal site for kid-friendly getaways.
The facility has a spa section that helps you unwind, relieve stress, and relax. You can also see a movie in this resort center and play tennis here.
It is also close to the town. You don't need to travel out of town to get a cozy location for your weekend getaway with your kids. So if you want a close-to-town location for a weekend getaway, consider this place.
6. La Cantera Resort and Spa
This location has a very serene spa, and the facilities are kid-friendly. Their management of both world kids and adults is top notch.
The facility has a separate swimming pool for both adults and kids, and this provision enhances the beauty of the resort.
The swimming pools of this facility are well taken care of; it is clean and top of the line.
7. Galveston Island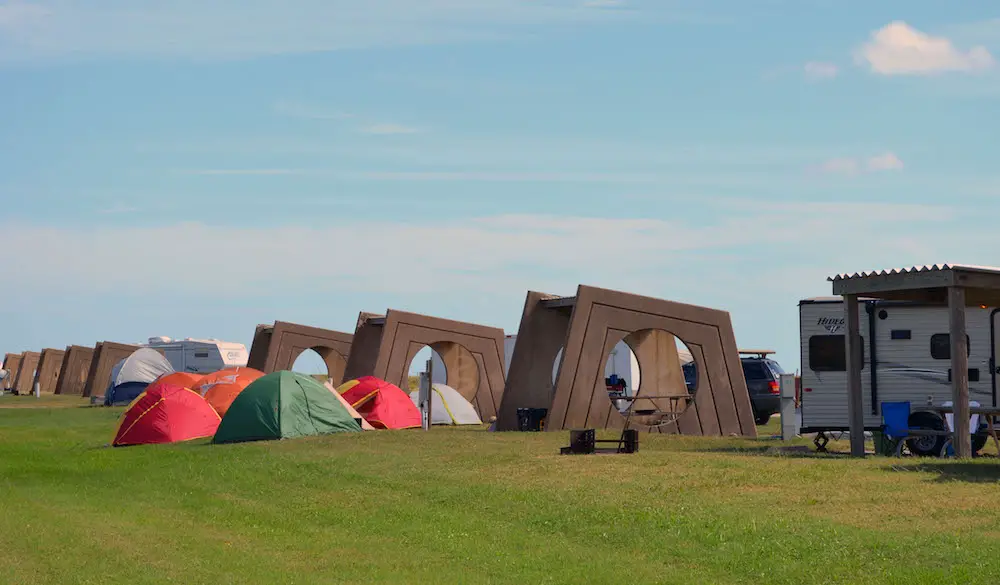 Spending the weekend in Galveston, you will surely have a memorable experience thanks to its family-friendly parks and exciting museums. 
Stewart Beach, located nearby, has everything you need to ensure a fun-filled experience at the beach with your family. 
At the beach, trained lifeguards watch the kids play volleyball, build sandcastles, and do other fun stuff to ensure their safety.
Families will have a blast exploring the majestic pyramids at Moody Gardens Hotel. Additionally, the hotel offers a world-class aquarium where kids can see sharks up close and marvel at the jellyfish gallery.
The hotel's amenities include a rainforest filled with wildlife, a lazy river, a swimming pool, a premier golf course, a rejuvenating spa, and plenty of dining options. 
Schlitterbahn Galveston Waterpark offers the most thrilling and fun water rides and amusement park experience in Texas. It is a great place to spend the weekend exploring with your kids, friends, or large groups. 
Another fun fact about this place is that the water coaster at Galveston's Schlitterbahn Waterpark called MASSIV is the tallest in the world. 
8. The San Luis Resort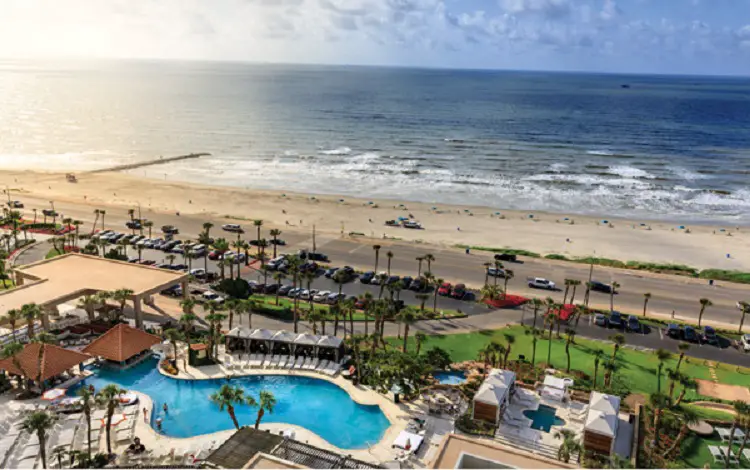 This resort is one of the most beautiful places to stay on Galveston Island. It is set on a 32-acre beachfront property. 
A heated tropical pool is lined with lounge chairs and private cabanas, and the resort boasts fantastic views of the Gulf of Mexico. 
You can book special packages this includes food and beverage credit, spa treatments, or admission to the thrilling rides at the nearby Pleasure Pier for a more pleasurable experience. 
Guests can choose from standard rooms to spacious villas with hot tubs, and there are ten restaurants on site.
9. Lake Way Resort and Spa
The lake in this facility is lake Travis, and I must tell you, the sunset scenario in this facility is captivating.
This facility has a waterslide, a kid swimming pool, and an adult-only swimming pool.
The facility has a spa, a gym center, and even a handful of options to get out on the water, whether you are more of a coasting-on-a-sailboat type or a Jet-ski-racing adrenaline junkie.
10. Margaritaville Lake Resort, Lake Conroe
This vacation center is relatively new. It has existed for just a couple of years, resulting in this feeling of newness in the vacation center.
The amenities are still in good shape and very much functional, and to keep attracting customers and retaining them, the management would be at the top of their games to ensure everything is kept in place.
The landmark of this resort is massive, and there are lots of amenities in this resort-like stated above.
The facility has a pool, and you can also rent a lakefront cottage in this facility to enable you to have some privacy with your family after dealing with post-swim-and ice-cream meltdowns.
Related Post: How To Plan a Vacation with a Toddler
11. Splashway Waterpark and Campground
No matter where you are in Texas, Splashway Waterpark and Campground provides everything you need for an unforgettable family vacation. 
In the waterpark, parents with small children can float around the lazy river or splash around in Toddler Bay, while older kids and adults looking to burn some steam can run around in the Tubular Tornado or zip down Ray's Racers. 
Guests can stay in cozy cabins, cottages, tents, and RVs at the campground all year-round.
12. Camp Jellystone
Camp Jellystone is known for its kid's friendly getaway environment and its many excellent amenities. This place is one of the perfect places to take your kids for a stress-free weekend getaway. 
Texas offers seven different campgrounds, each with its unique atmosphere, but all offer cabin rentals, RV and tent sites, and plenty of activities for the whole family. 
The amenities may vary depending on the park you're visiting. Some fun amenities include heated swimming pools, mini golf courses, and exciting waterslides and splash parks. 
13. Hyatt Regency Hill Country Resort and Spa
The Hyatt Regency Hill Country Resort and Spa is a luxurious family resort occupying a 300-acre property in one of the most scenic parts of Texas. 
The 4-acre waterpark, which includes a wave machine and a waterslide, will delight your kids while you relax on the 27-hole championship golf course or in the upscale spa. 
Cycling trails, a volleyball court, and evening smores are the activities the entire family will enjoy. Many rooms have private patios or balconies, and larger families can book one of the luxurious suites.
14. Hyatt Regency Lost Pines Resort and Spa
The Hyatt Regency Lost Pines Resort and Spa, located on a 405-acre property next to the Colorado River, is another of the best Hyatt resorts in Texas. 
There is a beautiful on-site spa, an elegant fine dining restaurant, and an old-fashioned general store selling ice cream and other treats. 
The McKinney Roughs Nature Park is next door, but there's also a swimming beach, an 18-hole golf course, and a kid's waterpark with a 1,000-foot lazy river at the resort.
15. Waco
Waco is another place to take your kids for a friendly weekend getaway. This place will keep you and the kids entertained for days! Cameron Park is a haven of towering trees, two rivers, breathtaking cliffs, and a network of National Recreation Trails. It's a great place to go for a bike ride or a hike.
Cameron Park Zoo is small enough that older children can walk through it without complaining, while younger children can ride inside in red wagon rentals. 
Children can interact with animals and swim in a transparent slide that runs through an otter swim tank. The otters and children will have a great time! A playscape is always a hit with kids, and the Cameron Park Playscape is large. 
16. Ratcliff Lake Recreation Area
The Ratcliff Lake Recreation Area, centered on a 45-acre man-made lake, has been a popular recreation destination since its establishment in the mid-1930s. 
The park has three hiking trails, two especially suitable for families, and children can swim in the lake or play on the playground. 
The lake is also great for fishing, and while electric motors are allowed on the water, many people prefer to fish from the pier. There are more than 50 campsites available, including some with electric hookups, and you can make up reservations two days in advance.
17. Meridian State Park
Meridian State Park, located in the forested hills outside of Waco, is a wonderfully peaceful park that draws nature lovers from all over the state. 
The park's 72-acre lake is surrounded by an excellent hiking trail dotted with limestone fossils and beautiful viewpoints. The water is ideal for swimming and fishing with family; no-wake boating is allowed. 
You can also rent cabins and screened shelters, and if you want to camp, you can choose between primitive and full hookup sites. You can rent one on-site if you don't have your boat.
18. Isla Grand Beach Resort
South Padre Island is one of the best places in Texas for a low-cost weekend family getaway, and Isla Grand Beach Resort, without a doubt, is one of the best places to stay on the island.
The 10-acre property has a spectacular view of the Gulf of Mexico. There is an outdoor pool with lounge chairs, a cocktail bar with live music, and a summer program of kids' activities. All rooms can sleep up to four people, and over 60 two-bedroom condos can sleep up to six.
19. JW Marriott San Antonio Hill Country Resort and Spa
The JW Marriott San Antonio Hill Country Resort and Spa is one of Texas' most comprehensive family resorts, with seven restaurants and over 1,000 spacious rooms and suites. 
The nine-acre waterpark will keep your kids entertained, and while they're having fun, you can relax in the luxurious spa, the tranquil adults-only pool, or one of the resort's five bars. 
Some of the state's most popular attractions, such as SeaWorld and Six Flags Fiesta Texas, are within easy driving distance, but there's no reason to leave the resort with your kids unless you want to.
20. The Westin Stonebriar Hotel & Golf Club
If you're trying to plan a luxurious family weekend getaway near Frisco, you should visit the Westin Stonebriar Hotel & Golf Club. 
The resort's highlight is its 18-hole championship golf course, but there are plenty of activities for non-golfers to enjoy, such as a lagoon-style outdoor pool, an elegant spa, and a Kids' Club. 
If needed, you can arrange babysitting services through the front desk. The hotel occasionally offers special family packages, including a second room discount and free kids' meals when you order an adult meal.
Read: 23 baby activity centers in New York to keep your baby engaged
21. Balmorhea State Park
Balmorhea State Park is located in San Solomon Springs on 46 acres. It is open to the general public all year, making it an ideal place to take your kids for a family-friendly weekend getaway in Texas.
An interesting fun fact about this place is that the San Solomon Springs form the world's largest spring-fed swimming pool, measuring more than an acre in size. Pack your swim and scuba gear because the pool is open every day.
Swimming, scuba diving, studying nature, and bird watching are just a few exciting activities for children here. You can also visit the desert wetlands, which have been restored and are now home to endangered fish and other wildlife.
Another exciting thing about this park is it has a picnic site, an outdoor games zone, and a play arena where kids can play around for afternoon games and relaxation. 
If you can play the guitar, bring it along and sit around the campfire and make merry with all around you. There are also more than 30 campsites available to you and your family.
22. The Woodlands Resort
The Woodlands Resort is a truly enchanting place to stay, hidden in the middle of a 500-acre forested property. The amenities include a waterpark with a lazy river, a luxurious spa, and two championship golf courses. 
The property has 200 miles of trails ideal for walking, jogging, or cycling. The resort also takes pride in offering a family-friendly experience. 
Seasonal activities for children include everything from holiday cookie decorating to exciting scavenger hunts. There are over 400 rooms and suites, most of which have floor-to-ceiling windows with spectacular views.
23. Lajitas Golf Resort
This resort is a 27,000-acre ranch hidden in Southwestern Texas' historic Big Bend, an upscale Old West-inspired resort that welcomes families and celebrities. 
The rooms and suites are decorated in an Old West theme, and for a more outdoorsy experience, you can stay at the ranch's RV park with your family, which includes all resort amenities. 
The resort has one of Texas' most beautiful golf courses. There's also a fantastic range of family-friendly activities, such as horseback riding, canyon ziplining tours, and shooting sports.
24. The Resort at Schlitterbahn
The Resort at Schlitterbahn, part of the massive Schlitterbahn Waterpark, is the best place to stay if you want to spend some time with your family. 
Guests will access the world's largest water ride collection, from an uphill water coaster to an exciting inland surfing ride. 
There's also a water playground for your little ones. You can access the park almost daily during the summer and on weekends during the spring and fall, but we recommend you book your stay well in advance regardless of the season.
25. Dinosaur Valley State Park
Dinosaur Valley State Park, which contains hundreds of fossilized dinosaur tracks, is another great place to visit if your children enjoy dinosaur stories or shows. 
Most of the tracks are in the riverbed, and while they can be difficult to spot, a map of the best places to see them is available at the Visitor's Center. 
There are also 20 miles of hiking and biking trails, and horseback riders are welcome to bring their horses and explore the South Primitive Area. Campgrounds can be found in various locations, though only a few have electricity, picnic tables, and potable water.
26. Inks Lake State Park
This park is right next to a scenic lake on the Colorado River and is only a 60-minute drive from Austin. 
This park is a great place to visit if your kids love boating. If you want to stay on dry land, you can do other fun activities with your kids, like visiting the park's nine miles of hiking trails, spending time hiding in the bird blind, or fishing from the pier. 
When it comes to spending the night, visitors can choose from various cabins and campsites, many of which are right on the water.
27. Padre Island National Seashore
Padre Island National Seashore is the world's longest undeveloped barrier island, stretching 70 miles along the Gulf of Mexico. The pristine wilderness provides families and friends with numerous paddling, fishing, and hiking opportunities. 
If you're willing to get up early between the middle of June and the end of August, you might even be able to see a sea turtle hatchling release. 
Most of the beach is open to four-wheel-drive vehicles, and camping is permitted along most of the beach with a permit. There are also many campgrounds with basic amenities if you wish to camp with your family.
Conclusion
Hopefully, this article has provided you with enough kids-friendly weekend getaways in Texas to choose from and explore with your family.
Any above location will be ideal for a weekend getaway with your kids, and sure your kids will have a memorable time there.
Enjoy your vacation and enjoy Texas, don't forget, it is a getaway, so don't make it boring. Have a good plan to make it memorable for yourself and your kids.